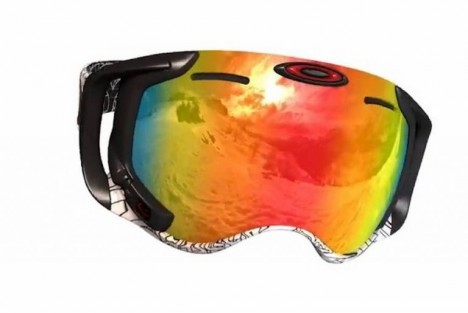 Latest innovation in ski goggles allows wearers to see maps, speed, temperature and playlists. The new Oakley's Airwave ski goggles offers Recon Instruments' latest heads-up technology, features GPS, Bluetooth, can be operated via a wrist device. and a range of other onboard sensors.
The $599 goggles features also preloaded maps of ski resorts around the globe, allowing to stream music wirelessly, make calls, or send texts with stock messages via a "glove-friendly" wrist remote control.
According to Oakley, the wearer perceives a 14-inch/36-cm screen in the lower righthand corner of the goggles, a "screen" that is five feet/1.5 m away, so you won't need to refocus the eyes.