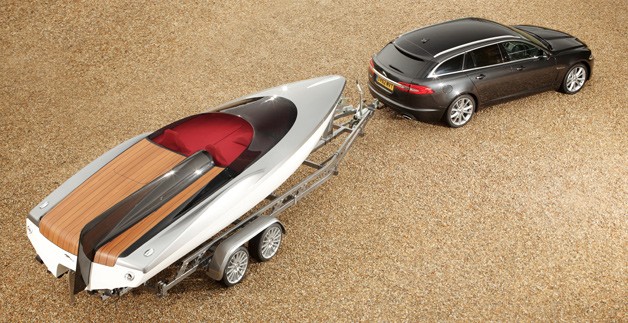 Jaguar's new XF Sportbrake model was launched in Scotland with a luxurious companion – The Jaguar Concept Speedboat designed in partnership with naval architecture consultancy firm Ivan Erdevicki and yacht design consultancy Seventy Seven Design. Unfortunately, Jaguar has no plans to build or commercialize a vessel of any kind.
"We recognise that both our existing and future customers enjoy diverse and active lifestyles," said Ian Callum, Design Director for Jaguar. "With the launch of the new Jaguar XF Sportbrake, we had an opportunity to create a vision of how our design philosophy might be applied to an alternative product, in which speed and beauty are also priorities. The Concept Speedboat looks powerful. It follows, in so many ways, the idea of a traditional speedboat but with the sleek and fast characteristics that you would expect from a Jaguar Car."
The 6.1m (20 ft) Jaguar speed boat concept is composed of a fiberglass hull finished with a teak deck. a wraparound windscreen, a prominent carbon fiber fin that draws inspiration from the Jaguar D-Type, a polished aluminum propeller and a 2+1 seating arrangement. The prominent carbon fiber fin that reminds us of the company's legendary Jaguar D-Type is particularly nice work. The familiar jungle cat badge leaps off the back deck and the fuel filler caps were inspired by the Series 1 XJ.