---
This article titled "'No social housing' boasts luxury London flat advert for foreign investors" was written by Liam Kelly, for theguardian.com on Wednesday 14th January 2015 15.41 UTC
An advert for luxury London apartments in one of London's most deprived areas that boasts how the development includes no social housing has provoked anger.
The advert for the development in south-east London, which is being marketed to property investors in Hong Kong, describes the block as fully private "with no social housing".
Large private developments are required to allocate a percentage of overall units for social housing, but the number of social homes is routinely reduced or replaced in favour of financial contributions to local councils for other services.
The Abbey Tower development is in the London borough of Greenwich, an area with more than 11,000 families on the waiting list for social housing. The Abbey Wood area of Greenwich is one of the most deprived wards in London but the arrival of Crossrail, which will improve transport links into the city, is seeing the area undergo regeneration.
The nine-storey tower, which is marketed by Fraser & Co, will see the cheapest apartments sold for £249,000 when they go on sale in an exclusive launch in a five-star hotel in Hong Kong later this month. The cheapest apartments available to UK buyers will be £275,000 when they go on the market.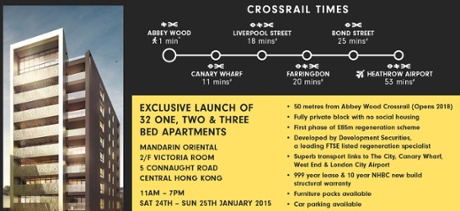 London Assembly member Darren Johnson said: "Boasting about the absence of social housing in adverts for new developments shows that housing policy in London is about meeting the needs of wealthy investors, not about the needs of ordinary Londoners. At least this appalling advert is honest about it."
London mayor Boris Johnson has previously urged developers to stop offering homes to foreign investors before Londoners looking to get on the housing ladder.
Darren Johnson added: "The mayor's voluntary agreement with developers on marketing isn't worth the paper it's written on. He should lobby for measures like a land value tax to stop this rampant speculation on new housing, and ensure every new development is built with social housing."
A spokesperson from the developer, Development Securities, said: "Abbey Tower is just one part of a major redevelopment scheme in a key area of London. The project will provide around £1.2m of investment into Crossrail and local infrastructure, 300 jobs and much needed benefits to the local community, including a new nursery, supermarket, public square and public library.
"The project will deliver 216 new homes, of which 11% will be affordable as approved and adopted by the formal planning process which took into account the wider area when giving consideration to the requirement for affordable homes. The 32-apartment Abbey Tower is just the first phase of this development and it is being marketed to a wide range of audiences, starting with a launch in London to give the local market the first opportunity to buy at the scheme."
A Development Securities employee earlier told the Evening Standard the advert's wording was for "technical reasons" as buy-to-let investors are concerned about the impact of social housing units on service charges.
Read more:
guardian.co.uk © Guardian News & Media Limited 2010
Published via the Guardian News Feed plugin for WordPress.