---
This article titled "New York fashion week: notes from the frow" was written by Lauren Cochrane, for theguardian.com on Tuesday 15th September 2015 17.28 UTC
Miss Hannigan is your style icon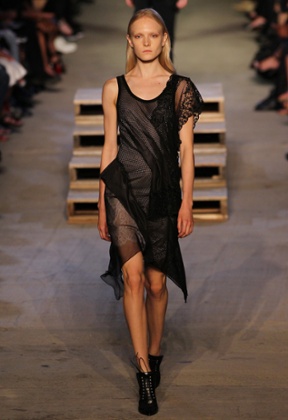 The orphanage boss in 1982's Annie is the unlikely style reference this season, with the slip dress – Miss Hannigan's customary attire – the takeaway across the shows. It appeared at Victoria Beckham in pretty, crushed duchesse satin and at Alexander Wang, where it was mixed with denim for a sort of thrift-store vibe. Givenchy's arguably had the most Hannigan-ish versions, in lace and satin, sometimes with a robe, for that louche, didn't-get-up-till-4pm vibe (see Kim Kardashian) and Thakoon's bloomers fitted the mood, too. Accessorise with a bottle of whisky and loads of purple eyeshadow for the full effect.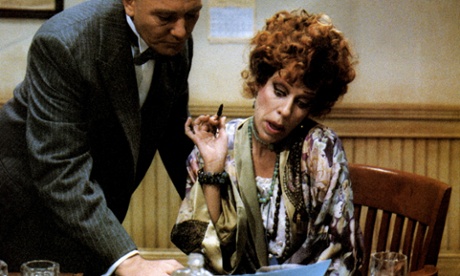 The Gucci loafer is the alpha shoe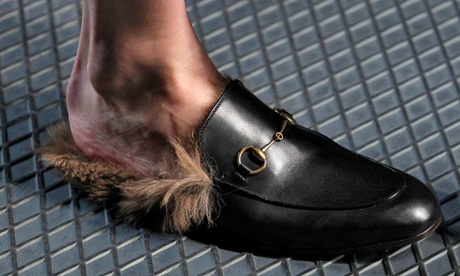 This, it has to be said, was a bit of a given. Gucci being the key show from autumn, and the loafer with furry insides the key shoe, it was always going to be the show-off shoe for editors attending these spring shows. Worn by Vogue staffers and bloggers alike, it looked best with either faded denim flares and a chambray shirt or a simple black jumpsuit. With a pair of shoes this totally Fashion, so the frow logic goes, the rest of any outfit can be almost nothing at all.
Side note: the backless loafer looks strong next season, too, at Victoria Beckham and Tommy Hilfiger.
Supermodels are the new rock stars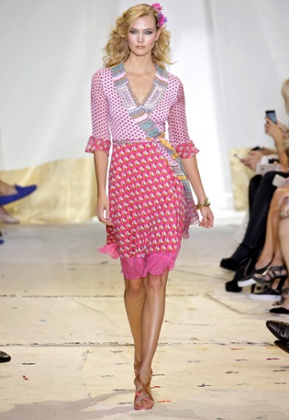 When it comes to models, New York can be depended upon for bringing out the big guns – designers from Marc Jacobs to Michael Kors always boast mega-watt casting. Diane von Fürstenberg set the trend this time. Her show, which had a sort of tropical holiday vibe, opened with Karlie Kloss and also included Jourdan Dunn, Kendall Jenner, Lily Aldridge and Gigi Hadid – who was everywhere. Their fame has jumped the shark from fashion geeks to everyone this season. See the crowds outside DVF waiting patiently for their idols. Model groupies: now officially a thing.
Fashion is for everyone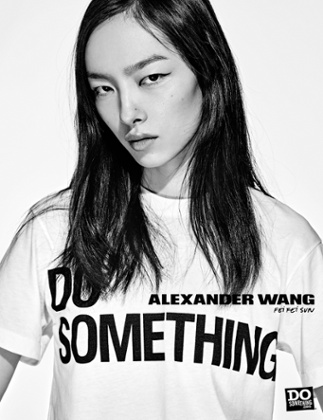 The gilded cage of fashion was opened up this week in New York or, to put it another way, it's now fashionable to open the gates to norms. Givenchy led the way – quite literally – by inviting 1,200 fashion students to the brand's show. Alexander Wang also got in the spirit of things by collaborating with Do Something, a charity that works with young people. T-shirts and sweatshirts bearing the logo were available to buy at the show, for real-people prices, ie under £50. Who says high fashion is out of touch with reality?
Inspiration is over
The usual backstage quote where a designer explains what obscure references are on his or her moodboard has been notably absent this season: both Victoria Beckham and Alexander Wang explicitly stated no particular inspiration for their collections. Wang said that his designs were less about "high concepts", and more about nice clothes, while Beckham said there was "no one particular theme". She also mentioned the idea of "an urban surfer not a Californian surfer" for her prints, which is an idea that, though slightly nonsensical, has a certain appeal.
Black tops are the in-the-know thing to wear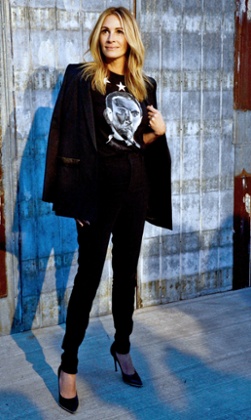 This can take the form of a black satin or silk blouse (as worn by VB) or – even better – a totally unremarkable black T-shirt. Alexander Wang is the master of these – he wore one for his post-show run down the runway. Look to Julia Roberts at the Givenchy show for a twist. She wore a simple black tee with Givenchy designer Ricardo Tisci's face on it, with smart tailoring. If one of the biggest stars in Hollywood can dress up a black T-shirt, we can definitely do it, too. American Apparel's have the right amount of slouch.
Models still fall over but not always for the reasons you think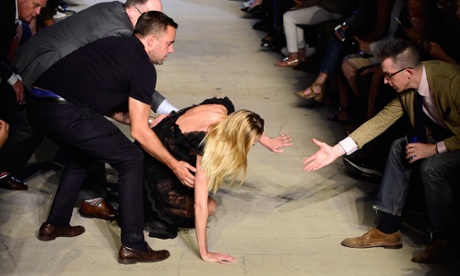 Candice Swanepoel fell over on the Givenchy catwalk due to the usual precariously high shoes – and was helped back on to her feet by those in the audience. But at Opening Ceremony's show, they didn't need any assistance. What editors thought was models taking a tumble turned out to be perfectly choreographed. The New York brand spliced models with dancers from the New York City Ballet, and had them pretend to fall before breaking out their moves. Catwalk tumbles are now an art form.
Baggy trousers are back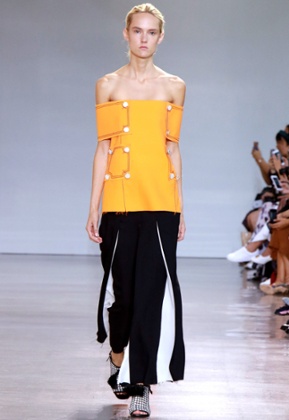 Skinny jeans are over and loose strides had been everywhere – from striped at Alexander Wang to low-slung and utilitarian at Givenchy, and in culotte shapes at Victoria Beckham. Tommy Hilfiger's were worn on the hips and cropped, a bit like they were worn in the 90s by Gwen Stefani, while Givenchy's – possibly unintentionally – had something of the All Saints about them, and Edun's looked glam, grown up and a bit Katharine Hepburn. Pick your icon and start studying. There's no escape back to the skinnies next summer.
guardian.co.uk © Guardian News & Media Limited 2010
Published via the Guardian News Feed plugin for WordPress.