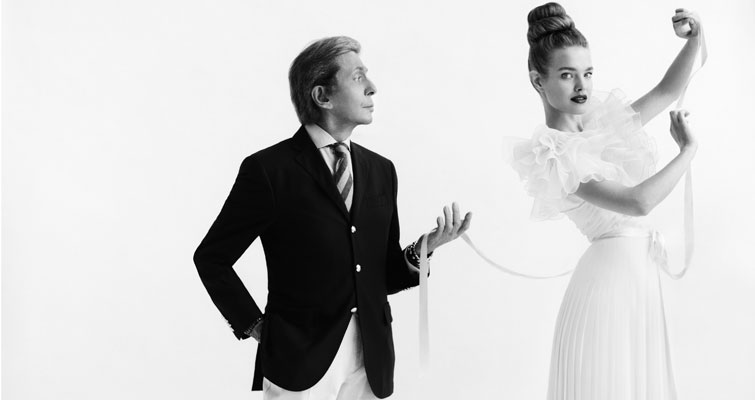 Somerset House, the spectacular neo-classical building in the heart of London, is hosting "Valentino: Master of Couture at Somerset House" – a new exhibition celebrating the life and work of Valentino through 130 exquisite haute couture designs. Somerset House's Embankment Galleries are transformed into a glamorous couture catwalk. In a clever reversal of roles each visitor takes the place of the model walking along a sixty-metre runway to view the 'audience', all of whom are dressed in Valentino Couture. Evening gowns, dresses, trouser suits, minis, capes and kaftans, the catwalk will take visitors on a journey through fashion from the 1950s to today.
The dresses were worn by icons such as Grace Kelly, Sophia Loren, Jackie Kennedy Onassis, and Gwyneth Paltrow. The exhibition is a rare glimpse behind the closed doors of Valentino's world
The exhibition brings together a comprehensive collection of couture, much of which has never been seen outside the Valentino atelier.
"Each of these designs have a beautiful story," says Valentino. "The atelier crafted each so diligently by hand, taking hours, sometimes days to complete. The details are incredibly intricate, though outside the runway shows and events, the dresses have rarely been seen, so to be able to showcase these designs at Somerset House, where they can be seen in great detail by the public, is very unique."
Known for his long-standing relationships with the world's most glamorous women, Valentino has designed for princesses, first ladies and Hollywood icons. As a result, exhibition highlights will include the vintage dress worn by Julia Roberts when she won an Academy Award in 2001, Jackie Onassis's wedding dress from Valentino's 1968 White Collection and Princess Marie-Chantal of Greece's pearl-encrusted ivory silk wedding gown, which the New York socialite wore to marry Crown Prince Pavlos of Greece in 1995.
The exhibition design for Valentino: Master of Couture (29 November 2012 – 3 March 2013) has been created specially for Somerset House by internationally renowned design team Kinmonth Monfreda, long time collaborators of Valentino, and realised in collaboration with Valentino and Giancarlo Giammetti. The exhibition has been curated by Alistair O'Neill for Somerset House with Patrick Kinmonth and Antonio Monfreda.
"We are delighted to welcome Valentino to Somerset House and show off his beautiful designs in such a spectacular way. Somerset House will be the ultimate destination for fashion and glamour this winter," said Gwyn Miles, Director of Somerset House. "Following on from London Fashion Week, visitors will have the chance to see fashion photographer Tim Walker's new exhibition Story Teller and Cartier-Bresson: A Question of Colour as well as Skate at Somerset House – the original and most glamorous open-air ice-rink in London".