Value of social activism in brand building: 74% of young adults prefer to buy from a socially responsible company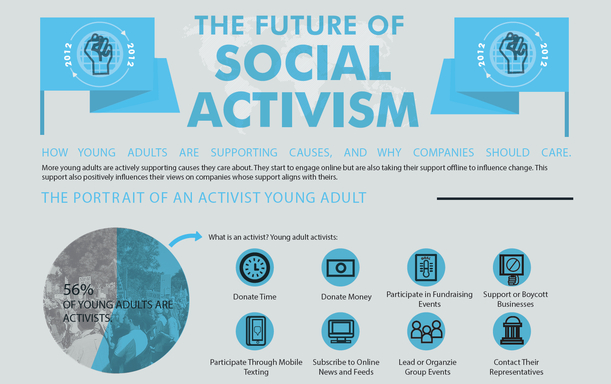 Two out of three young adults think companies have a moral obligation to help solve social problems. Even more of them (73%) believe companies should use their knowledge and resources to help societies solve problems, according to TBWA\Worldwide's new global study that reveals the engagement opportunities that exist with young adults.
The difference between this generation and the previous one is that they don't just point fingers at bad companies, but include them to be part of the solution, states TBWA.
"This study gives us insight into a generation that will inform clients' CSR and brand strategies going forward.  This engagement can be a big business driver – the more that brands understand this shift, the better relationships they will form with this generation," said Tom Carroll, TBWA Worldwide President and CEO.
They are talking about you
77% of young adults will tell their friends about a company that supports a cause they care about. As the social media generation, young adults have redefined activism by combining social causes, social networks and fun.
They will show you the money
74% of young adults prefer to buy from a socially responsible company. It is a strong differentiator from the competition.
They want to work for you
Unlike previous generations, social activism is the foundation of their identity. It even impacts their job- hunting strategies, as more than two in three would seek employment from a company that supports a cause they care about.
"This generation operates like no other," said Laurie Coots, TBWA Worldwide Chief Marketing Officer. "We need to understand their motivations, which are far more global and pragmatic than any other generation we've seen before."

For a generation of young adults in search of meaning, who came of age in a world marked by global turbulence, there are five things that organizations can do to leverage this very important idea learning, say the authors of the study:
1) Put social-inclusion issues on the agenda — from causes to how companies operate, this inclusive generationwill not tolerate any level of discrimination.
2) Create share-worthy content online that activates offline behavior. Make it easy for young adults to find andshare with their friends.
3) Offer young adults local opportunities – help young adults find a local and pragmatic way to interact.
4) Make involvement in a cause more social and fun.
5) Help young adults see how they are making a difference, report the progress and give rewards for their help.
TBWA is ranked as a Top 10 worldwide advertising agency and was recognized by Advertising Age in 2010 as the "Best International Network of the Decade." TBWA has 274 offices in 100 countries and over 11,000 employees worldwide.