Minnie Mouse in Lanvin Paris by Alber Elbaz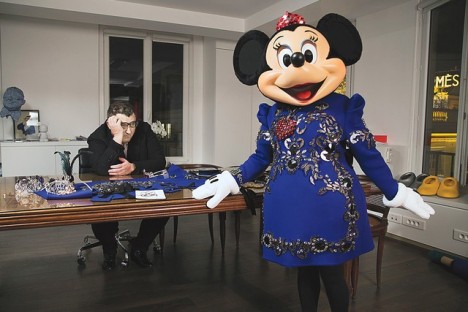 On March 23, Disneyland Paris will host a special fashion parade with celebrity guests for the 20th anniversary of the entertainment resort in Marne-la-Vallée, a new town in the eastern suburbs of Paris, France. Minnie Mouse, Mickey Mouse's fashion and glamour loving lady-friend, will wear a bespoke Lanvin dress. The blue neoprene corset dress is
covered in sequins and jewels.
"Do you recognize the poka-dot dress? What is our surprise guest doing in Paris?" asked Lanvin on its social media accounts. The French fashion house uploaded to the brand's youtube account a teaser video entitled "Who is the famous Lanvin guest?" featuring the distinctive red-and-white polka dot of the fashionable mouse.
"When I showed her two dresses, she knew exactly which one she wanted," Alber Elbaz told WWD. "She likes to show her heels and loves earrings, jewelry, colors and everything that sparkles."