The new Militem Ferox Adventure and Brabus 900 Rocket Edition tuned cars appear in their most extreme, eye-catching looks.
Militem Ferox Adventure was unveiled during MIMO 2021 (Milano Monza Motor Show) representing the latest and finest in Militem's American Tech – Italian Made philosophy.
Each and every Militem vehicle is the perfect blend of American DNA and majestic Italian styling. Militem has redefines iconic American models with craftsmanship, class and unmistakable 'Made in Italy' taste, improving the style and driving experience to create unique tuned vehicles for the luxury-premium market segment.
Militem Ferox Adventure underlines FERŌX's off-road personality, courtesy of the fenders and bumpers treated with special scratch-resistant paint, a snorkel that allows the car to 'breathe' better when fording and a dedicated ADVENTURE roof-rack with LED headlights for improved safety when driving off road at night.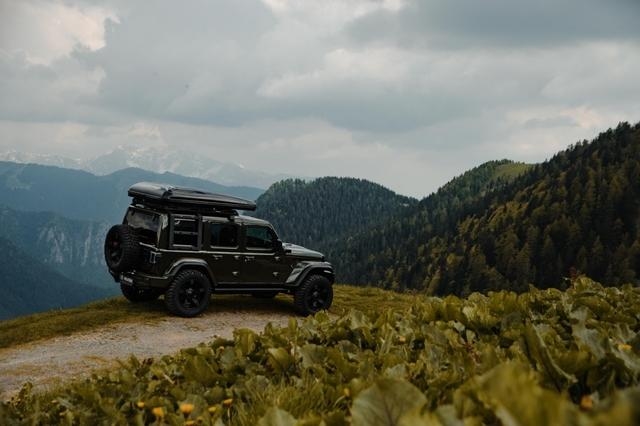 The Militem FERŌX is based on the 4-door Wrangler JL. It features a 2.0 litre 272bhp petrol engine or a 3.6 V6 e-Torque Mild Hybrid producing 285 CV. In alternative is a 2-door version with a 3.6 V6 and an eTorque engine. The e-Torque Mild Hybrid system, via a 48 V generator, recuperates and stores energy during braking. This is then used to start the car when in start-stop mode and to provide more punch and torque when overtaking, reducing consumption and emissions. All versions of the car are fitted with 4WD and an 8-speed automatic transmission.
In its Adventure version, the FERŌX appears in its most extreme, eye-catching look. The design, in the launch Green livery, brings to mind the great international motoring raids, archaeological expeditions and trekking in exotic locations. It doesn't take much to let your mind wander at the speed of sound! A glance is all that is needed to fall for this 'adventuring special vehicle", thanks to its muscular lines designed by Militem's style centre, an exclusive cabin featuring prestigious materials and a crafted finish that means the utmost in attention to detail. Peerless performances in any conditions and in complete safety, ensure an authentic driving experience and unique thrills.
Militem Ferox Adventure is fitted with Cooper 35×12,50 R20 Mud Terrain tyres and, like every FERŌX model, has a raised set-up thanks to its Militem Lift kit 2,0" Extreme Performance Shocks, which employ gas-charged twin-set dampers.
Militem Ferox Adventure comes with a Performance Militem exhaust system and 20" Militem Black Edition rims. s. It also offers a wide range of equipments, such as the blocks of the two electronic differentials, which make it suitable for any type of itinerary.
Brabus has now crowned the godfather of off-roaders with this new supercar
Based on the current Mercedes-AMG G 63, the German tuning company created a high-performance off-roader with
extravagant features built in a limited edition.
The namesake of this unique off-roader is the new Brabus ROCKET 900 V8 increased-displacement engine. The 4.5-liter twin-turbo engine produces 662 kW / 900 hp (888 bhp) and a peak torque of 1,250 Nm (922 lb-ft). This powerplant gives the vehicle tipping the scales at 2,560 kilograms (5,640 lbs.) acceleration performance that few sports cars can match. The exclusive all-wheel drive car hits 100 km/h (62 mph) after just 3.7 seconds. The top speed is electronically limited to 280 km/h (174 mph).
With the new Brabus 900 Rocket Edition, the Bottrop-based company, which holds the status of vehicle manufacturer with the German Federal Motor Transport Authority, presents a new top-of-the-line increased-displacement engine in the body of the Mercedes G-Class.
However, the new Brabus supercar fascinates not only with its enormous performance potential, but also with its vigorous looks. The Brabus ROCKET EDITION widebody version with sporty carbon elements was developed especially for this special model. Also exclusively developed for this new model were special Brabus Monoblock Z 24-inch hi-tech forged wheels that underscore the sporty aspirations of this automobile with Brabus Aero Discs made of exposed carbon. They are fitted with extremely wide high-performance street tires up to size 355/25 ZR 24 on the rear axle.
Red elements around the bodywork and the wheels accentuate the sports SUV's unique design. Special paint finishes such as "Stealth Gray" shown here on the all-new Brabus 900 Rocket Edition are also part of the portfolio of this limited small series. The second vehicle shown is painted "Signature Black."
The exceptional bespoke Brabus MASTERPIECE interior in the finest black leather with color-contrasting as well as
decorative stitching was also created especially for these vehicles. In addition to bucket seats and a center console with retractable tables in the rear, the interior also includes sporty carbon inlays and newly color-coordinated elements in the cockpit.
The Brabus 900 Rocket Edition starts at 480,059 euros (export price without VAT in Germany). Of course, every buyer of a Brabus 900 Rocket Edition can configure their supercar individually in every detail, which naturally also includes the color scheme of the bodywork and the interior.
The Brabus 900 Rocket Edition is built in a limited edition of just 25 vehicles. The first ten supercars will be delivered before the year is out. By the end of 2022, a total of 25 vehicles will then be produced.
This new Brabus supercar fascinates not only with its high performance, but also with its extravagant looks. A new variant of the Brabus WIDESTAR widebody version, which was developed especially for the Brabus 900 Rocket Edition, adds decidedly sporty highlights with additional exposed carbon elements. On this special model, these include a front spoiler with side flaps on both sides and a radiator grille with integrated RAM-AIR intakes, ROCKET Startup Glow and an illuminated ROCKET logo. Also new are the carbon fiber trim elements for the WIDESTAR widebody fender flares on the front and rear axles, an emphatically sporty rear wing on the roof, and a diffuser for the Brabus rear fascia.