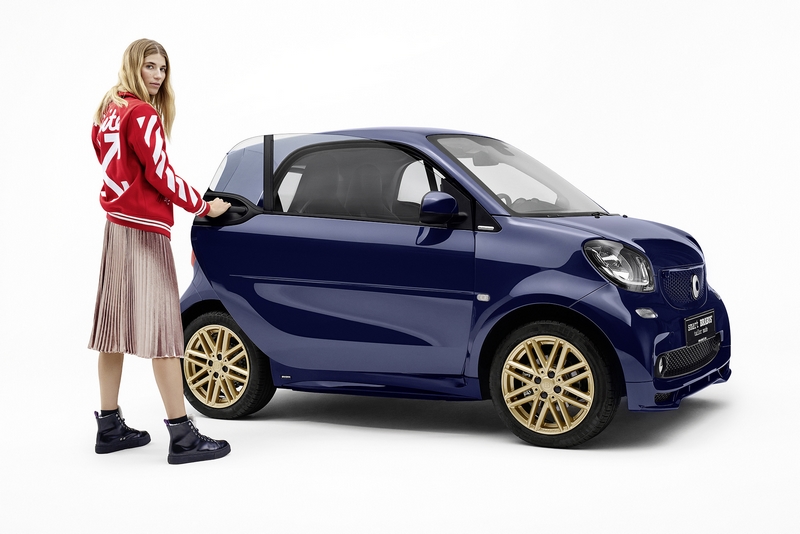 Style icon Veronika Heilbrunner is presenting her individual smart fortwo | BRABUS tailor made during 2017 Mercedes-Benz Fashion Week Berlin. Born in Munich, Veronika Heilbrunner currently lives in Berlin and, according to Vogue.com, is among the world's most influential street style icons. Her unmistakable, sporty and romantic looks have inspired fans and earned her followers in the fashion scene around the globe.
The two-seater styled by Veronika Heilbrunner will be on show at Berlin's Appel Design Gallery between 17 and 19 January 2017, along with premium fashion photography and a behind-the-scenes video. For the exterior paintwork the street style icon created the shade "velvet blue", which makes the sporty smart fortwo sparkle in the sunlight. The coordinating rims are in "royal gold". Both colours have been added to the latest tailor made programme colour catalogue. The interior is dominated by black leather. A contrasting, tailor-made ruby red glass cap gleams on the gear knob. And the head restraint on the driver's seat is embroidered with the stylist's initials.
"A smart is the perfect car for the city and, as such, the perfect vehicle for expressing urban individuality. That's what we want to show with this project. We have always found innovative ways of highlighting the creativity of the urban lifestyle car and the wide range of design possibilities the smart offers," state Dr Denise Heinermann-Bieler and Carolin Güthenke, Senior Managers Marketing Communication and Brand Management smart.
Veronika Heilbrunner went on a journey to gather inspiration for her individually styled smart, speaking to creatives and designers about materials, colours and production options. This gave her a better idea of the possibilities that smart brabus tailor made offers. Over the course of several months, her highly personal smart fortwo | brabus tailor made gradually began to take shape.
"It was an inspiring experience for me, designing a car rather than fashion. I wanted to experiment with colours and materials to create something very personal," stated Veronika Heilbrunner. "As individual as I am, and as creative as fashion – the smart fortwo | brabus tailor made by Veronika Heilbrunner reflects my ideal of perfect individualisation."
Although the car is a one-off, customers will be able to create an almost identical replica for their own private use with the aid of the tailor made programme.