Dominic Wilcox for The Design Museum Tank 2015.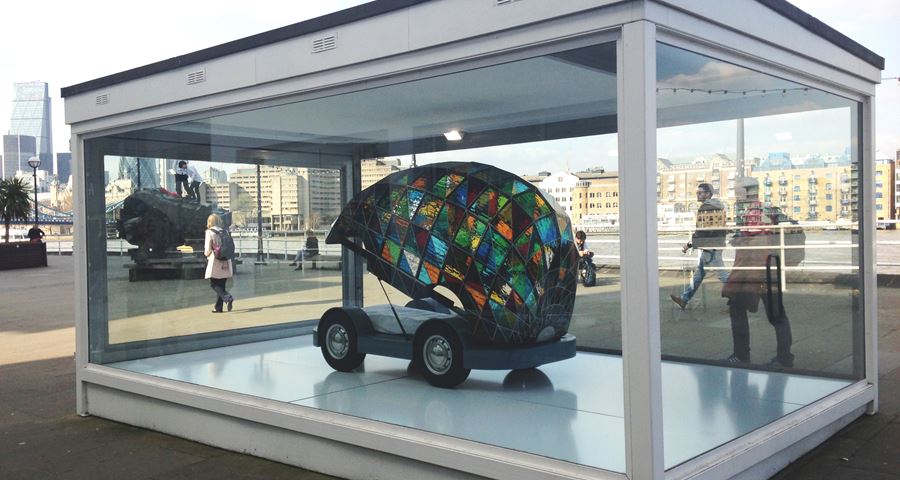 The Design Museum Tank, the outdoor and highly visible pop-up installation space on the Thames' Riverside Walk, offers a programme of constantly changing installations. The latest Tank showcased in the dramatic location facing the Thames is signed by Dominic Wilcox.
Dominic Wilcox's driverless glass car prototype was created as a vision of the future of transport for the 'Dezeen and Mini Frontiers' London Design Festival exhibition. With only a bed inside, the passenger can sleep while the car takes them to their destination.
The car combines the handmade process of glass work with modern and future technologies to create a proposal of how transport could be in the middle of the 21st century.
"I propose that in the year 2059 it will be statistically proven that it is safer to ride in a computer controlled 'driverless' vehicle than to ride in a human driven vehicle. In fact in 2058 there were no collisions on the Digital M1 motorway where only driverless vehicles are allowed," explained Dominic Wilcox.
"This means that driverless vehicles will not require the typical safety equipment we see on current cars such as air bags and bumpers. We will simply require a living space on wheels. The technology of the motor and driverless, automated navigation system will be held within a standard, modular chassis, on to which any living space shell can be built. I am presenting one example of the type of vehicles possible and have designed a prototype for a driverless car made from stained glass. This vehicle is a single person 'sleeper car', the occupant can sleep on a bed while the car travels to the destination of choice," he added.