Marie-Hélène de Taillac's Jewelry Capsule Collection for Baccarat.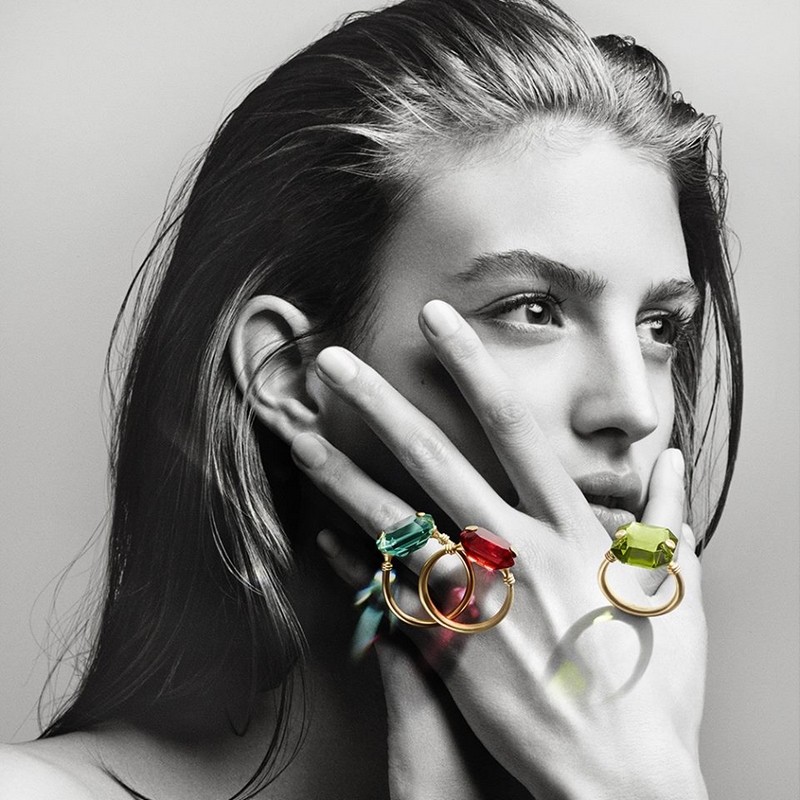 The French jewelry designer Marie-Hélène De Taillac takes us on a magic journey to a cascade of octagonal crystals. The emblematic Baccarat red box is now the stage for a sumptuous set where the drops of the chandeliers come to life and blend in a kaleidoscope of clear crystal, blue lagoon, olive green, powder pink and ruby red. The collection includes striking drop earrings, chandeliers, rings, and necklaces with gold and silver settings.
"The great thing about working with crystals is that the color range complements every skin tone," explained the De Taillac.
"The mysterious octagon metamorphoses into rings, pendants, necklaces and earrings. With incredible subtlety, the material embraces the skin on fine settings of gold or silver. Each piece becomes a magnet of attraction, its crown of a thousand lights illuminates any face, glorifies any décolleté, magnifies any expression," says Baccarat Crystal house.
In 1993, Baccarat began making jewelry and in 1997 the company expanded into perfume. The company owns two museums: the Musée Baccarat in Baccarat, Meurthe-et-Moselle and the Musée Baccarat in Paris on the Place des États-Unis. Groupe du Louvre is the majority shareholder of the company and is a subsidiary of the United States company Starwood Capital Group.
In 2005, Baccarat was acquired by Starwood Capital Group in the United States. In 2012 Starwood announced it would use the name for a luxury hotel chain "Baccarat Hotels and Resorts" which will feature company's crystal chandeliers.