Christophe Claret is a natural-born anti-conformist who never misses out on a chance to express his creative audacity through original displays running counter to traditional design codes.  Christophe Claret's latest timepiece will help you remember something important.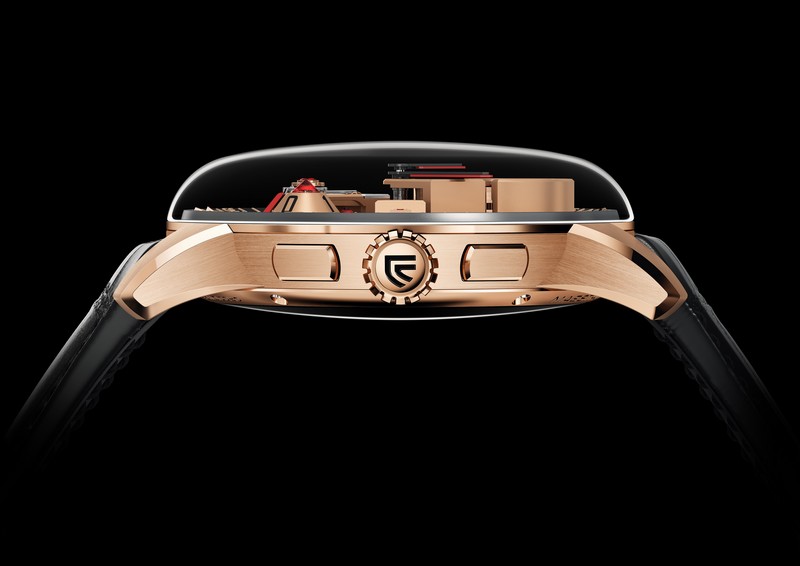 Christophe Claret Maestro's glass dome provides a striking view of the movement architecture and the famous Charles X bridges. Endowed with a seven-day power reserve, a cone-shaped large date display and a 3D MEMO function, Maestro asserts itself as the first Haute Complication watch by Christophe Claret with a CHF 68,000 price tag.
The 42mm case – the smallest diameter in the Christophe Claret collections – in grade 5 titanium or 5N pink gold asserts its style with a curvex shape that accentuates its trim design. The choice of a glass dome to serve as a bezel provides a whole new perspective on the movement.
"The airy and graphic architecture – reinforced by the inner bezel ring with its matt and polished finishing, as well as Christophe Claret's characteristic two-tone, bi-material hands –is truly striking. 'Wow' effect guaranteed!" says Christophe Claret watchmaking maison.
Witness the large date that the watchmaker has cleverly placed at 5 o'clock. Composed of two cone-shaped aluminum disks, one for the tens on the upper part and the second for the units, this patented large date display performs a semi-instantaneous jump between midnight and twenty past midnight. Lending the perfect finishing touch, its top is set with a natural ruby or a natural sapphire.
As if to echo the 3D effect of this voluminous date display, another cone shape – also topped with a sapphire or ruby – draws the gaze to the space between 3 and 4 o'clock. Never one to stint on playful complications liable to fire the imagination of watch connoisseurs, Christophe Claret unveils here another brand-new function. Inspired by the expression "tie a knot in your handkerchief" to help one remember something important, MEMO is an  mechanical reminder intended for absent-minded watch enthusiasts as well as fans of technical gadgets.
Whatever daily objective the owner of the Maestro has set himself, the MEMO adorned with a sapphire or ruby and a diamond – depending on the version – is there to remind him of his commitment. Once the objective has been met, a simple press on the pusher pivots the MEMO function, which will return to its initial position each night in a twenty-minute process driven by a semi-instantaneous jump system. A sapphire crystal pane fitted on the back of the watch provides a chance to admire the meticulous movement decorations.
Christophe Claret Maestro watch unveiled at SIHH 2017  is available in 5N pink gold or grade 5 titanium and both versions are issued in 88- piece limited editions.