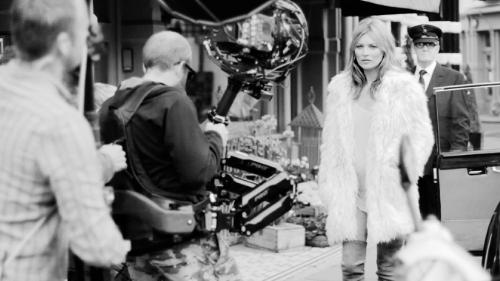 Start Walking! Designer Stuart Weitzman capitalizes on its stellar boot reputation with the launch of "Made for Walking" video starring Kate Moss, the face of the brand's Fall Winter 2013 campaign. Directed by independent filmmaker Balthazar Klarwein, the film brings to life the palpable thrill of Kate Moss stepping out in London wearing Stuart Weitzman boots. "Made for Walking" premiered on September 19th during Milan Fashion Week at the opening of the brand's new Milan flagship store designed by Zaha Hadid.
Shot in central London and set to a modern remake of the classic Nancy Sinatra song "These Boots Are Made for Walking" performed by artist Kari Kimmel, the film follows Kate Moss as she rides in a chauffeured car only to be thwarted by a traffic jam and opts to get out and walk to her destination – all while wearing fabulous Stuart Weitzman boots. From her trademark shaggy furs to hip all-black ensembles, Moss's must-haves are perfect pairings for Weitzman's trademark boots.
To coincide with the launch of the Milan flagship opening event, Stuart Weitzman commissioned Producer and DJ, Brendan Fallis, to create a track with sound bites from Kate Moss' interview which were pulled from the day of the shoot. Fallis collaborated with Andrew Watt, an extremely talented singer/songwriter and instrumentalist who is currently serving as the lead guitarist and Musical Director for Cody Simpson to come up with "Day & All Night". The track which is reminiscent of the funky rhythm of Daft Punk also features Billy Joel's saxophonist, Richie Cannata.