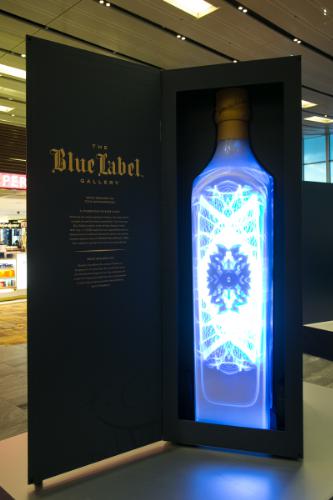 Johnnie Walker Blue Label, one of the leading ultra-premium Scotch whisky, has created in conjunction with some of the most celebrated international contemporary artists and fashion designers a 3D art exhibition in a bottle.
Using the latest in projection technology, a collection of artistic endeavours are showcased from within large format JOHNNIE WALKER BLUE LABEL bottles that stand at almost three metres tall. In another break from tradition, the art installation will not be exhibited in established art galleries but instead feature in cosmopolitan airports across the globe from Singapore, to London and beyond, reflecting the travel credentials of the brand.
In each of these vibrant cities, JOHNNIE WALKER will collaborate with local game-changing artisans to showcase their interpretation of 'The Rare Blend' – a homage to JOHNNIE WALKER BLUE LABEL, one of the pinnacle offerings from JOHNNIE WALKER. The bottles will be filled with bespoke 3D and CGI graphics created by famous local artists from the host cities, giving the content perspective and depth.
The first port of call is the Terminal 1 in Singapore Changi Airport, the world's most awarded airport. The Gallery will then take to the skies and travel to other key destination airports around the world. For the world premiere in Singapore, JOHNNIE WALKER has commissioned three local leading contemporary artists who embody the unique character of both the rare whisky and the spirit of the Lion City: Priscilla Shunmugam, celebrated fashion designer and creator of the Ong Shunmugam label; Alvin Tan from the award-winning Phunk Studio; and Brandon Tay, a leading multimedia artist who blends technology with art.
Each artwork in the Gallery brings to life a key element of both the heritage of JOHNNIE WALKER BLUE LABEL and the country of Singapore:
Priscilla Shunmugam tells the story, in CGI video form, behind her 'Architectural Couture' artwork. In it she shows the marrying of the stories behind the iconic buildings of Singapore and their structural rigidity and beauty, with the flowing organic patterns from traditional fabrics. Each building, like the rare whisky has a story of real character, one steeped in history and shaped by the present, both coming together to inspire the creation of each piece of clothing.
Alvin Tan's piece brings together the voices of visionaries in an animation sequence that is nothing short of mesmerising. This artwork will showcase handcrafted digital typography, breathing life to the game-changing minds of Aristotle and Dr. Livingstone. A visualization of how words can be shared with a great spirit, Alvin will use paper sculptures as they form and mesmerize as they spiral into a creation representing a blend of voices from different personalities, crossing diverse talents and experiences.
Brandon Tay examines the beauty within the bottle. He is inspired by the notion of metamorphosis, drawing parallels between its occurrence in nature, its representation in Singapore's evolution through these 48 years and aptly, the transformation of the finest ingredients and our rarest blend of whiskies into a prized bottle of JOHNNIE WALKER BLUE LABEL. His piece will blend fauna and flora to create a new unique life form reminiscent of a silk worm spinning the thread for its cocoon.
http://www.youtube.com/watch?v=FBip4vNlot4