Autumn carries more gold in its pocket than all the other seasons. A season this colourful deserves some vibrant tableware arrangements. Discover the new colour palette fresh for Autumn-Winter 2017/2018.
Creative, innovative and beautiful design can be used to help celebrate the day-to-day occasions we all have in our lives. The many motifs of autumn allow for endless creativity when it comes to table settings. When the leaves start to blush and turn red, it is time to think about gifts. May this season of giving offer a reminder to be generous to others.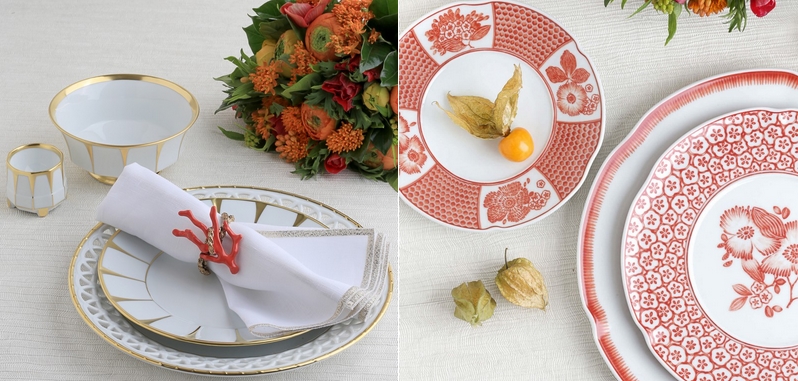 In the mood for good design? Let's head to BONADEA, the indulgent homeware destination with hand-selected unique pieces you wouldn't be able to find in other places. BONADEA takes luxury tableware to new heights with a curated selection of decorative pieces from the most innovative designers and artisans. The platform for the best in contemporary homeware design also offers bespoke and customised products.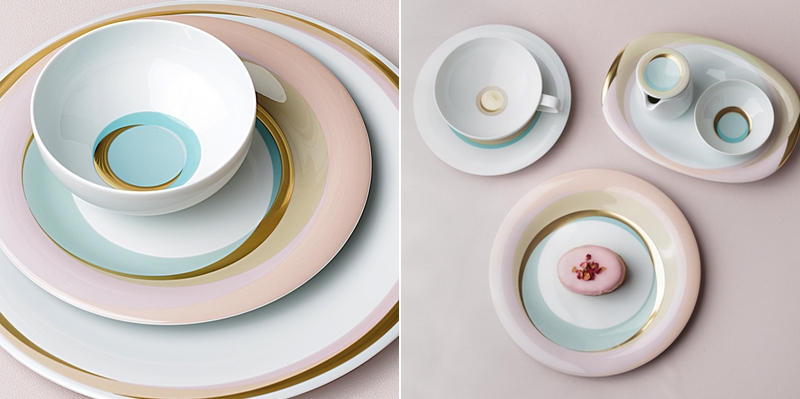 Fluen: Porcelain like a flowing movement
Alfredo Häberli's exquisite tabletop collection for Fürstenberg brings to mind the fallen leaves dancing on a windy day.
In the new Fluen tableware collection, created by Swiss designer Alfredo Häberli for the porcelain manufacturer FÜRSTENBERG, poetry and exactness are smoothly combined. Gentle pastel tones and powerful gold are juxtaposed into an autumn haiku poem.
"If I were to set a theme for my various works, it would be precision and poetry. Precision, which is perhaps the Swiss in me, and perhaps a little technocratic … and poetry, which is the South American in me, the sensitivity, where the colours also come into play. Like with the patterns for Fluen," explained the designer.
Oscar de la Renta Coralina Tea Seat
Celebrate the afternoon tea ritual in style with Coralina, the  fine porcelain collection designed by Oscar de la Renta. This luxurious tea set reflects the radiance and elegance that the fashion designer placed in all his creations.
This pattern of bold coral blooms is an answer to the question if we can restart summer. These aquatic floral motifs from a custom gown Oscar de la Renta created in 2006 are re-imagined on the Coralina tea cup and saucer set. The tropical coral notes reflecting Oscar de la Renta's Dominican roots are a proof that summer is full of warm memories and gone too soon. Accented with gold, the tea set is crafted in Portugal by Vista Alegre, the creators of luxurious fine china, crystal, glass, dinner sets, home decor and gifts.
Facets – Luxury Barware from Shona Marsh
For Shona Marsh, an object's beauty is defined by a keen eye for detail. Made by hand using traditional silversmithing skills, this collection of lifestyle objects is a well-balanced equation of fine metals, woods, crystal and gemstones. The beautiful handcrafted objects are created using specialist silver-making techniques and are the best accessories for a relaxed gathering with friends. The decanter makes the perfect serving vessel for any spirits. You will love how Autumn wraps its arms around you like a warm blanket.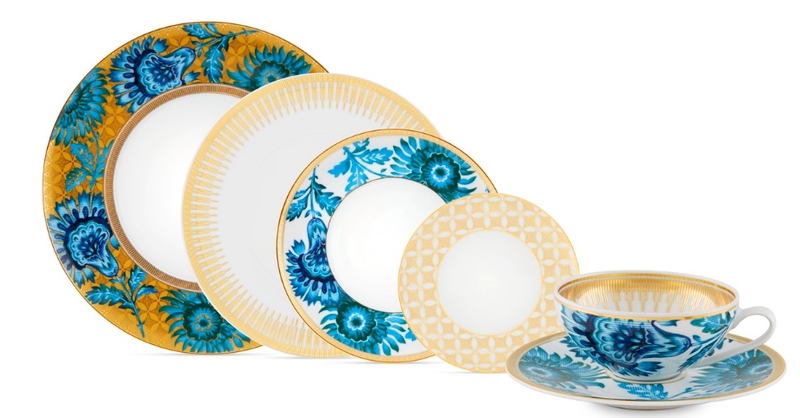 Gold Exotic – Our Weather Forecast: Warm Conditions, Hot Fashion, Fabulous Recipes and Golden Hues
Florals and gold make a genius duo. When vibrant flowers take centre stage paired with gold accents, you know Vista Alegre is on the menu. Vista Alegre is one of the oldest porcelain workshops in Portugal and one of the most prestigious manufacturers on the continent. Greet guests with a little seasonal charm and the Gold Exotic dinnerware collection. The Eastern-inspired floral pattern in a rich palette of greens, blues and golds will fully capture the flavour of the festive season.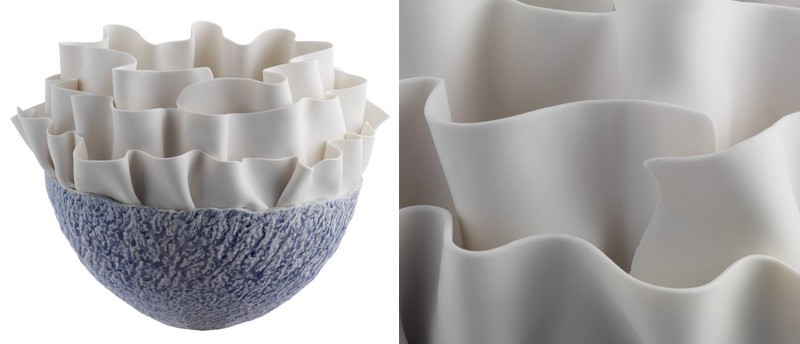 Exquisite details make interiors sing: Anthozoa Vase
Anthozoa vases are very beautiful and majestic to look at. Hand-crafted in Faenza, Italy, utilising biscuit porcelain, FOS Ceramiche's Anthozoa Vases are the closest thing to recreating the ocean plants found in the marine environment. A lot of travelers purposely search for these mesmerising plants because they are rare and endangered. Also, they are just beautiful to look at. Bring them home in their most sustainable version.
Monochrome: Timeless design is not a cliché
You never really know a house until you've seen the tableware. Just look at Sieger by Fuerstenberg and you will understand that simplicity is the ultimate form of sophistication. Every Domino Effect Home Accessories Collection is visually powerful and above all timeless.

Borgia – Decorating is like music. Harmony is what we strive for
This year, BONADEA collaborated with Carla Baz, one of Lebanon's most exciting young designers in an exclusive project to create the 'Borgia Candelabras'. A sculpture dedicated to a bouquet of flickering candle-light, Borgia Candelabra by Carla Baz is a work of art destined to light up your décor.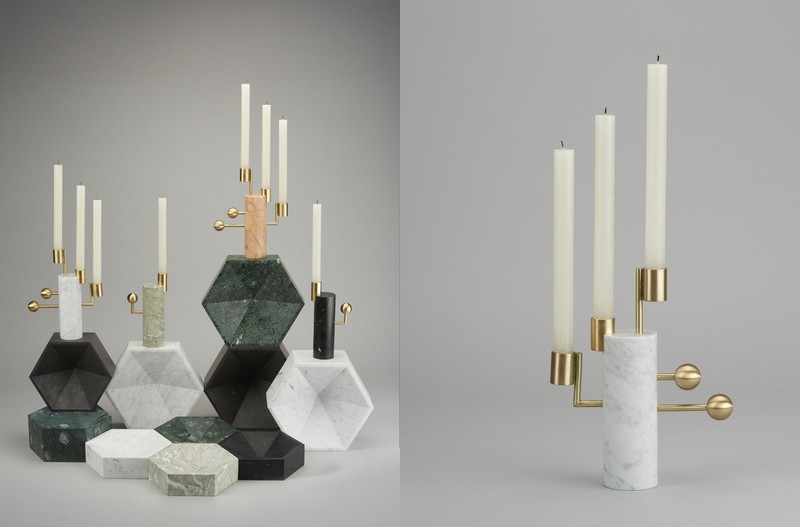 Stargazer by Lara Bohinc for Lapicida – an accessories collection of timeless beauty and modernity
We all need a designer orrery in our decor. These collectible objects by Lara Bohinc for LAPICIDA, one of the leading names in precious stone designs, will surely make a statement. Lara Bohinc is one of the most innovative and successful designers of her generation. Her orrery-inspired accessories are a reminder of the passing of time. Everyone must take time to sit, to meditate and watch the leaves turn.
Part of the acclaimed Lunar range, Stargazer is one of Lara Bohinc's most prolific projects for LAPICIDA Stone Specialist. This elegant piece is available in delicate hues of marble; Buiscaro Rosa, Verde Guatemala, Nero Marquina and Carrara.
To help ease the transition from summer, this Legle Porcelain collection is the ideal centrepiece. Legle Porcelain is an artistic marriage of classic Limoges family tradition and prominent contemporary design. The set is crafted in Limoges porcelain and embellished with a splendid 24-carat gold banding. The Sous Le Soleil collection can be customised in an array of colours.
"Hand select from a wide range of colours: from raspberry pink to Provence blue, from bronze to amethyst, to create the atmosphere and a dining table that reflects your personality and mood," suggests Legle.
There is more in the treasure chest: upgrade your FW 2017/2018 home decor line-up with covetable styles from Alain Saint-Joanis, Christian Lacroix, Richard Brendon, Christofle, FUERSTENBERG, Marie Daâge, L'Objet, Weissfee and many more.