A perfect display for your timepieces. Lumisidus brings more high tech materials to the watch winder design.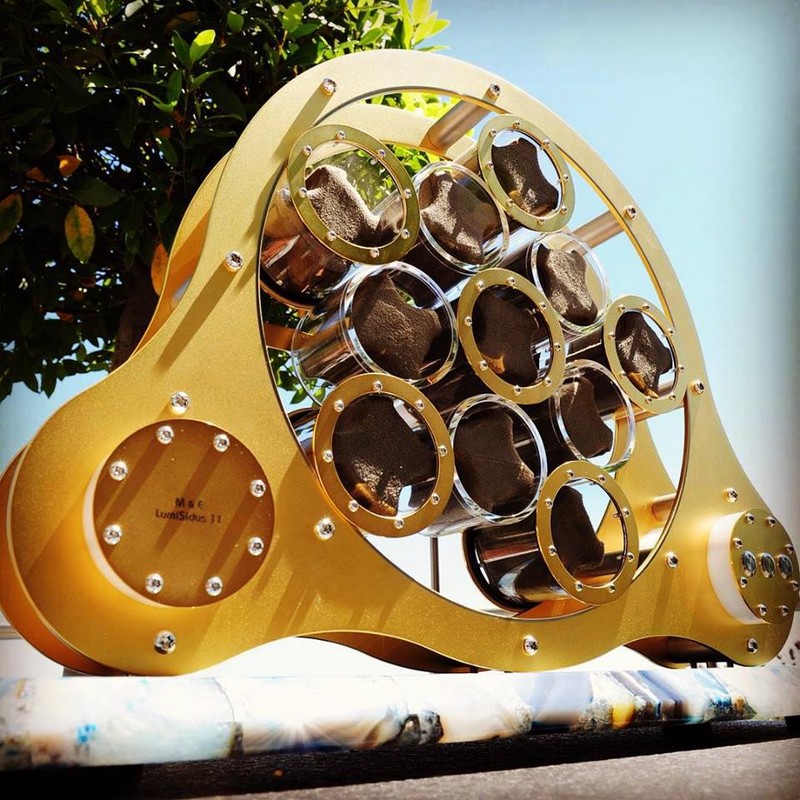 One day Germany-based Lumisidus asked themselves how would the most amazing Watch Winder look like. Then the house designed and manufactured its first Watch Winder. This bad boy bringing more high tech materials to the watch winder design is equipped with solid carbon fibre rings and as always Lumisidus metal gear "Swiss Made" motor.
This new type of watch winder not only keeps the little mechanical works of art in gentle motion but also forms part of an aesthetically appealing all embracing objet d'art.
Made with 24 karat gold plating and complemented by a smartphone app, the €34,990.00 EUR LumiSidus Watch Winders keeps 11 automatic watches wound up and ready for use, displaying them behind crystal and illuminating them with
individual LED lights all the while. Choose any color you want for the LED integrated Smoky Crystal Quartz
pedestal. Best thing, you can even change colors with the LumiSidus iOS App.
Your watches are wound up by a gentle and harmonic movement without any quick stops or fast spins. The watch lover
can set the number of rotations per day with the LumiSidus Watch Winder App and select the rest phase. The
rotation direction of this is changed automatically so that a minimum of settings are necessary to set up the
LumiSidus Watch Winder.
The basic mechanical concept of the LumiSidus is characterised by its simplicity: The cylinders in which the watches are attached roll over each other and in this way keep each other in motion. Only the central cylinder has to be driven. The technical implementation of the idea also follows the principle of simplicity and clear lines. "The term "non-positive connection"is often used in technology", explains Lumisidus founder, Alexander Merklinger, "this means that the rollers are in no way linked to one another, they simply touch each other at their outer surfaces. The motion is transmitted only as a result of the cylinders rolling off each other." For the entire device to function, these cylinders as well as the two outer retaining rings must be made with extreme precision.
To assemble the watch winder, nine cylinders made of metal and perspex are simply placed in the frame around the driven central cylinder; stable connection of all elements in the system is not established until the eleventh cylinder is mounted.