Maison Louis Vuitton has entered a new realm, the world of perfumes.
Seven intensely feminine eaux de parfum tracing a journey of emotions.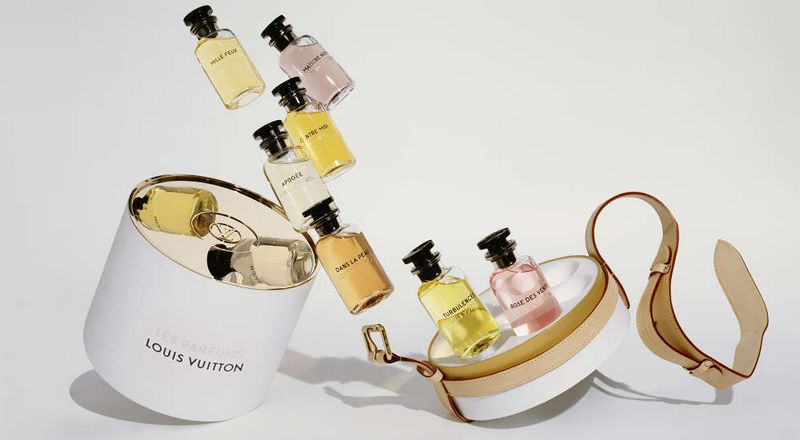 The master perfumer Jacques Cavallier, who is now Louis Vuitton's in-house nose, spent months traveling the five continents and also exploring the heart of Louis Vuitton at its ateliers on his quest for new scents and unexpected emotions. His discoveries led to the composition of seven olfactory journeys under Louis Vuitton Perfumes umbrella.
The first travel flasks and fragrances signed Louis Vuitton date back to the early 20th century. The bottles are engraved with evocative names – Heures d'Absence, Réminiscences or Eau de voyage – but the scents have evaporated, leaving Louis Vuitton carte blanche to reinvent its own fragrance universe.
For the perfume bottles, designer Marc Newson emphasized absolute purity, with clean lines, black lettering on transparent glass and the discreetly engraved Louis Vuitton name. Several different cases have been designed, including a set of miniatures for discovery of all seven creations, a travel bottle, and a Monogram case inspired by vanity cases made for elegant lady travelers in the early 20th century. Created by Louis Vuitton workshops, the Monogram case safely transports three bottles.
Rose des Vents is a perfume that is as airy as it is silky soft, transporting you to the rose fields of Grasse, vibrantly infused with the golden light of the morning sun. The rose is celebrated in an exceptional trio of Turkish rose, Bulgarian rose and absolute of Centifolia rose in a CO2 extraction using an exclusive technique developed by Louis Vuitton.
The olfactory journey continues with Turbulences, a composition around captivating tuberose. The fruit of an inspired encounter between flowers and an exclusive infusion of natural cowhide leather from Louis Vuitton ateliers, Dans la Peau is an invitation to a sensual interlude before discovering Apogée, an ode to nature embodied by lily-of-the-valley, a symbol of renewal.
The escapade then turns to a striking duo. In Contre moi, vanilla reveals its delicate freshness, while Matière Noire explores the dark mystery of a precious wood, Laos agarwood. The journey culminates with Mille Feux, an incandescent fragrance that associates leather and raspberry for an olfactory apotheosis.
To embody the new fragrance collection, the Maison chose Léa Seydoux, already a Louis Vuitton muse. The French actress will be the face of the perfumes in a campaign to be released in fall 2016.
Available from September in select Louis Vuitton stores. The perfumes are available in different size bottles that can be refilled at a perfume fountain in all Louis Vuitton stores.