Contemporary Fine Watchmaking: Louis Vuitton Flying Tourbillon "Poinçon de Genève" Watch.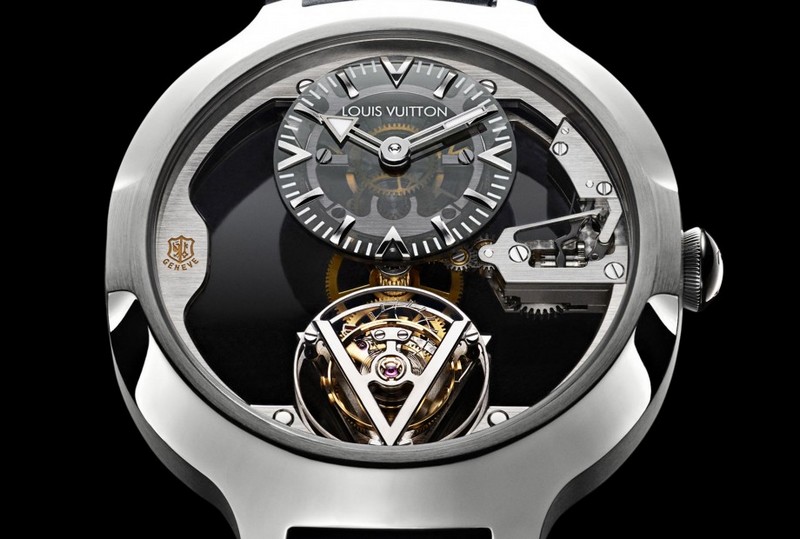 La Fabrique du Temps Louis Vuitton, Louis Vuitton's watch division, gets more complicated with every new timepiece. For a year and a half, the world's leading luxury group was working to produce a Poinçon de Genève flying tourbillon, an invitation to join watchmaking's premier league.
Reserved to makers of Haute Horlogerie watches, this distinction marks a thrilling new phase for LV's watchmaking. Awarded by an independent institution, the "Poinçon de Genève", or "Geneva Seal" guarantees the origin, manufacturing and quality of watches. The Geneva seal in horology (watches), is a certification reserved for wrist watch movements made in the City or Canton of Geneva. Although it is concerned mainly with the finishing and decoration of the watch movement, it is considered a high accolade in the industry.
The new Flying Tourbillon features an exceptionally transparent case revealing a skeleton tourbillon movement and ultra-precise finishing. The movement can be admired from all angles.
"Sixteen months after establishing itself in the canton of Geneva, La Fabrique du Temps Louis Vuitton has entered a new era. For the first time, a Louis Vuitton watch bears the mark of the "Poinçon de Genève", which can be seen on the face of the watch. This is the most prestigious certification that a watch can carry, and a testament to Louis Vuitton's watchmaking experience and expertise. It takes the form of a delicate skeleton watch fitted with a tourbillon regulator," said Louis Vuitton Fine Watchmaking division.
Founded in 2007, La Fabrique du Temps has worked with Louis Vuitton since its creation. In 2011, the high watchmaking workshop was accquiered by Louis Vuitton.