Porcelanosa calls New York City home with the opening of a new flagship.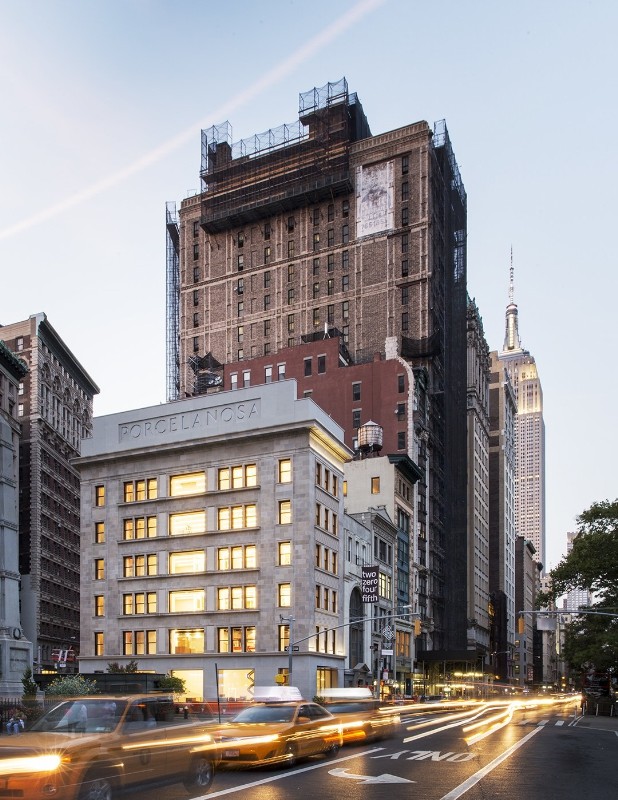 Spanish luxury ceramics and tiling company Porcelanosa has completed the renovation of the former Commodore Criterion building in Madison Square Park, New York City to become their U.S. flagship store.
The building, a protected city landmark, was originally designed and built in 1918 and was purchased by Porcelanosa in 2012. World-renowned architects from Foster + Partners, headed by Pritzker Architecture Prize winning architect Lord Norman Foster, began refurbishing the 18,000 square foot building in early 2013 and have worked diligently to ensure that the project has preserved its historic exterior.
"The building's incredible design, interactive technology features and unprecedented offerings make it a truly remarkable place which will greatly benefit the design community in New York City and greater design industry," said Santiago Manent, Sales and Marketing Director for PORCELANOSA.
The building, which will be LEED Gold certified by the United States Green Building Council, boasts unique features
on each of its eight floors, including a retractable, polished ceiling made out of PORCELANOSA's trademarked KRION Solid Surface, café, bar and lounge areas and a full floor dedicated to a professional material library with touch- screen displays.
The first floor also overlooks a floor-to-ceiling 26'H x 16′ LED screen, visible from 25th Street, Broadway or Fifth Avenue.
To celebrate the grand opening, PORCELANOSA partnered with the Madison Square Park Conservancy to host their Fall Fundraising Gala on the park's grounds on September 9th, 2015. More than 700 guests in attendance enjoyed a seated
dinner. Celebrity guests in attendance at the gala included: Actress Sarah Jessica Parker, Actor Richard Gere, Model
Irina Shayk, Fashion designer Carolina Herrera, Porcelanosa Spokesperson Isabel Preysler, and Nobel Prize winner
Mario Vargas Llosa.
Porcelanosa has also provided a donation to Madison Square Park, making it possible for the group to reinvest in its
infrastructure, maintain the bountiful green space and exquisite gardens, make necessary repairs and upgrades to
existing features.