Building on its prodigious reputation, visitors to the 2017 London Design Fair can expect a first-rate design exhibition. This year, the London Design Fair will launch its Material of the Year—Jesmonite—as well as its inaugural show theme—botany.
Looking forward to the London Design Fair 2017, the event is shaping up to be another prodigious design extravaganza. We are excited to reveal more about what visitors can expect when the Fair opens its doors at the Old Truman Brewery from 21st–24th September 2017.
 Country Showcases at London Design Festival 2017:
Inspiring Portugal
The Inspiring Portugal pavilion will return to the London Design Fair. Curated by renowned designer Marco Sousa Santos, it will showcase Portugal's best emerging and established brands.
An initiative of the project Off Portugal (whose aim is to support young Portuguese designers), 'Glass Cares' is a showcase of ten experimental glass pieces made by ten independent designers. At a two-day workshop residency in Marinha Grande (a region known for its glass-blowing tradition), each designer worked with experienced local craftsmen to create a distinct glass piece.

South Korea's leading player in the field of design since 2002, Seoul Design Festival is a theme-oriented exhibition where designers express their creativity through experimental ideas.
Taking part in the Seoul Design Festival showcase, Craft Combine is a South Korean design collective run by four students from Hongik University in Seoul. With a collective expertise in photography, metalwork, product design and textiles, Craft Combine is interested in materials and processes applied across disciplines. OIMU is a Seoul-based studio whose work bridges the values of the past with the present-day. OIMU's projects seek to help with the revival of secondary, nostalgic industries, such as the making of matches and incense.

Netherlands: Dutch Stuff
Dutch Stuff is the Netherlands' long-awaited design debut at London Design Fair. This showcase presents a curated selection of over seventy designers, studios and products in a gallery-style setting. It aims to encourage visitors to ponder the impact of De Stijl—the avant-garde Dutch artistic movement—on contemporary Dutch design (De Stijl celebrates its 100th anniversary in 2017). Dutch Stuff is curated by several forward-thinking and original Dutch design brands, including Form & Seek, Vij5 and Dutch Invertuals.
Rotterdam-based Truly Truly was founded by Australian designers Joel and Kate Booy. The brand will showcase its industrial-design-meets-art wares. Studio Lizan Freijsen is captivated by fungi and challenges our negative perceptions of mould. As a way of embracing imperfection, Lizan's project 'Decay on demand' transformed photos of leakages into wallpapers. Isaac Monté is fascinated with unusual materials (from recycled seat belts to roadkill fur), and possesses the urge to master and manipulate them. At London Design Fair, Isaac will launch Crystallised Insects, a new element of his 'Crystal Series'. Studio Frederik Roijé is an international design agency whose products include furniture, lighting and accessories. The studio works assiduously to reach new levels of creativity and innovation. Steven Banken is strongly drawn to wood craftsmanship and history. In his recent 'Tannic Acid' series, Steven used chemical reactions to reveal the exceptional similarity in colour of two radically different materials—oak and steel.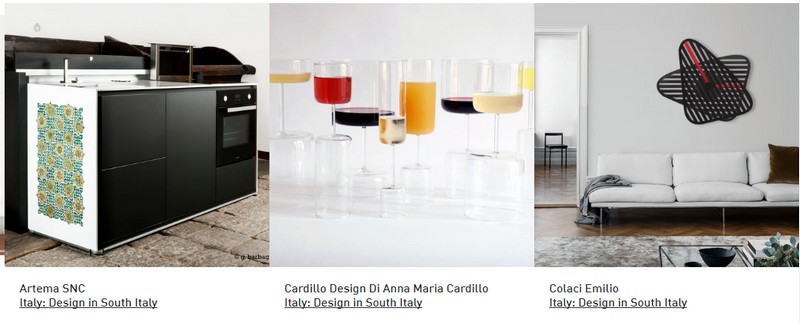 Design in South Italy Pavilion
In its third edition at London Design Fair, the Design in South Italy pavilion will once again present a fine array of products and materials, created by designers, studios and brands from Southern Italy.
Based in Ostuni, Apulia, Officine Tamborrino is a creative lab working with a number of freelance designers. 'Caos' is a curvy steel sculpture designed by Alessandro Guerriero. The mix of straight and curving lines offer an offbeat and rather maverick form of storage.
Working in collaboration with world renowned designers, Samsung have a proud history of creating products designed and engineered to deliver the perfect balance between life and style.
This year Samsung introduces 'The Frame'. More than just a TV, The Frame is the result of a two-year collaboration with acclaimed designer Yves Behar, transforming the television into something truly personal.
The Frame is the first intelligent display that blends the functionality of a TV with the design, style and appearance of a framed piece of artwork. Using Samsung's Art Mode technology, it accurately replicates the qualities of printed and painted artworks.

Select Designers at Country Showcases:
John Hogan at the Guest Country USA Pavilion
Innovative glassmaker John Hogan is part of 'Assembly', the USA pavilion at London Design Fair. Based in Seattle, John has been crafting glass artworks, objects and lighting for more than fifteen years. He is currently combining the techniques of glass casting and hot glass sculpting with studio-based experimental painting.

Tartaruga at Poland:The City of Lódz
Participating in Poland: The City of Lódz, weaving studio Tartaruga was created by Wiktoria Nowak and Jadzia Lenart. Making contemporary kilims and wall hangings by hand, Tartaruga practices slow design. The brand will launch at London Design Fair.
Tom Pigeon at Scotland: Craft & Design Pavilion
A part of the Scotland: Craft & Design pavilion, Tom Pigeon is a creative studio founded in 2014 by Pete and Kirsty Thomas. The pair established Tom Pigeon in order to make things they would happily own and live with. Simple designs include a handsome array of prints, jewellery and stationery. During London Design Fair, a new range of abstract prints will be on display.

Independent Studios
Mark Laban was one of the winners of the 'New Designers London Design Fair Associate Prize' (and a 6 sq.m. stand at 2017's London Design Fair). Mark's approach questions the established relationships between maker, material and machine. His innovative, digitally crafted furniture is made using Valchromat—produced from organically dyed wood fibres bonded in resin, Valchromat has excellent machining capabilities and consistent colour throughout.
Crosby Studios is an architectural and product design studio with a focus on simple forms and proportions. 'Collection 1' includes the studio's functional and sculptural Brooklyn-made steel chairs and free-standing shelves. FLOOR_STORY celebrates the artistry and creativity of handcrafted rugs at its dedicated retail space in London's hip Shoreditch. For London Design Fair, the brand is collaborating with British fashion designer Zandra Rhodes and British fashion and design company Eley Kishimoto.
Launched in 2016, London-based Ornamental Grace produces a range of sculptural homewares, designed and handmade by sculptor Claire Baily. Claire works with Jesmonite, London Design Fair's Material of the Year. Finsa by Envisions was born from the idea that experimentation is the key to innovation. The experimental collaboration between Spanish MDF manufacturer Finsa and Dutch design collective Envisions, places an emphasis on the possibilities uncovered during the actual process of design.