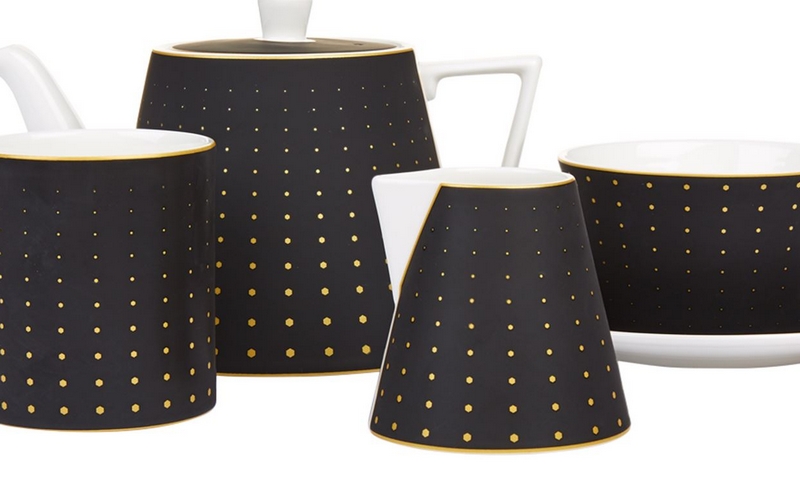 Treat your home to the best with our designer tableware updates. Plus, discover the top-trending new accent pieces and tableware sets from Gien, Wedgwood, Royal Doulton, Richard Brendon, 3.1 Phillip Lim, Royal Collection Trust, Villeroy & Boch, or MacKenzie Childs. Bring a little catwalk glamour to the afternoon tea with the delightfully delicate tableware ranges offered by Harrods. Featuring timeless motifs and a rich range of colours, expect tiered afternoon tea stands,teacups and saucers and delicately small cake plates.
Gien Oiseux De Paradis Tableware Range – Crafted in France using only the finest porcelain (EUR 22.37 -EUR 189.50)
First created in the 18th century, Gien's delightful Oiseux de Paradis design is inspired by ancient Chinesebirds of paradise. Crafted in France using only the finest porcelain.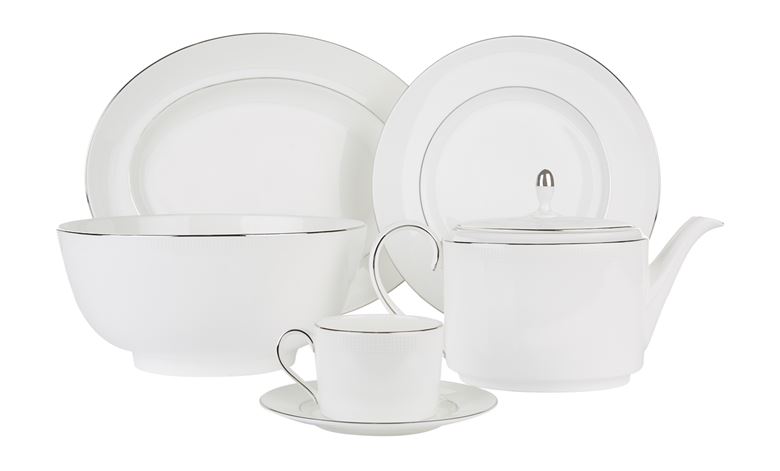 Vera Wang for Wedgwood Blanc Sur Blanc Tableware Range (EUR 201.84)
Bridal designer Vera Wang's love of white is encapsulated by the Vera Wang for Wedgwood Blanc Sur Blanc collection. Crafted in fine bone china, the clean white design of this salad bowl features a subtle grid trim and elegant platinum banding, offering depth, dimension and texture in the designer's favourite colour.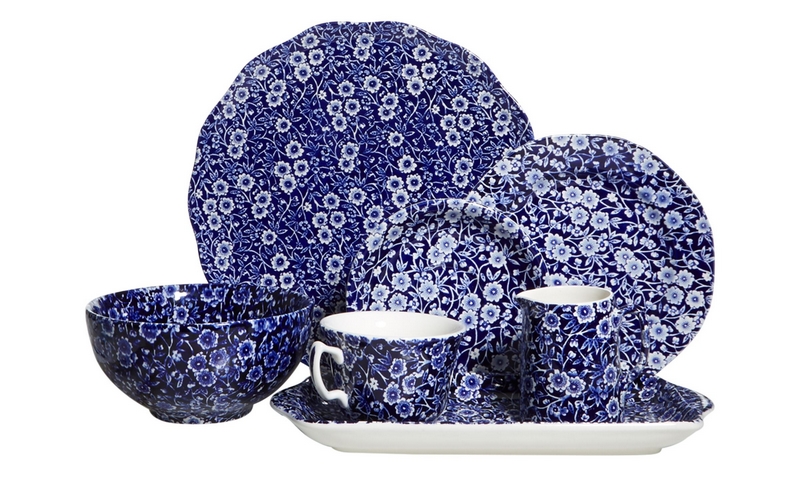 Burleigh Calico Tableware Range (EUR 61.67)
Set the table with Burleigh's traditional Blue Calico tableware range. Made in the brand's Stoke-on-Trent factory for over 40 years, the unique floral design was derived from early Victorian patterns which had their roots in Chinese porcelain, representing the spring with fallen prunus blossoms onto cracked ice.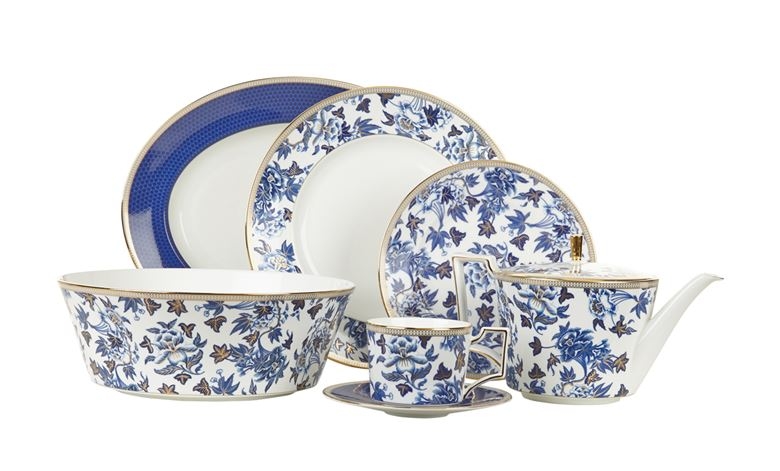 Wedgwood Hibiscus Tableware Range (EUR 24.67 – EUR 549.45)
Inspired by a pattern from the Wedgwood archives dating back to 1810, the Hibiscus tableware collection celebrates Oriental florals and royal blue hues, with fine bone china edged in gold. Printed with an ornate sweep of blue flowers and gold leaves, this elegant collection is a handsome addition to the dining table.With a history spanning over 250 years, Wedgwood is a truly iconic English brand with timeless, global appeal. Providing Royal families, Heads of States and households around the world with beautifully crafted collections from its home in Stoke-on-Trent, the brand is loved for both modern and traditional designs, most notably the classic blue and white jasperware.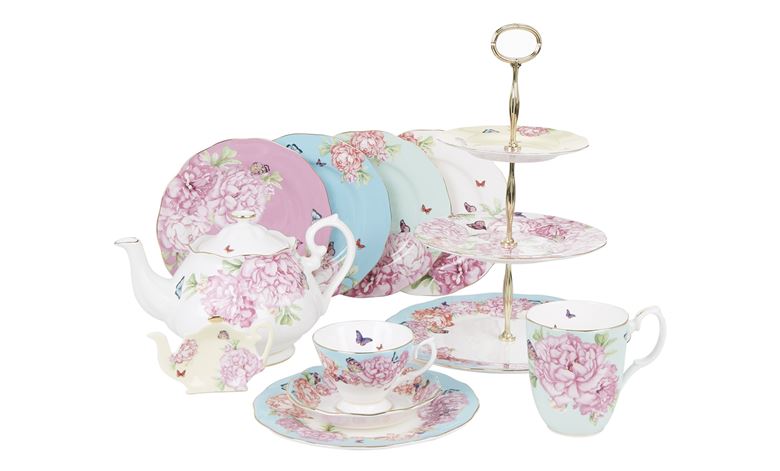 Miranda Kerr for Royal Albert The Friendship Tableware Range (EUR 16.82 – EUR 156.99)
Featuring pretty scatterings of peonies attended to with beautiful butterflies, this sophisticated and feminine floral range is perfect for serving tea time treats.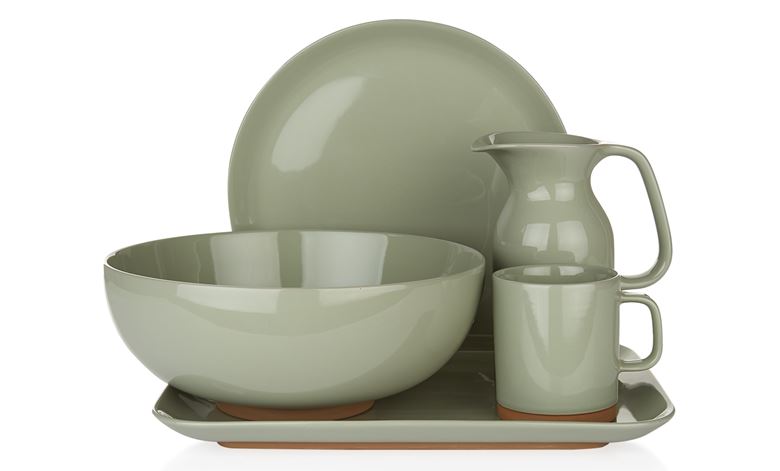 Royal Doulton Olio Duck Egg Tableware Range (EUR 11.21 – EUR 39.25)
Designed in collaboration with Barber & Osgerby, Royal Doulton's Olio collection draws inspiration from handmade ceramics found all over the world. Carefully crafted from glazed stone in a soft, duck egg hue, this tableware range will bring low-key rusticity to your kitchen.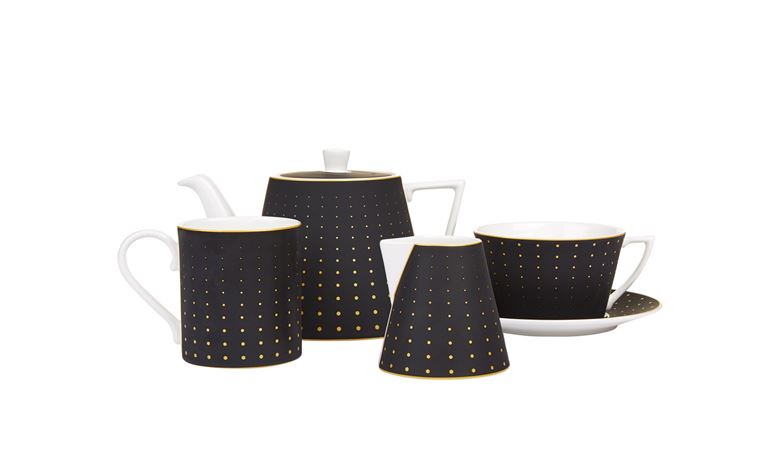 Richard Brendon Hex Tableware Range (EUR 22.43 – EUR 112.13)
The Hexrange has been inspired by art-deco designs and colours with a graphic twist. Expertly hand-crafted in Stoke-on-Trent, it showcases traditional craftsmanship and cutting edge decorating techniquesthat results in a delectably abstract collection.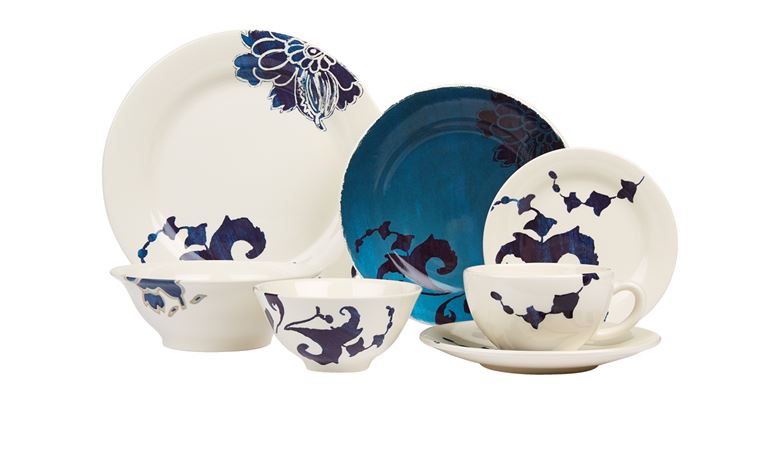 3.1 Phillip Lim Indigo Tableware Range (EUR 17.89 – EUR 197.35)
The Faience technique – dating back to the time of the Ancient Egyptians – sees fine, porous earthenwaretin-glazed and repeatedly fired for a rich depth of colour. Beautifully mastered by Gien to create the Indigotableware collection, mix and match pigment-rich pieces with simple designs ridged with bands of blue.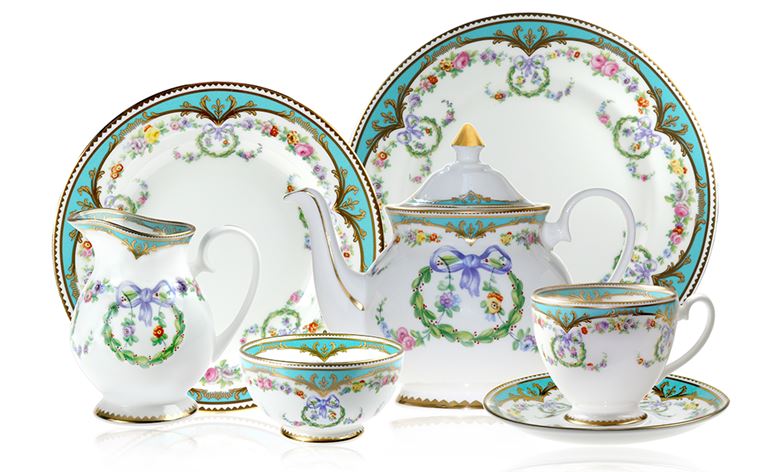 Royal Collection Trust Great Exhibition Tableware (EUR 32.52 – EUR 106.53)
The exquisite pattern of the Royal Collection Trust Great Exhibition tableware collection is taken from a dessert stand which formed part of a Minton service purchased by Queen Victoria at The Great Exhibition in 1851. Made in the English potteries using traditional methods unchanged for 250 years, each piece is hand-finished with 22-karat gold.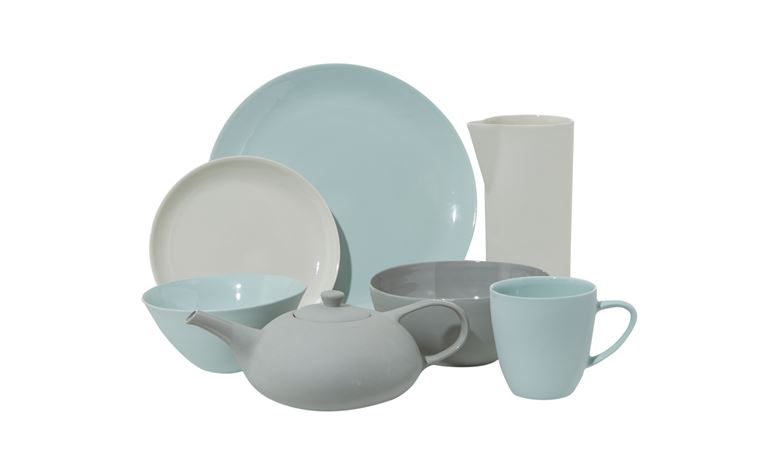 3.1 Phillip Lim Porcelain Tableware Range (EUR 27.98 – EUR 173.81)
Perfect for brunch parties or family lunches, the Mud Australia Porcelain tableware range is beautifully designed by Shelley Simpson and handmade by in-house ceramicists. Featuring a raw, velvety matte finishand practical glazed interior, each piece will make a prized addition to your table.
Villeroy & Boch Petite Fleur Tableware Range (EUR 15.70 – EUR 279.21)
Adorned with a whimsical floral design, Villeroy & Boch's Petite Fleur collection lends charm and eleganceto every table setting. Delicate horned violets, daisies, rose hips and forget-me-nots play out on thispremium porcelain mug, while dishwasher- and microwave-safe properties ensure it's as practical as it ispretty.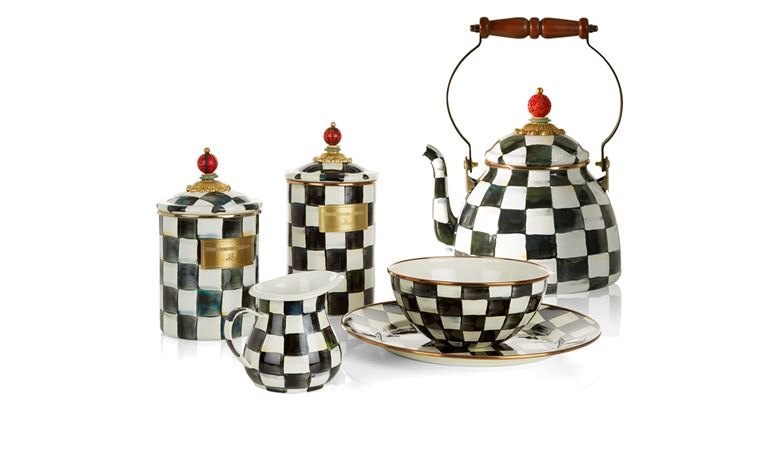 MacKenzie-Childs Courtly Check Tableware Range (EUR 627.94)
Crafted in stainless steel and elevated with a hand-painted design, this chic collection has been washedwith a ceramic glaze for a glossy finish and is sure to lend a fairytale elegance to your interiors.