SkiLogik Launches Jimmy Buffett Margaritaville Skis.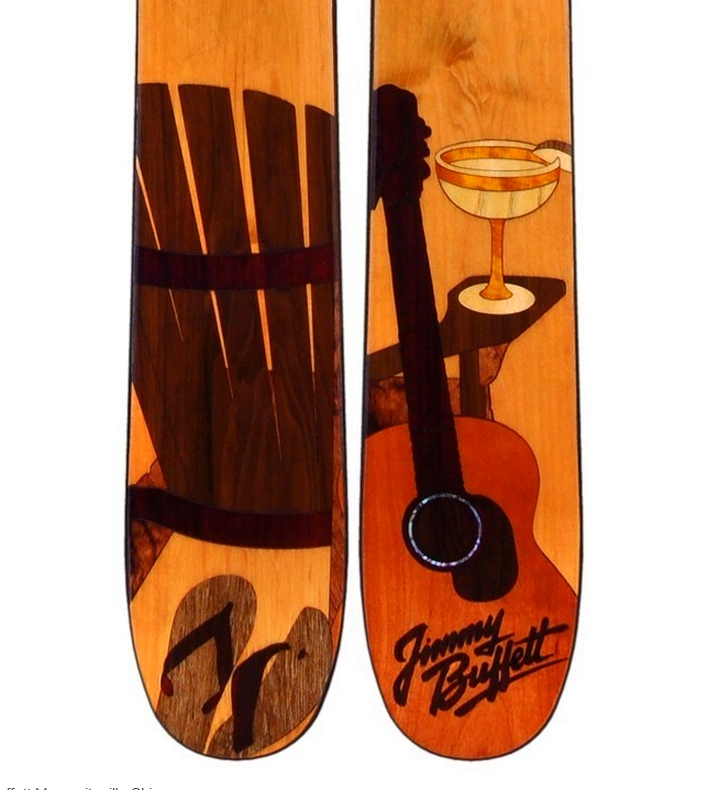 Recognized by the unique artwork on each pair that is handcrafted from wood veneer inlays, Colorado-based SkiLogik, the manufacturer of innovative, handcrafted, high-performance skis, has been praised equally for its performance innovations as well as its social responsibility and environmentalism.
For 2015, SkiLogik announced the debut of the newest addition to its Rock N Roll Collection, Jimmy Buffett Margaritaville skis, portraying an "island escapism" lifestyle depicted in the songs of the American singer–songwriter, author, actor, and businessman. Jimmy Buffett and SKILOGIK teamed up to bring the custom artwork, "Margaritaville" by Mariella, capturing the essence of the Parrothead lifestyle. Each pair features inlaid wood veneer artwork of any beach bum's dream, a chair under the palms with a fresh margarita.
"This was a fun theme to create and I think skiers are going to have a lot of fun with it," commented artist Mariella, looking perhaps a little tanner than usual.
The limited edition Margaritaville artwork is available on any of SkiLogik's more than 50 models and lengths. Each pair is numbered chronologically according to order placement. Each pair can be personalized with up to ten letters of your choice that we will inlay in wood as the manufacturer makes your artwork.
Skilogik's Rock N' Roll and Skis for a Cause collection includes also AC/DC, 10th Mountain Division, Pink Floyd and Grateful Dad skis models.