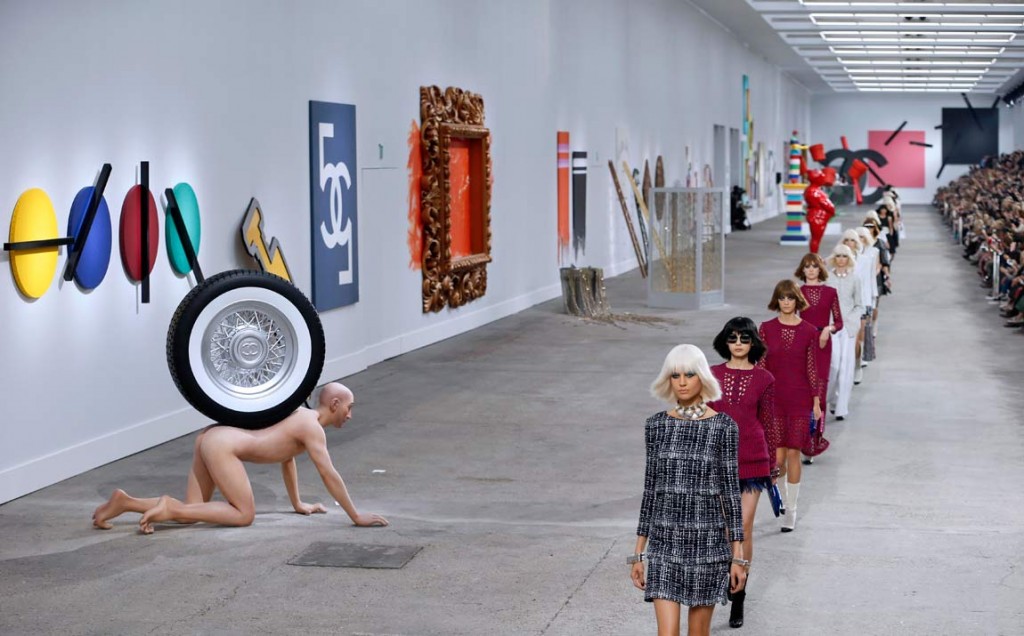 ---
This article titled "Lauren Laverne on style: when art meets fashion" was written by Lauren Laverne, for The Observer on Monday 20th January 2014 09.00 UTC
Oscar Wilde decreed: "One should either be a work of art, or wear a work of art." Karl Lagerfeld is obviously the former. Could an old-school icon who owns two houses 250cm apart – "one for sleeping and sketching, one for lunch and dinner and to see people" – be considered anything but living art? (Don't answer that.)
This season, however, the man with the fan is concentrating his awesome powers on the second part of Wilde's aphorism. Chanel's spring collection is wall-to-wall wearable art. And such walls! Paris's Grand Palais was converted into a huge art gallery to showcase the collection, featuring exhibits that referenced the fashion house's trademarks (tweed, chains, quilting and pearls) as well as artists including Jackson Pollock, Marcel Duchamp and Wassily Kandinsky. It was an appropriate backdrop for an inspired collection, which featured rainbow paint textures and models carrying sketchbooks down the runway like handbags.
Mr Lagerfeld wasn't the only one gripped by the artistic muse this season, however. Giles Deacon, Phoebe Philo at Céline, Aquilano Rimondi and Dolce & Gabbana all showed pieces fit for a gallery. Meanwhile contemporary artists, including Gabriel Specter and El Mac, featured in print in Prada's spring collection. The label also commissioned the artists to create pieces against which they could stage their show – some of which was spraypainted directly on to the walls at Prada HQ…
Of course, such high-end gear comes at a price that could almost buy you a piece by the artist it references (you can get a lovely Gabriel Specter print at artspace.com for £183 if you're interested), but you don't have to spend a fortune to give your look some artistic licence.
Try Topshop to channel Chanel's paint prints and Asos, whose splattered accessories are the dog's Pollocks. Meanwhile, & Other Stories has a gorgeous brushstroke dress and Yves Klein blue gloves, which match this pricey but buttersoft Muubaa leather jacket, available at Asos. In some ways I'm relieved that my late grandmother didn't live to see faux paint-splattered denim costing upwards of £200 available on Britain's high streets, especially because I rather like the way some of it looks and her disappointment would have been hard to live with.
Paige, Mother and MiH all offer paint-splattered skinnies, but if you fancy making your own, there are some helpful online tutorials to show you how to, er, throw paint at some jeans the right way. If you're in a romantic mood, check out Paul Smith's impressionistic "underwater florals". There are gorgeous dresses in this print, but I'm also very taken by the cute trainers. Budding outsider artists with a little more cash to splash will love this cotton-cashmere sweater by Parisian brand Each X Starving artists might prefer this Cheap Monday T-shirt, just as cool and yours for only 20 quid.
Follow Lauren on Twitter @LaurenLaverne
guardian.co.uk © Guardian News & Media Limited 2010
Published via the Guardian News Feed plugin for WordPress.