Roof up or down, daily driving and high-performance fun are accompanied by the inimitable sound of the V10 aspirated power plant, delivering the same 610 hp (449 kW) and 560 Nm of torque as the coupé version.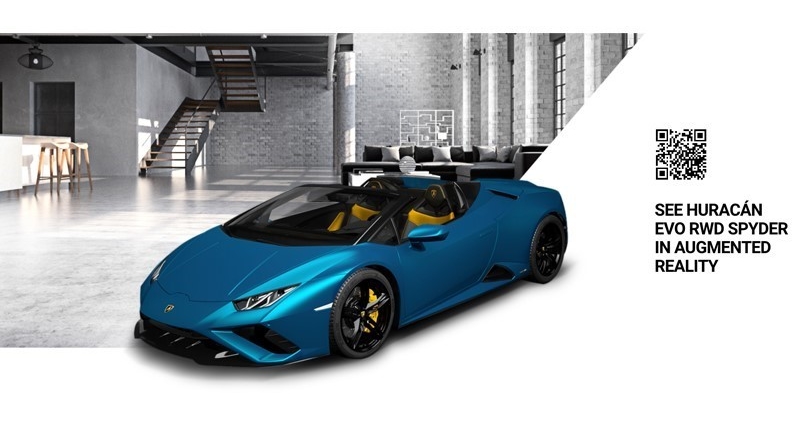 The Lamborghini Huracán EVO Rear-Wheel Drive Spyder is celebrating life in the open air.
Unveiled using for the first time Augmented Reality (AR), this new V10 model from Automobili Lamborghini provides drivers with an open-air celebration of lightweight engineering, with rear-wheel drive and a specially tuned Performance Traction Control System (P-TCS). With a 0-100 km/h acceleration of just 3,5 seconds and a top speed of 324 km/h, like its coupé stablemate the Spyder is an instinctive driver's car, delivering a fun-to-drive experience via hardware rather than software.
The Huracán EVO RWD Spyder's design optimizes the integration and function of the extremely lightweight soft top.
The Huracán EVO Rear-Wheel Drive Spyder doubles the driving fun, delivering raw driving pleasure with the opportunity to celebrate life outside. Characterized by a new front splitter and vertical fins within the larger, framed front air intakes characterize, the rear bumper in high gloss black incorporates a new diffuser unique to the Huracán EVO RWD Spyder.
The specially tuned P-TCS traction control system is designed for adrenalin-producing performance in all conditions, consistently delivering torque and assuring traction even as the Spyder is realigning after sharp cornering or drifting. Especially with the roof down, the driver's senses are further aroused by the sound of the V10 aspirated engine responding to the throttle during maneuvers.
The Huracán EVO Spyder's ANIMA button on the steering wheel puts the pilot in control of driving modes, with the P-TCS calibrated to suit. The Huracán EVO RWD Spyder's aluminum and thermoplastic resin body sits on a lightweight hybrid chassis in aluminum and carbon fiber.
Ventilated and cross-drilled steel brakes are fitted to 19" Kari rims with specially-developed Pirelli P Zero tires, with optional 20" rims and carbon ceramic brakes.
The Spyder's soft-top roof stows within 17 seconds under the rear hood, even while driving up to a speed of 50 km/h (31 mph). In a range of color options, the soft-top perfectly complements the rear-wheel drive car's body lines and color options, while ensuring a quiet cockpit for easy conversation and entertainment with roof up or down. With soft top both up and down the driver can also electronically open the rear window, which functions as a windshield when up and highlights the V10 engine's unique sound when down. Two removable lateral windshields dampen lateral aerodynamic noise in the cabin, permitting conversations even at high speeds.