Kempinski to run world's tallest hotel in North Korea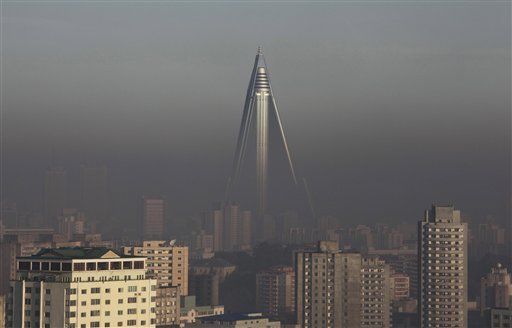 Pyongyang's 105-storey enormous Ryugyong Hotel, North Korea's pyramid hotel abandoned more than 20 years ago, will be transformed intro a Kempinski hotel, announced Reto Wittwer, CEO of international hotel operator Kempinski AG, at a forum in Seoul.
Ryugyong Hotel, a source of fascination, ridicule and also a symbol of North Korea's economic problems, may finally open in 2013 under Kempinski umbrella.
"It will become a multipurpose complex, with the three lowest floors used for the lobby, restaurants and a shopping centre, and the rest of the upper floors will be mostly used for offices," Reto Wittwer said. The building will feature also a ninety-fifth-floor viewing platform and a banqueting hall.
Former North Korean leader Kim Jong-Il, who died last December, began building the pyramid mega building in 1987 but stopped when funding ran out in the 1990s. Exterior construction resumed in 2009.
In 2008 US men's lifestyle magazine Esquire named Ryugyong Hotel project the 'Worst Building in the History of Mankind.'