This article titled "Katie Hillier and Luella Bartley to launch own luxury label" was written by Lauren Cochrane, for theguardian.com on Tuesday 31st March 2015 15.28 UTC
Katie Hillier and Luella Bartley have announced that they will be launching their own luxury brand, Hillier Bartley. This follows the news earlier this month that Marc by Marc Jacobs, where Hillier and Bartley were Creative Directors, will be integrated into the main Marc Jacobs line this year.
This announcement is a big statement of intent for the British duo. If their fate was unsure with this Marc Jacobs move, there was little doubt they would be in demand whatever happened. Their three collections for Marc by Marc Jacobs have been very well-received, praised for their trademark fun, pop culture-infused wearable designs. With some suggesting they may take over at a high street brand, going out on their own is a different – bolder – direction.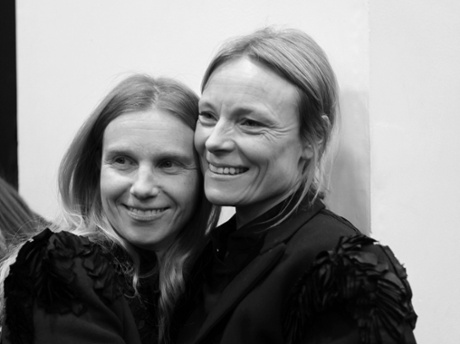 The first collection for Hillier Bartley will debut in shops in August. It transpires that the designers were showing it to key buyers during the Paris shows in early March, before the Marc by Marc announcement – suggesting the split was in the works for a while. No images have been released so far but a press release sent out this morning said the clothes uses "classic English references and has a masculine elegance." If Marc had accessible price points, this may be more high end. Manufactured in the UK, they will be using Savile Row fabrics while bags are produced in Italy.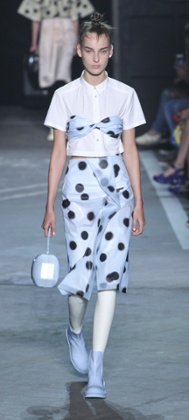 In a sense, this is the logical conclusion for two longtime collaborators. Bartley and Hillier have worked together since the nineties – Hillier first designing accessories for Bartley's label Luella. It marks a next chapter from Marc, with the two women, now both in their forties, growing up. In a statement, Hillier said "it's about a woman our age, indie at heart, rakish and irreverent by nature, who is maturing into refinement and naturalness." The trademark cool is still very much in evidence however. The designer said the brand's "ultimate heroine lies somewhere between [Echo and the Bunnymen frontman] Ian McCulloch and Katherine Hepburn." The reveal of the clothes later this year will show exactly what that means.
guardian.co.uk © Guardian News & Media Limited 2010
Published via the Guardian News Feed plugin for WordPress.