This article titled "New bicycles for spring" was written by Martin Love, for The Observer on Sunday 5th April 2015 05.00 UTC
Pure Fix Original, weight 11kg, gears 0
Beard? Tattoos? Beanie? Then you're probably already fixed for a fixie. If not, the "Original" from Pure Fix is a good way to discover the singular joys of riding a single-speed bike. With no gears there's no fuss and many fixie fans see it as cycling in its purest form – which is where Pure Fix gets its name. The hipster brand started life in Los Angeles, but has now opened a European depot. The bikes come directly to you from the manufacturer, and have triple-butted steel frames and a flip-flop hub (so you can choose to ride as a fixed-gear or single-speed). The tyres are super trendy Thickslicks, which look like they are made of liquorice. And if you want to stand out by day and night, opt for the Glow series which has phosphorescent paint (purefixcycles.eu).
13 Intuition Beta, weight 7.9kg, gears 22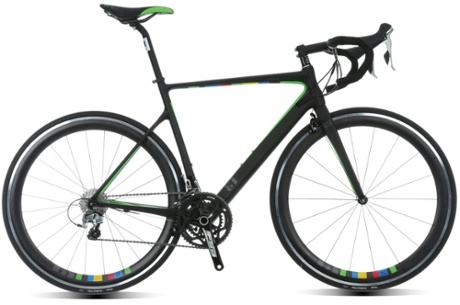 One of the most competitive sectors of the cycle market in recent years has been the sub-£1,000 full-carbon-framed road bike. But here's the thing – spend a little more money and you get a lot more bike for your buck. The Intuition Beta is a perfect example. It's the flagship bike in Halfords' new 13 range. With its sharp design, sleek matte-black finish, neat detailing and quality frame it will serve both serious club riders and enthusiastic weekenders well. It boasts hidden brakes, a dropped seatstay and internal cable routing to keep it aerodynamic. It's also incredibly light – just 7.9kg – and is blessed with Shimano's ever-reliable 105 gear set. And don't worry about bad luck: cyclists given the race number 13 traditionally turn it upside down, so the 13 on this frame has been flipped (halfords.com).
Cannondale Hooligan 2, weight 11.4kg, gears 9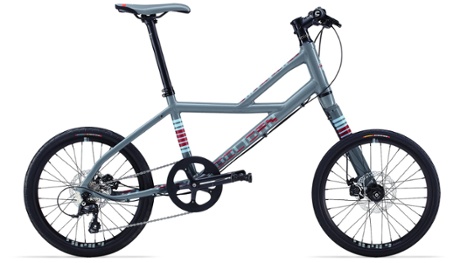 Cannondale has spent a generation building fast, elegant road-racing bicycles… Then along comes this snappy little brute. With its small wheels and bloated sturdy frame, it looks like a cross between a BMX and a folding commuter. There's nothing quite like it on the road. It's fun, funky and functional. If space is an issue, its compact size makes it a doddle to store. It's also lighter than it looks, so you can happily carry it up the stairs to your flat. Beware: the unusual geometry – it only has one front fork – means you'll be followed by curious eyes wherever you go. It has nine gears, short-order disc brakes, decent-sized pedals and is unexpectedly comfortable to ride about town. For longer rides, though, you'd be better getting one of Cannondale's classic road bikes. They're what it does best (tredz.co.uk).
VooDoo Bizango 29er, weight 14.3kg, gears 27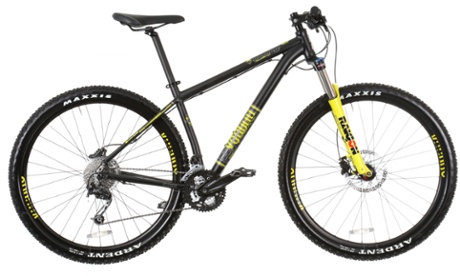 The VooDoo has been casting a spell over trail riders for several years now thanks to a combination of comp-level specs at an affordable price. This year's model is one of the best-value bikes you'll find anywhere and has won every award going in the sub-£600 category. One of its great strengths is that it copes as well with dizzying mountain descents as it does with the mean streets of a city commute. It's a "hardtail", which means it only has front suspension, but this can be adjusted to your individual weight – lighter riders will want a softer setting. It has a workmanlike 27-speed Shimano drivetrain which has the range to deal with steep ascents and fast flats. You'll also be saved by the formidable stopping power of its BR-395 hydraulic disc brakes. All this is topped off with a pair of outsize Maxxis Ardent tyres. It seems chunky can be funky (halfords.com).
Bobbin Bicycles Bramble, weight 12kg, gears 6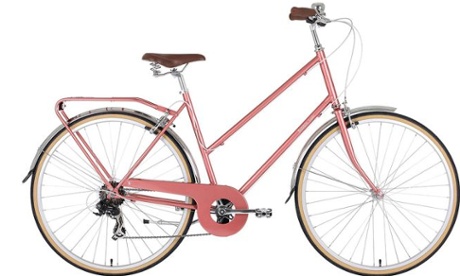 The husband and wife team behind Bobbin Bicycles are as colourful, quirky and friendly as their bicycles. Tom Morris and Sian Emmison set up their first bike boutique in 2007 in east London, selling anything cycle-related that caught their eye. Now they concentrate on their own range of approachable and affordable Bobbin bikes and accessories. "We are all about colour," says Sian. "We were among the first to say that if you want to own a yellow bike that is OK. We don't worry about technical things – our customers couldn't care less about that. They want a bike they can just climb on and ride." Colours range from "Taffeta Pink" to "Light Teal" by way of "Wallpaper". They also do hybrid and retro-styled racers, but the Bramble is classic Bobbin. Accessorise your ride with stripy tights, a straw hat and a basket for your sausage dog (bobbinbicycles.co.uk).
Email Martin at martin.love@observer.co.uk or follow him on Twitter @MartinLove166
Follow the Observer Magazine on Twitter @ObsMagazine
guardian.co.uk © Guardian News & Media Limited 2010
Published via the Guardian News Feed plugin for WordPress.