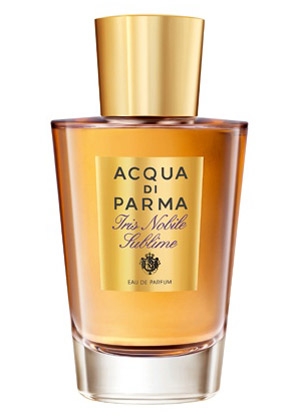 Acqua di Parma has chosen the most regal of flowers as protagonist of Italian haute parfumerie of former times, offering year after yeatr new seductive interpretations of Iris Nobile.
Iris Nobile Sublime, the new 2012 edition hits the shelves in autumn. A mixture of mandarin, Italian Neroli and Italian bergamot, and Ylang Ylang reigning over a floral heart, the Sublime version, as all Acqua di Parma's scents, is hand crafted made using the highest quality ingredients with traditional Italian techniques. The Acqua di Parma brand embodies the timeless elegance of classic refinement and luxury.
"I love how this perfume dries down. Heaps of powderiness then the musky, sexy depths of patchouli, musk, cedarwood and birchwood ground this fragrance much like the Swiss finishing school and the good university has grounded our elegant Marchesa.This Summer's winning new release by far," commented blogger katie chutzpah.
Acqua di Parma Iris Nobile Sublime will be available in 75 ml Eau de Parfum (priced £82).