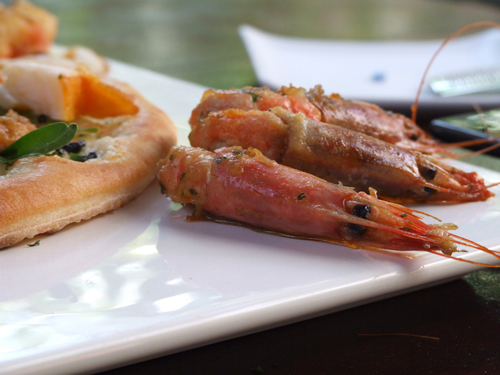 Gold-lined, truffle-laced and vintage wine soaked foods are some of the most expensive foods in the world included in food app dishpal's infographic. Many meals do not exceed the psychological threshold of $1,000, while others come easily to $12 000.
World's Top 10 most expensive dishes include a $16,000 meat pie, a $1,000 bagel stuffed with white truffle cream cheese and goji berry-infused Riesling jelly with gold leaves or a $12,000 pizza topped with lobster, caviar, eight types of cheeses and Pink Australian river salt.
1) Louis XIII Pizza by Italian chef Renato Viola – $12,000
2) Samundari Khazana Seafood Curry by chef Prahlad Hedge – $3,000 (Devon Crab, Scottish lobster, Abalone, White truffle shavings, Edible gold leaf, Beluga caviar)
3) Wagyu Meat Pie served at Fence Gate Inn, Lancashire, Britain – $2,000/slice (6 lbs of Kobe beef, marinated in two bottles of 1982 Chateau Mouton Rothschild, filled with truffles and Matsusake mushrooms, and edible 23 – carat gold.
4) Zillion Dollar Frittata at Norma's, New York City – $1,000 (1 whole lobster, eggs, 10 ounces of sevruga
caviar)
5) "Golden Opulence Sundae" served at Serendipity 3, New York City – $1,000 with Tahitian vanilla bean ice cream, Tuscan Amedei Porcelean chocolate, Chuao Chocolate, Candied Parisian fruits, Truffles, Cherry marzipan, Sweetened Grand Passion Caviar, 23-karat gold leaf.
6) "Luxury Bagel" served at Westin Hotel, New York City – $1,000 (white truffle cream cheese, Goji berry infused Riesling jelly, 23-carat gold leaf);
7) "The end of history" Belgian ale by BrewDog, Scotland – $800 to $1,100 (presented in a dead, squirrel carcass);
8) Von Essen Platinum Club Sandwich served at Von Essen, Berkshire, England – $197 (Iberico ham, Poulet de Bresse, White truffles, Quail Eggs, semi-dried Italian tomatoes, 24-hour fermented sour dough bread);
9) "Ramen" served at Fujimaki Gekijyo, Tokyo, Japan – $110 (Chinese stock, Thai tom yum stock, Imperial ramen noodles, 20 other "secret" ingredients);
10) The "Haute Dog" at Serendipity 3, New York City – $69 (White truffle oil, foie gras, black truffles, 100% pure beef, Pretzel bun imported from Germany)