Mercedes-Benz Fashion Week Swim 2013 Collections – biggest trends to look in swimwear next year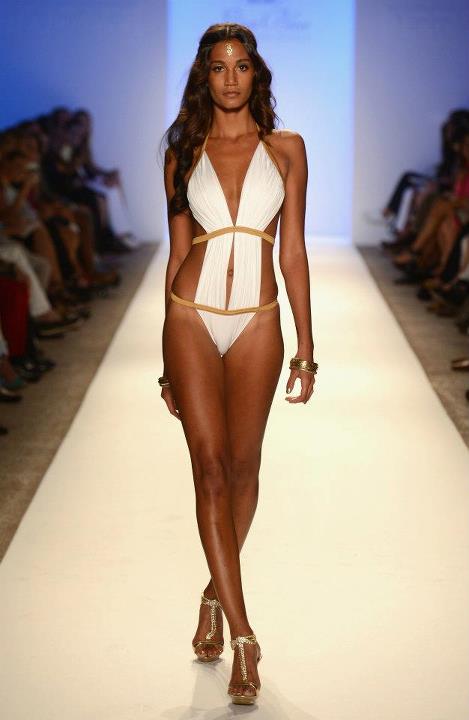 More tham 30 of the fashion industry's top swimsuit designers presented their 2013 collections at Mercedes- Benz Fashion Week Swim (July 19 – 23) alongside the newest Mercedes-Benz convertibles including the all-new 2013 SL63 AMG.
Sexy line-up of shows, presentations and events took South Beach by storm. Thousands of fashion insiders descended on South Beach on July 19-23 for five days of runway shows, presentations, parties and special events, as The Raleigh hosted the eighth season of the Event.
Cut outs, bustiers, high waists, color blocking and jewels are the biggest trends to look out for next year. Jewelry is going to play a key role in swimwear in 2013.
"Xtra Life Lycra Brand and Red Carter were two of the biggest purveyors of prints, while Eclairée and Poko Pano both made an impact with their color block swimsuits. The latter favored pink, yellow and green geometric shapes, while Eclairée introduced a touch of color with horizontal blocks of pink and beige," wrote AFP.
Alongside the Mercedes-Benz USA SL63 AMG on the pool deck at The Raleigh Hotel– the attendees brought together FASHION & LUXURY AUTOMOBILES to create their own jewelry, headbands, and clutches using Mercedes-Benz vehicle leather and other luxe materials.
Vitamin A by Amahlia Stevens received the coveted 'Mercedes-Benz USA Presents' title. She is recognized for her dedication to the use of quality materials, unique style and innovative design in her effortlessly chic bikinis and cover-ups.
"Mercedes-Benz Fashion Week Swim, the largest showing of international swimwear designers, has become the most important event for the Swim industry to attend and conduct business," says Peter Levy, Managing Director and Senior Vice President, IMG Fashion Events and Properties. "Designers receive an international platform to showcase their newest collections, and via IMG Fashion's various initiatives, instantly receive a global footprint introducing them to a worldwide network of professionals and consumers."
"Mercedes-Benz Fashion Week Swim includes the hottest runway shows of the year, debuting collections from internationally established swimwear brands to the industry's future stars" said Stephanie Zimmer, Manager of Brand Experience Marketing for Mercedes-Benz USA. "The City of Miami is the perfect backdrop to premiere cutting-edge design from the latest Mercedes-Benz convertibles to swimwear styles that reaches a global audience."