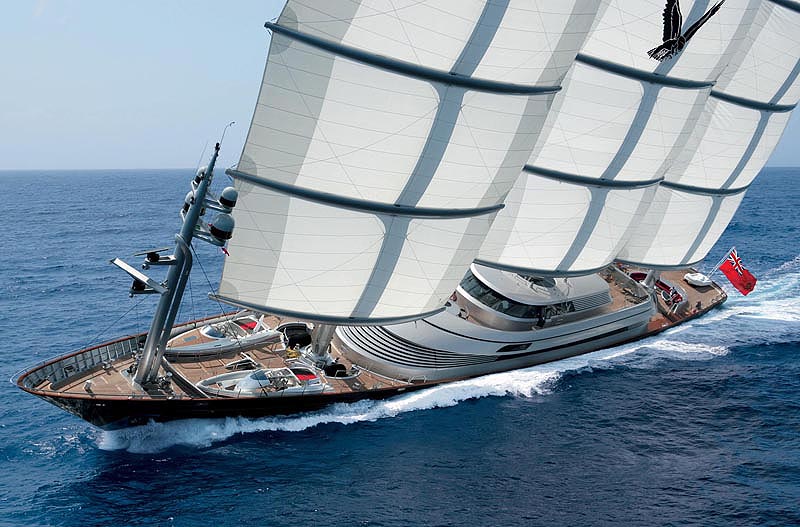 ---
This article titled "Inside the billionaires' superyachts: helipads, tennis courts and a missile defence system" was written by Rupert Neate, for The Observer on Sunday 26th January 2014 00.05 UTC
He has designed some of the biggest and most spectacular yachts ever to set sail and can offer just about anything a seafaring billionaire's heart desires – from tennis courts to personal submarines, waterfalls and even special stability features for those prone to feeling a little bilious on the high seas. But most of superyacht designer Ken Freivokh's clients are primarily concerned with where the telly's going to go as they sit on their 0m-plus yacht cruising the Caribbean or the Med.
"The tricky ones are clients that come and say, 'I want a big boat with a big saloon and a very big TV', and they're almost not interested in the rest," said Freivokh, who designed the £90m, 88-metre, three-mast Maltese Falcon owned by hedge fund billionaire Elena Ambrosiadou.
Freivokh, who has made millions designing yachts for world leaders and businesspeople, said he "finds it weird" that many of his customers are preoccupied with watching television while sailing among paradise islands.
Last week he was in London, at a glitzy superyacht party in the five-star May Fair Hotel, to tempt more billionaires to splash out on the ultimate badge of wealth. "Some of the things people aspire to make total sense; some of them make a bit less sense to me," he said.
Freivokh said some clients, such as Tom Perkins, the billionaire US venture capitalist and experienced sailor who originally commissioned the Maltese Falcon, were adventurous and exacting. But other members of the super-rich set just want a yacht to complete their sweep of trophy assets.
"If the guy just has the money and already has the aeroplane, and he has cars and houses and now he wants a yacht and it's not totally clear what he needs on it, it makes it harder for us to respond," Freivokh said.
Advances in naval architecture and materials mean Freivokh can create "pretty much anything" if the client has unlimited imagination. Usually, they don't, he said, "but, hopefully, they have unlimited money".
Recent imaginative commissions include a 145-metre "exoskeleton" yacht, while the owners of the Mövenpick hotels empire commissioned a one-off design for a seasickness-proof yacht.
Freivokh's answer to that request was a 41m "penthouse apartment" which floats above the waves on four torpedo-like structures. "It's all panoramic views, all the real estate is incredible, and [there's] no seasickness because it's very stable." That boat is 4.5 times as long as a London Routemaster bus, but it would look like a dinghy floating next to some of the largest superyachts on the water.
Roman Abramovich's Eclipse, which boasts 24 guest cabins, two helicopter pads, two swimming pools and a missile defence system, is 162.5 metres long and was the world's largest yacht when it was launched in 2010.
But the Eclipse has been eclipsed. Sheikh Khalifa bin Zayed Al Nahyan, the emir of Abu Dhabi and the president of the United Arab Emirates, is shortly to take delivery of Azzam, a 180-metre German-built yacht. The boat was built in Bremen by the 139-year-old family-owned Lürssen shipyard.
Peter Lürssen, the chief executive and great-grandson of the founder, Friedrich Lürssen, refused to confirm that Sheikh Khalifa was the buyer of the yacht, saying only that it is being delivered to a "rich Middle Eastern family".
Azzam, which cost a rumoured £400m, took 1.5 million working hours to build and its teak decks are big enough to cover half a football pitch.
"There's a decent-sized main cabin, nine guests cabins, a few saloons, a dining room – it's not outrageous," Lürssen said of the yacht. "This is the best family escape you can have." The family will be joined by 60 crew, including chefs, engineers and "hostesses".
Lürssen has been building yachts for the rich and famous for decades and is the company behind Microsoft co-founder Paul Allen's Octopus, Media tycoon Barry Diller's Eos and entertainment executive David Geffen's Rising Sun and Pelorus.
Its main rivals in the superyacht industry are Blohm & Voss in Hamburg, builder of U-boats and the Bismarck , which is creating a futuristic "exoskeleton" yacht, with a fluid, web-like structure, with prize-winning architect Zaha Hadid, and Italy's Fincantieri, which made the 134-metre Serene for Russian vodka tycoon Yuri Scheffler.
Gary Wright, founding partner and chairman of yacht brokerage firm Y.Co, said superyacht sales were "very buoyant, but only in the very high end. At that level, you are really talking billionaires – whether they run countries or the world's largest companies."
He said superyacht owners were, however, becoming younger and more adventurous. "Some clients want to cruise the world to some amazing places with a marine biologist onboard. And some clients want to party on the beach in Saint-Tropez."
Wright said that while "only a privileged few" can buy a superyacht, he is trying to "get our message across to the public that it is affordable" to charter a superyacht for a summer holiday.
That would be those members of the general public who can hand over £35,000-£40,000 a week, but Wright says: "That's affordable if you're spending a week with four friends. Waking up in a different place every morning is an extreme luxury and should be experienced by those that can."
Azzam and Eclipse are not available for charter, but Serene is – for anyone with a holiday budget of £3.1m a week, not including food, drinks, mooring fees and tips.
• This article was amended on 29 January 2014. An earlier version referred to Gary White co-founder and chairman of Y Co. That should have been Gary Wright, founding partner and chairman of Y.Co.
guardian.co.uk © Guardian News & Media Limited 2010
Published via the Guardian News Feed plugin for WordPress.