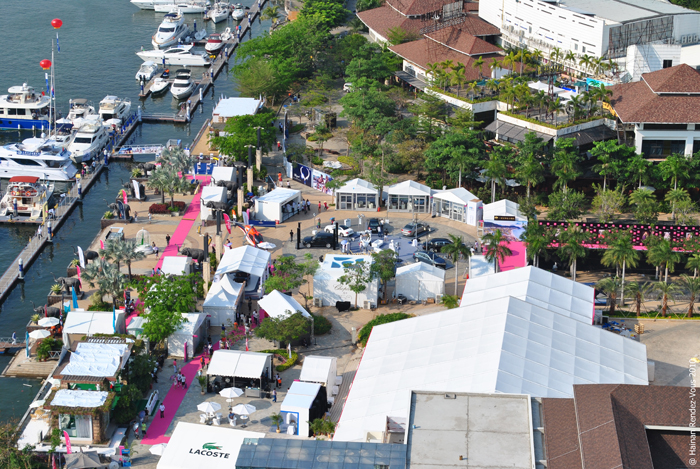 Hainan Rendez-Vous 2013, China's biggest ultra-lifestyle show, will open its doors in Sanya on March 30th to April 2nd, 2013, at the Visun Royal Yacht Club (Sanya, Hainan).
At the 2013 show's jet static display, world-leading business jet brands Airbus,Boeing, Bombardier, Cessna, Dassault and Gulfstream will be joined by Eurocopter and Italian jet manufacturer Piaggio Aerio. Their sleek aircraft will shine on the tarmac near the beautiful new VIP terminal of Sanya Phoenix International Airport, and also receive excellent exposure on the show's marina fairgrounds next to the superyacht brands, many of which are members of SYBass, the elite Superyacht Builders Association.
Sanya will offer Feadship Blue Sky, the first European superyacht delivered to a Chinese owner. The 44.65-metre yacht includes her own helicopter deck and dedicated karaoke and Mah-jong rooms.
Chopard returns as a main sponsor of the show and will again exhibit its celebrated jewellery and watches, this time including an exceedingly rare and precious 31.32 carat Chameleon Diamond.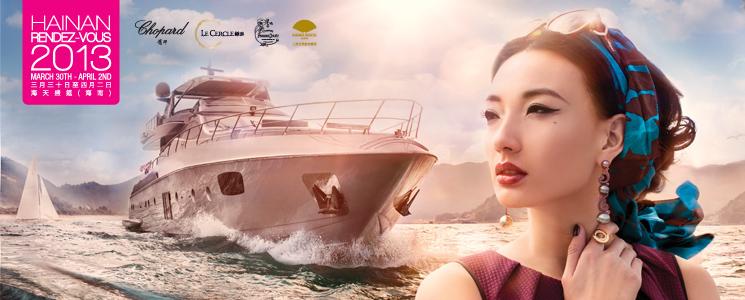 "Chopard is delighted to be once again the official partner of the Hainan Rendez-Vous for the 4th consecutive year! I look forward to meeting all of the Chopard Gala Dinner and Jewellery & Watch Exhibition guests and getting the opportunity to show them a
selection of Chopard jewellery and watches pieces we brought especially from Switzerland, ensuring an experience they will never forget." Ms. Caroline Scheufele, Co-President, Chopard.Pernod Ricard returns with its Elite Club and a larger, 390 square metre version of its wildly popular champagne bar.
Outstanding chefs from Mandarin Oriental Sanya Hotel will be offering their gastronomical delights at a designated on-site venue, and Lacoste is expected to put on a spectacular party once again as it celebrates its 80th anniversary.
Other must-attend occasions will include Bernardaud's 150th anniversary celebration, as well as many new top level networking events such as a Pink Party, Riviera night, multiple gala dinners, sea trials, and more. The visitors will be involved in a
number of other activities like a Golf Tournament (with 144 players), and different seminars related to investments in Art, Wine and other topics pertinent to the luxury lifestyle.
At the end of December 2012, the organizers of Hainan Rendez-Vous announced that all spaces for the upcoming 2013 show are sold out.
France's delegation is coming back in strong form with top level lifestyle brands, and the 2013 Art in Hainan Exhibition, themed "Jardin D'Art", will also add art de vivre into the show with an evocative collection of works exploring the concept of the garden
as a place conducive to artistic inspiration, inner harmony and daydreaming.
"Attracted by the opportunity to network with peers amidst the world's top brands of yachts, private jets, supercars and luxury goods, thousands of China's most successful corporate leaders and entrepreneurial elites have attended Hainan Rendez-Vous each of
the last three years, and increased demand for exposure at the show has manifested itself in a number of ways," said Delphine Lignieres, CEO and Founder of China Rendez-Vous.
"New luxury brands from Europe, America, the Middle East and Russia have reached out in hopes of attending, while most of the companies that exhibited at the 2012 edition are returning, many with a larger presence."