McLaren 12C Spider challenges a snowboarder
Pikes Peak record holder Rhys Millen and Winter X-Games snowboarder Chanelle Sladics "race" through the Rocky Mountains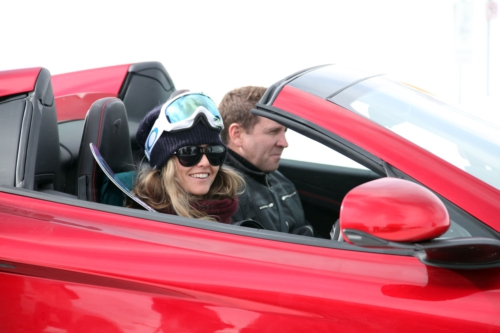 At 11,990 feet (3,655 m) above sea level, Loveland is the highest mountain pass in the world that stays open during the winter months. The notoriously treacherous Loveland Pass in Colorado is the location of the new film released by McLaren to mark the start of deliveries of the 12C Spider in North America. The 12C Spider navigates the tricky, snow- covered route "racing" against professional snowboarder Chanelle Sladics.
The 12C Spider is being driven in the video by Rhys Millen . The Native New Zealander is the current overall record holder for the Pikes Peak International Hill Climb, 2005 Formula Drift champion and 2008 Drifting World Champion.
Professional snowboarder Chanelle Sladics co-stars in the video, taking the 12C Spider to task as she takes the most direct route across the snow covered landscape. Sladics is an 8 time competitor at the winter X-Games and has hosted snowboarding competitions on ESPN.
The 12C Spider made its global debut in North America during the Pebble Beach Concours d'Elegance last year. The second model from the British high performance sportscar company is lightweight with a high powered engine which boasts 616 bhp, a unique Retractable Hard Top (RHT) folding roof system, and a carbon 'MonoCell' chassis identical to that of the groundbreaking 12C. The 3.8-litre V8 twin turbo engine is transmitted to the car's rear driven wheels through a seven-speed SSG dual-clutch transmission.
A dedicated 'Winter' powertrain setting on the 12C and 12C Spider sets all electronic support systems to a maximum intervention level, with gearshift strategy and torque control optimised to limit any loss of traction.
The McLaren 12C Spider is priced at $265,750 excluding taxes.