Hainan Airlines debuted their new Laurence Xu uniforms at Paris Couture Week Fall/Winter 2017.The fusion of traditional Chinese elements and popular international fashion created an Oriental masterpiece that turned heads in Paris.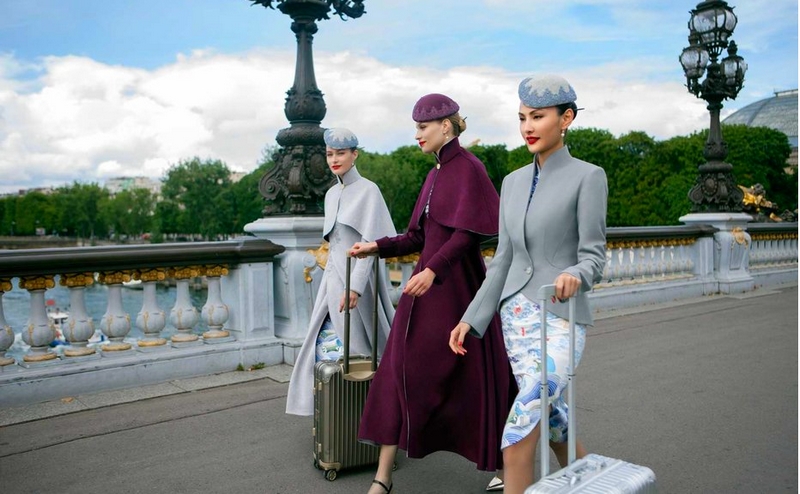 The uniforms by Laurence Xu Haute Couture combine elements of classical, time-honored Oriental aesthetics and the silhouette of a modern Western suit, infusing new vigor and fashion into the attire.
Repurposing the alluring look of the Cheongsam, a stylish traditional Chinese dress for women usually worn on more formal occasions, the uniforms feature a collar overlaid with a pattern of auspicious clouds and a lower hem with a pattern alternating sea and mountains which contrasts with the collar's clouds and sky, drawing a comparison between a Hainan aircraft that has just taken off, and the roc, a mythical bird denoting strength, as it lifts into flight. The 3/4 sleeves denote simplicity and "just the right amount of modesty.". The apron is designed like a tulip-shaped dress to emphasize, in equal measure, elegance, femininity, aesthetics and practicality. The Western-style draping incorporates popular international fashion elements.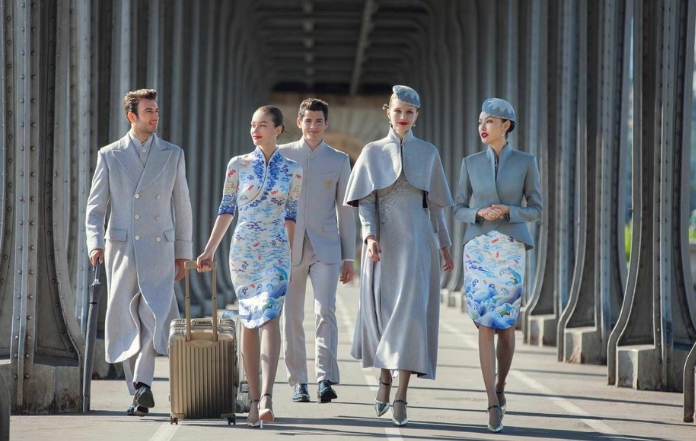 The uniform pays a tribute to the designs of the previous generations, cleverly updated with a modern aesthetic that incorporates popular international fashion elements. The fourth-generation uniforms have been in use for seven years starting from 2010. Driven by Hainan Airlines' strategic vision of becoming one of the world's most prominent carriers, two years ago, the airline opened a discussion with Laurence Xu that led ultimately to the creation of the new uniforms. During the design process, Hainan Airlines and Laurence Xu met and talked frequently, going through more than 1,000 design blueprints and trying out more than one hundred samples of garments and accessories.
Last year, Hainan Airlines partnered with renowned international pianist Lang Lang, which culminated in the famous performer playing piano for passengers "in the clouds" on Hainan Airline flight. As for ground services, renowned designer Dr. Patrick Leung, at the invitation of the airline, designed its international VIP lounge, the HNA Club, which provides business class and club member passengers with a comfortable environment amid multifunctional facilities.
This month, Hainan Airlines has been named one of the top ten airlines by SKYTRAX, a specialist advisor to the air transport industry. Hainan Airlines is a seven-time recipient of the SKYTRAX five-star airline award, which recognizes the highest standards of airport and onboard product provided by an airline to customers, together with consistent and high standards of front-line staff service across the airport and onboard service environments. It has also been ranked third on the Jet Airliner Crash Data Evaluation Centre (JACDEC)'s 2016 list of the World's Safest Airlines. This ranking is the best ever achieved by a Chinese carrier.