Currently in flight: Breast Cancer One, where 100+ of the Delta family's survivors and fighters come together for a cure. Delta's 12th Annual 'Breast Cancer One' Survivor Flight Took Hope to New Heights.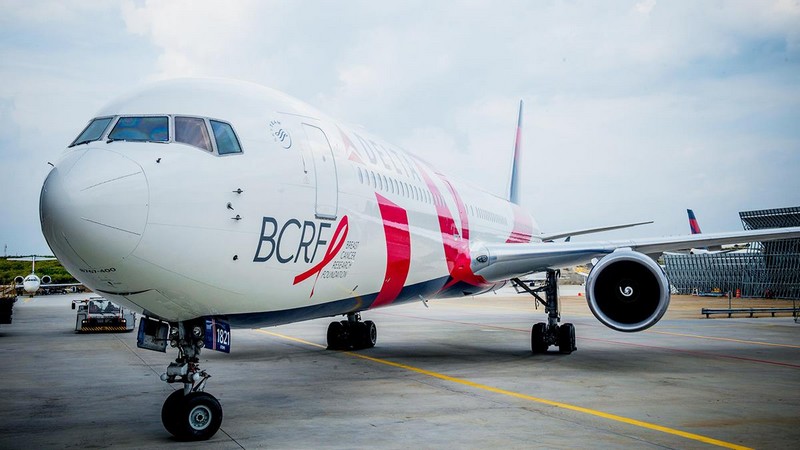 Delta's 12th Annual 'Breast Cancer One' Survivor Flight kicked off the airline's month-long campaign to generate awareness and raise funds for the Breast Cancer Research Foundation (BCRF). Delta's iconic pink plane carried more than 140 employee breast cancer survivors on the flight's first transcontinental route from New York City to Los Angeles.
A dinner event celebrated the survivors, discussed cancer research milestones and included special guests Wanda Sykes and co-founders of BCRF's Women's Cancer Research Fund Rita Wilson, Jamie Tisch, Kelly Meyer Quinn Ezralow and Marion Laurie. The dinner also included a meet-and-greet with Dr. Sofia Merajver, one of BCRF's world-renowned researchers.
"The work we do with BCRF each year has one goal – eradicating breast cancer. This partnership stems from our commitment to not only support each other, but also the communities where we live, work and serve each day," said Allison Ausband, Delta's Senior Vice President – In-Flight Service. "With the help of our employees, customers and community partners we will continue to work together to create a better tomorrow."
For the third year in a row, Delta customers also joined the flight. Delta recently held a SkyMiles Experiences online auction, where three customers donated a total of 205,001 miles, which will go directly toward BCRF and its efforts. The three customers, each with a guest of their choice, were also part of the charity flight.
"As a global leader, Delta's commitment has been instrumental in advancing BCRF's mission to be the end of breast cancer," said Myra Biblowit, President of BCRF. "Delta's dedication is deeply personal—underscored by the passion of their employees and customers. In joining forces with the highest rated breast cancer organization in the country and the largest private funder of research in the world, we are confident that,
together, we will consign breast cancer to the history books."
Delta employees, customers and their friends and families have raised $11 million for BCRF since 2005, including last year's efforts of $1.75 million. The collective contributions have funded the vital work of 44 different research projects over the years in the pursuit of eradicating breast cancer.
To further raise awareness and support for breast cancer research, Delta employees will wear pink uniforms and sell pink products, including pink lemonade and pink headsets, on board and in Delta Sky Clubs throughout the month of October. Additional information, including how to donate, is available on delta.com/bcrf.