With more golf courses per square mile than any country in the world, it's no wonder golfing is Bermuda's national sport.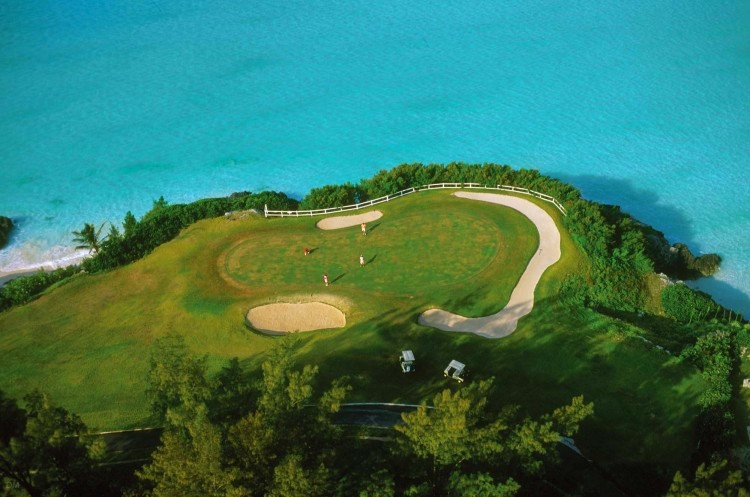 Considered the premier golf event in one of the world's premier golfing destinations, the Goslings Invitational for 2017 will once again take place at two of Bermuda most stunning courses.
This, the 43rd annual edition, will begin with an optional pro-am practice November 27 at the spectacular Port Royal Golf Course, host of the PGA Grand Slam and renowned for its world famous 16th par-three hole with a cliff-edge tee and promontory-perched green. The New England Professional Golfers' Association will be handling operations and partnering with the Bermuda Golf Association to help manage this preeminent golf tournament.
After two days and 36 holes at Port Royal, the action will shift to the lovely, historic Belmont Hills Golf Course with its challenging slender fairways and distracting wide-open views of Hamilton Harbor.
All in all, the event will include 90 holes over five days at these two famous venues. And, as in the past, Goslings will orchestrate several evening festivities for all participants including a Welcome Party at Port Royal, a fun filled party on the beach at Mickey's Beach Bistro, a private rum tasting hosted by Malcolm Gosling, and a final night Awards Ceremony at Belmont Hills. Guests will enjoy luxury accommodations at the Fairmont Southampton Resort or the Newstead Belmont Hills Resort.
"The Goslings family is committed to hosting an elite international championship on the 'Jewel of the Atlantic,' our native Bermuda. The beauty of the island and these courses–plus the warmth of our climate and our people–always help make this an unforgettable occasion for the fortunate participants," said Malcolm Gosling, President & CEO of Gosling's International Limited, (and a scratch golfer himself).

DAVID WETTLAUFER, WINNER OF THE GOSLINGS INVITATIONAL 2016
In 2016, David Wettlauger was the Winners of the Goslings Invitational 2016 trophy. The former Canadian Tour and European Senior Tour player held his nerve through the tough conditions and secured the $12,000 winner's purse after par at the final hole to finish at three-under 279, three shots clear of nearest rival and multiple winner Kirk Hanefeld.
Zack Byrd, who pushed David Wettlaufer hard, finished third and two shots from Kirk Hanefeld, who finished runner-up for the second successive year.Daniel Augustus was the top local professional and 15th overall at 14-over-par 296. Bermuda's Damian Palanyandi won the amateur title by a commanding 17 shots and Hav Trott captured the senior title by nine shots.