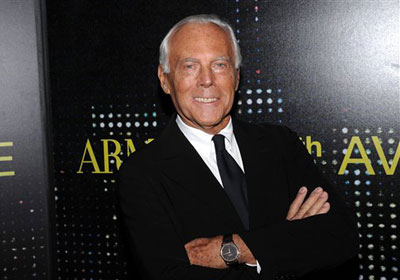 Despite Political turmoil across North Africa, designer Giorgio Armani is focusing on its plans to open luxury resorts in Egypt and Morocco.
Armani plans to develop its high-end brand of hospitality in the region with Dubai's Emaar Properties.
The Work is continuing on an Armani villa project in Marassi, Egypt, which is part of a US$1.74bn Emaar development, and an Armani resort in Marrakech. The Marassi resort is part of a large project on the Mediterranean coast, which is designed to include a marina and a golf course.
"They're already under development and will take something like two to three years," Mr Armani said.
Armani Hotels and Resorts, the tie-up between the Dubai developer and the fashion designer, was established more than six years ago. A target was outlined at the time to open seven hotels and three resorts over 10 years, including properties in London and New York.
"Those projects are still in the pipeline, and they will come over time, but we decided to focus on other projects which were more advanced in their development," Mr Armani said.
More: the national
[adsenseyu1]