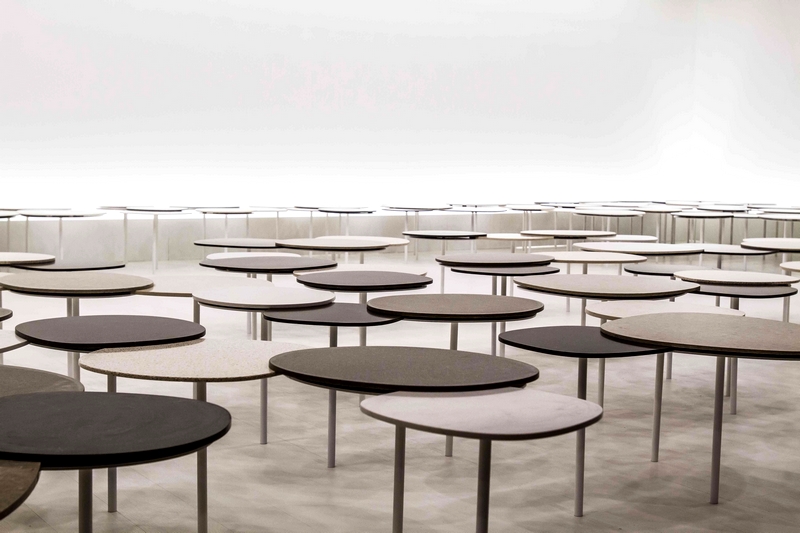 Milano's Palazzo Crivelli, in the heart of Brera Design District, will host during Fuori Salone 2013 two large-scale installations by Caesarstone & Nendo. Caesarstone, a leading developer and manufacturer of exclusive surfaces, continues its collaboration with world-renowned Japanese design studio Nendo.
Caesarstone has invited Nendo's Creative Director Oki Sato to engage with its quartz surface materials, emphasizing their inherent qualities of strength, durability and design. The Stone-Edge Table collection consists of seven wooden tables, embellished with corner and leg details. The organically shaped, jewel-like pieces, made from Caesarstone's Classico collection, are both a decorative as well as protective element to the most exposed parts of a table.
"In designing the Stone-Edge Table collection, I was able to take advantage of the strength of the material. Rather than ostentatiously applying the material to the entire design, we created wooden tables and used Caesarstone to protect the table top corners and feet," explained Oki Sato, founder and chief designer of Nendo. "The subtle stone elements are incorporated to make the tables stronger whiledrawing focus to the seamless coexistence with the wood. The seven tables vary slightly in size and proportions, each with a different type of Ceasarstone."
The second installation by Nendo will be revealed in the Palazzo's courtyard. StoneGarden, the collaboration unveiled earlier this year, will be displayed in a new formation.
"The installation explores the boundary between 'furniture' and 'non-furniture.' Tables that aren't quite tables form a cluster, creating a new kind of ground surface like a garden floating in the universe, far beyond the scale of individual tables. The unique variety and quality of natural colours and textures of the Caesarstone surfaces are perfect to be arranged in a composition like the stylized landscape of a Japanese rock garden," added Oki Sato.