Intended for the most discerning watch collector and priced at € 231,480, L.U.C Perpetual T – Spirit of the Chinese Zodiac is Chopard's tribute to the zodiac sign of the year in progress. The timepiece is a new yearly edition of the L.U.C XP Urushi watch, now depicting the 12 signs of the Chinese zodiac.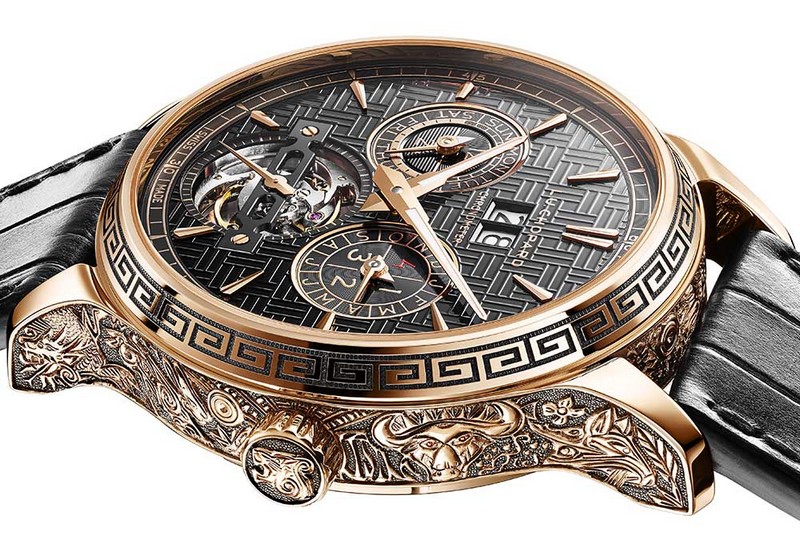 The entire Chinese zodiac is portrayed on the case middle of this stylised unique piece, with a black patina coating adorning 18-carat rose gold. The 12 signs are individually represented using the champlevé engraving technique. The latter requires meticulous patience in order to hollow out little cavities that are then filled with black patina. The engraver devoted 200 hours to creating this tribute to the richness of Chinese culture. The artisan's expert hands deftly formed the 12 animals ordered chronologically and symbolising the Chinese calendar. The tiger's head is perched on the crown while his body fits the case. A dragon and a snake are coiled between the lugs.
The solid gold dial of the L.U.C Perpetual T is adorned with a hand-engraved motif inspired by traditional Chinese iconography and also featured on the bezel and the rose gold buckle. Moreover, the entire L.U.C Calibre 02.15-L has been hand-decorated in keeping with the traditions of Haute Horlogerie.
"Naturally rare by its sheer complexity and the work involved in its making, as well as by the mastery of artistic crafts it entails, the L.U.C Perpetual T – Spirit of the Chinese zodiac is a limited edition of one piece. It will be the object of an exclusive presentation to Asian collectors at a private exhibition in Beijing," said Chopard.
This case houses one of the most prestigious horological complication, says Chopard, a perpetual calendar, a tourbillon and an over one-week power reserve ensured by the four barrels of the Quattro system.
The perpetual calendar carries technical as well as ergonomic significance. Indicating the complete date while taking account of the variable durations of the months, including leap years, is a challenge ably met by L.U.C Calibre 02.15-L. The tourbillon of the L.U.C Perpetual T – Spirit of the Chinese zodiac sits enthroned at 6 o'clock on the dial, topped by a meticulously polished and blackened steel bridge. By constantly spinning on its axis, it releases the rate of the watch from the influence of gravity. The L.U.C Perpetual T has successfully undergone testing by the Swiss Official Chronometer Testing Institute, as recalled by the "Chronometer" inscription appearing on the dial.
Of course, the watch bears the Poinçon de Genève quality hallmark, one of the most prestigious certifications in the Swiss watch industry. A hand-sewn black alligator leather strap with alligator lining lends an ultimate touch of elegance to this finely crafted watch.