Bentley airlifts a V8 Continental GT coupe over Munich
Bentley Motors celebrated the arrival of its new 4.0 liter V8 Bentley Continental GT coupe in Germany. In a sensational display, a helicopter flew the new Bentley over downtown Munich and placed it on the SkyLounge, reports torquenews.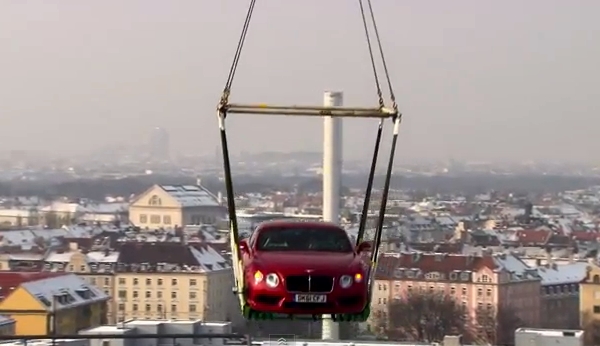 "A dramatic car got the debut we felt it deserved and we took a little bit of our inspiration from Bentley's iconic 'Winged B' emblem. On a practical level the helicopter was the fastest way to get to the rooftop podium. Anyone trying to get through the rush hour traffic in downtown Munich would have seen the bright red Bentley taking a dramatic short-cut through the German city. Not on the streets of course, but in the ksy. The Bentley was suspended beneath a helicopter, to beat the traffic jams. Wouldn't you love to do that?", commented Klaus Becker, General Manager of Bentley Munich and the organizer of the show-stopping helicopter lift.