Forthcoming Daimler-Renault Citan van will come in pure-electric form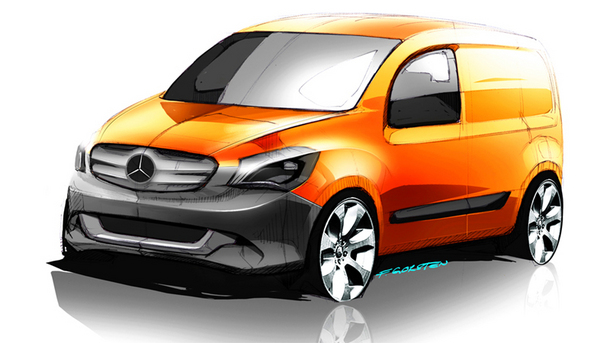 Mercedes-Benz will launch the smallest van of its fleet. The van that uses the Renault Kangoo's platform will be unveiled at IAA commercial vehicle show in Hanover in September, reports auto news.
"We will take advantage of the trend toward city vans," said Volker Mornhinweg, Mercedes-Benz Van executive at the unveiling of the Citan's concept sketches in Sindelfingen, Germany. "Our brand will be able to exploit [this trend] thanks to its attractively priced vehicles and the high quality of our products and services."
The electric Citan will be based on the Renault Kangoo Z.E. van and features the same 60bhp electric motor and lithium-ion battery pack, delivering 100-mile range and 80mph-limited top speed. Petrol and diesel-powered versions of the Citan will also be available.
Renault and alliance partner Nissan formed a partnership with Daimler in 2010 to cooperate on the development of commercial vehicles, small cars and future powertrains.
The Citan, which Mercedes says combines the words city and titan, will be the smallest offering in the German automaker's van lineup, which includes the Vito, Sprinter and Vario.
This is not Mercedes' first foray into the world of electric vans, says the charging point. The manufacturer is currently producing Vito E-Cell commercial vans at its Vitoria-Gasteiz factory, which was the first all-electric vehicle ever to be mass-produced in Spain.