Champagne Maison Perrier-Jouët is making an exciting contribution to the 2016 Design Miami/ global art forum via an exclusive partnership with American designer and architect Andrew Kudless. Kudless is presenting visionary works founded on the notion of digital craftsmanship.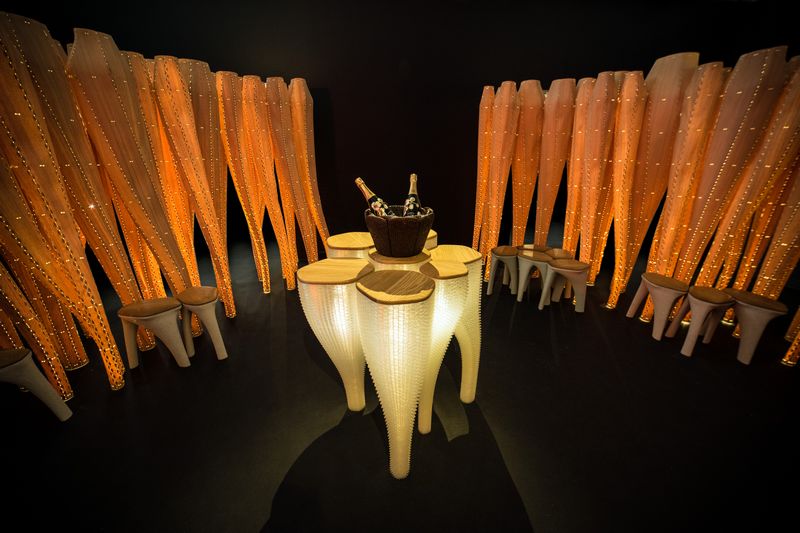 Maison Perrier-Jouët has just embarked on a new creative collaboration with designer Andrew Kudless for the 2016-2017 season. He unveiled a new installation specially designed for L'Eden by Perrier- Jouët, a unique immersive experience based around a completely new vision of nature. Andrew also e an created an original piece devoted to the ritual of serving champagne.
«I was interested in the way that strands, fibers, branches and vines were applied across every aspect of Art Nouveau, from paintings to architecture,» says Kudless. «The curving strand motif evokes nature and movement over time. I wanted to look at four of Perrier-Jouët's emblematic materials – wood, chalk, glass and grapes – and see how I could create strands out of each one.»
The pieces – which include a large-scale installation made from oak veneer screens, a table constructed using 3-D printed plastic, a bench inspired by the chalk walls of Perrier-Jouët's wine cellars and an ice bucket crafted using a grape skin powder base – were inspired by the organic process of wine-making and embody a reflection on nature, craftsmanship and technology.
"Working with Maison Perrier-Jouët has been very interesting for me because it provided a link between the historic Art Nouveau movement and my work," says Kudless. "As an artist I am interested in more emergent elements that are out of my control. This also applies to the wine-making process, where so many factors affect each year's harvest. Learning to skillfully overcome external challenges while still producing a high-quality outcome is what merges the two crafts."
The first piece that visitors encounter is Kudless's installation Strand Garden: three screens of curving 8' strands – evoking tree trunks or vines – that mark out a central area. «You're in a small clearing,» Kudless explains. «You get hints of what lies beyond, but it's an inward-looking, reflective space.» Each strand is illuminated from within by light that gently swells and fades, first appearing solid but slowly revealing its hollow form as the light intensifies.
Inside the inner garden, visitors will discover Kudless's other creations. The robotically-milled oak  tops of his interlocking benches evoke Perrier-Jouët's riddling racks and wine presses, while the concrete of their legs has been specially treated to resemble the chalk that shelters the Maison's cellars and nourishes its vines. The glowing table at the center of the space shares the same organic strand motif, but this time in a clear bioplastic that conjures up glass. Illuminated from within,
each of its filaments sparkles in the light to evoke the radiant clarity and fine, vibrant bubbles of Perrier-Jouët's distinctive wines.
Finally, his extraordinary ice bucket design takes the organic relationship with champagne to the limit. Kudless has 3D-printed ground Chardonnay skins to create a piece entitled The Perrier-Jouët Marc Metamorphosis: a tribute to the crystalline freshness, subtlety and sophistication of Perrier-Jouët's Belle Epoque cuvée. Its rippled petals are a conscious metaphor for the wrinkled skin of a raisin. «I was drawn to that,» Kudless explains. «The grapes were dried in order to be ground up, and
the ice bucket reproduces the texture of a grape as it dries.»