Life Ball Fashion Show 2012
20 years on, the Life Ball in Vienna has become an internationally acclaimed major event and an established recognized platform in the fight against the HI virus.


This year's Vienna Life Ball  has the theme "Fight the Flames of Ignorance". The 20th Life Ball is dedicated to the element of
fire – after water, earth and air the fourth element in the four-year cycle begun in 2009. A raging fire leaves in its wake a
swath of destruction. Ignorance, exclusion and discrimination, which those affected by the lethal disease of AIDS suffer from,
have the same effect. From burnt earth, however, life is born. And this is exactly what we will celebrate at the anniversary
Life Ball on May 19, 2012.
On the occasion of the 20th anniversary, Life Ball Founder Gery Keszler creates an arc from the past to the presence with a retrospective fashion show 2012. It will show creations of former Life Ball designers as well as the most legendary looks of two decades.
In the last years many international fashion designers  have designed a Life Ball MINI. In this anniversary year of Life Ball Franca Sozzani, Editor in Chief of the Italian VOGUE and UN goodwill ambassador of "Fashion 4 Development", will join the ranks of Life Ball MINI Designers.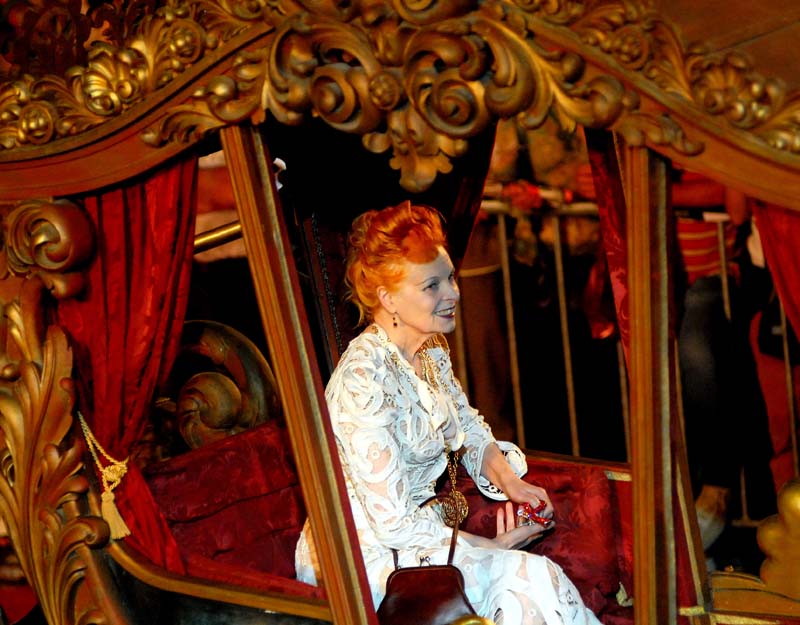 The owner of the Diesel empire, Renzo Rosso, as well as various designers such as Roberto Cavalli, Angela Missoni, Philip Treacy or Rosella Jardini, the closest companion of Franco Moschino, who died of AIDS are expected in Vienna. Travor Rains and Richie Rich will re-unite as Heatherette – for the Life Ball night only; Stefano Citron and Federico Piaggi, from Ferré fashion house, will come to Vienna in honor of Gianfranco Ferré, who died three years after participating in Life Ball. Also, Life Ball true Vivienne Westwood considers to join the anniversary Life Ball, as well as her son and Agent Provocateur inventor Joseph Corré.
International top models such as Alek Wek, Tatjana Patitz, Karolina Kurkova, Eva Padberg, Lydia Hearst, Diana Gärtner, Paulina Porizkova, Aimee Mullins, Tereza Maxova, Kiera Chaplin, Adriana Karembeu, Eva Riccobono or Shaun Ross are going to present the most spectacular Life Ball outfits besides prominent personalities.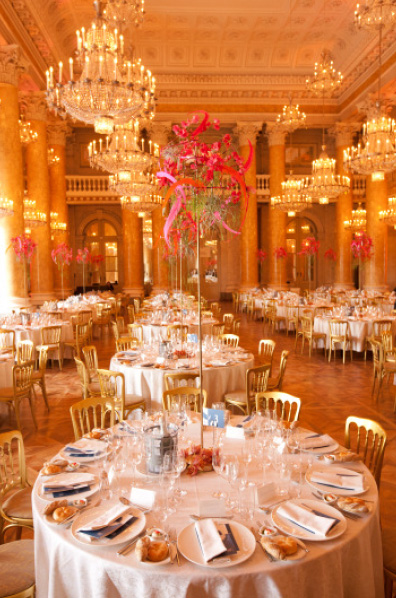 With the 20th anniversary of the Life Ball and prior to the Opening Show, AIDS LIFE and UNAIDS host an exclusive Gala in the
Ceremonial Hall of the Viennese Hofburg Palace. The Gala's exclusive guests can expect a live auction of selected and
unique auction items and special musical performances.
The prestigious highlight of the auction is a white gold 18 ct. necklace. With brilliant diamonds, carat total weight ca 53.10; and rubies, carat total weight ca 10.00; total weight ca 410 g. Gery Keszler, together with Ernst Klimitsch, creative director of Kornmesser, and Kornmesser's goldsmith Harald Bankmann, spent 200 hours to process more than 60 ct. diamonds and brilliant diamonds, as well as ca 10 ct. rubies.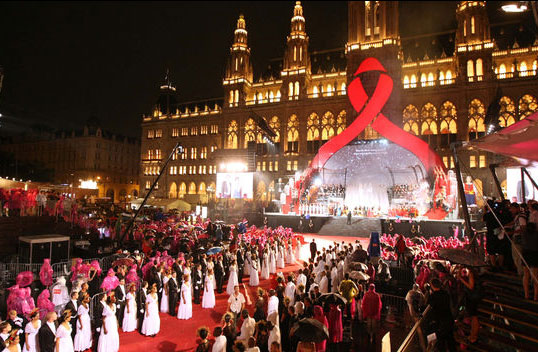 INTERNATIONAL FIGURES & FACTS
• Worldwide there are five people infected with HIV/AIDS per minute.
• There are 7,400 reinfections per day in the world, which are 300 per hour.
• In 2010 2.7 million people were infected with HIV in the world.
• 90 percent of all HIV-infections result from heterosexual contacts.
• In 2010 there were 34 million people in the world living with HIV/AIDS. 9 million of them still do
not have access to treatments.
• Between 2009 and 2010 the reach of the antiretroviral therapy increased by 20 percent.
• In 2009 1.8 million people died from AIDS in the world. According to estimations from UNAIDS
effective therapies prevented 700,000 more deaths.
• Up to now 60 million people were infected with the virus around the world, but the dark figure is
feared to be much higher.
• In total, 30 million people have died from AIDS, equaling the population of Canada or Kenya.
Children being affected
• There are 1,100 children infected with the HI-virus every day, 90 percent of them were affected
directly after birth.
• Weltweit stieg die Zahl der HIV-positiven Kinder unter 15 Jahren auf das Rekordniveau von
schätzungsweise 2 Mio.
• Worldwide the number of HIV-positive children under 15 has risen to a record height of
approximately 2 million.
• The epidemic has made 17.5 million children orphans.
AIDS as global danger
• With 1.5 million affected people the growth rate is the highest in Eastern Europe and Central
Asia – which is an increase of 250 percent from 2000 to 2010
• In Europe the epidemic hasn't been defeated either. In the Ukraine there are about 500,000
affected people, equaling 1.1 percent of the population (aged 15 to 49), which is the highest
rate of HIV-infections in Europe.
• In 2009 the number of sufferers and the number of reinfections rose by 30 percent in Northern
America and Western Europe.
• There still are 79 countries with homophobic legislation and 51 countries forbidding HIV-infected
people to enter their country. 84 countries have laws, criminalizing and stigmatizing HIVinfected persons and there are six
countries in the world sentencing homosexuals to death.
http://www.lifeball.org/wp-content/uploads/2012/05/Pressemappe-2012_E.pdf