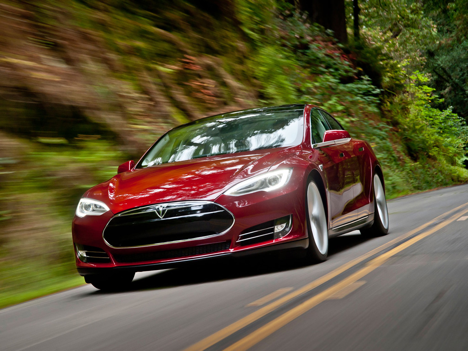 Tesla's Model S will debut in June, earlier than expected. The electric car maker will begin deliveries of its new vehicle a month ahead of schedule and will face competition from the likes of Nissan, Ford and Mitsubishi.
The Model S sets a new benchmark as a high-performance premium sedan that is fun to drive and goes further than ever thought possible with an electric car. The model is Tesla's only hope for success after the discontinuation of its Roadster.
The 85 kWh Model S is expected to achieve 350-250 miles of range during constant-speed highway driving at 50-70 mph with the ideal conditions (Constant speed (such as using cruise control), Flat ground, no wind, Climate control OFF or using vent only, Windows up, sunroof closed, 300 lbs of vehicle load (driver plus passenger or cargo), New battery pack (<1 year, <25,000 miles)). "This is a most impressive result and represents many extensive improvements in powertrain and vehicle technology over the [discontinued] Tesla Roadster," says Tesla.
Toyota RAV4 EV will run also with Tesla batteries, although it will manage a range of just 100 miles (160km).