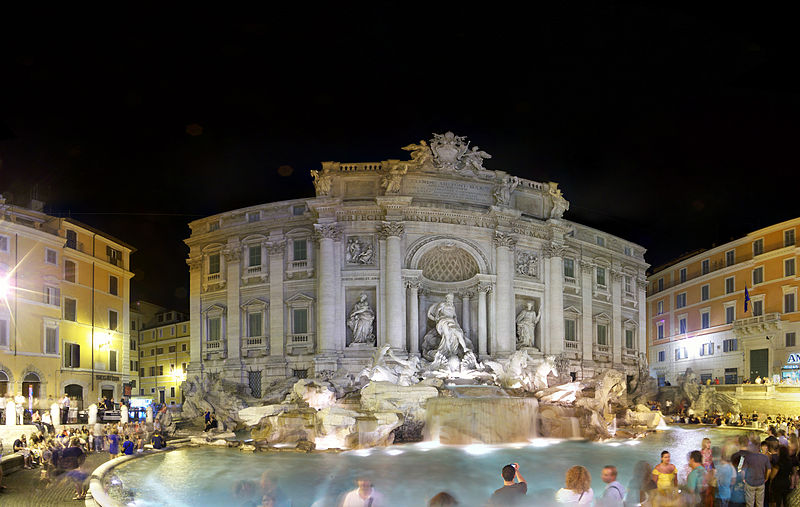 The new Maecenas of our days are big fashion houses. After Salvatore Ferragamo, Tod's, Diesel, and Gucci, now comes the news that Rome's nearly 300-year-old Trevi Fountain gets $2.9 Million facelift with the help of Italian fashion house Fendi, which was founded in Rome in the 1920s and is now part of LVMH French luxury conglomerate.
Feeling "a deep bond with the Eternal City", the luxury fashion house will offer 2.12 million euro ($2.85 million) for restoration of the fountain, which would take 20 months. In return Fendi's logo can be displayed on building site signs and the brand can hang a plaque near the monuments for four years after completion. Celebrating the 90th anniversary of the brand, in 2015 Fendi fashion show will be staged in front of the Trevi Fountain.
A traditional legend holds that if visitors throw a coin into the fountain, they are ensured a return to Rome and their luck will improve. An estimated 3,000 euros are thrown into the fountain each day.The money has been used to subsidize a supermarket for Rome's needy; however, there are regular attempts to steal coins from the fountain.
"It's a great idea, a great project! It is a symbol of Rome, like the Colosseum or St Peter's (Basilica)," 79-year-old Fendi's artistic director Karl Lagerfeld said to the press, adding that "My motto in life is: Whoever has the money pays'. It's as simple as that."
"Fashion has money because things are going amazingly, like never before, in other parts of the world. So Rome should benefit," he said.
"The restoration of the Trevi Fountain demonstrates the importance of public-private collaboration," said Rome mayor Gianni Alemanno.
"We are proud of being tied to the city, but I believe not everyone knows, and this is a great occasion to do something for the city that hosts us," said Fendi chief executive Pietro Beccari. "Rome is a home of Made in Italy. There's an incredible savoir faire, but as well it's a source of inspiration for many."
The Trevi fountain was refurbished in 1998; the stonework was scrubbed and all cracks and other areas of deterioration were repaired by skilled artisans and the fountain was equipped with recirculating pumps.
Private funding to preserve Italian heritage was also welcomed in the case of Rialto Bridge renovating in Venice sponsored by Diesel jeans founder Renzo Rosso and Colosseum restoration by TOD's CEO Diego Della Valle. Last spring, Salvatore Ferragamo has organized the exhibition "Saint Anne – The latest masterpiece by Leonardo da Vinci" at Louvre Museum in Paris, while Gucci fashion house has supported the retrospective of Pier Paolo Pasolini at the MOMA museum New York.