Only here niche perfume enthusiasts can perceive the most harmonious and refined fragrances. Esxence – The Scent of Excellence, the Art Perfumery's Event is back in Milan, from March 23rd to 26th.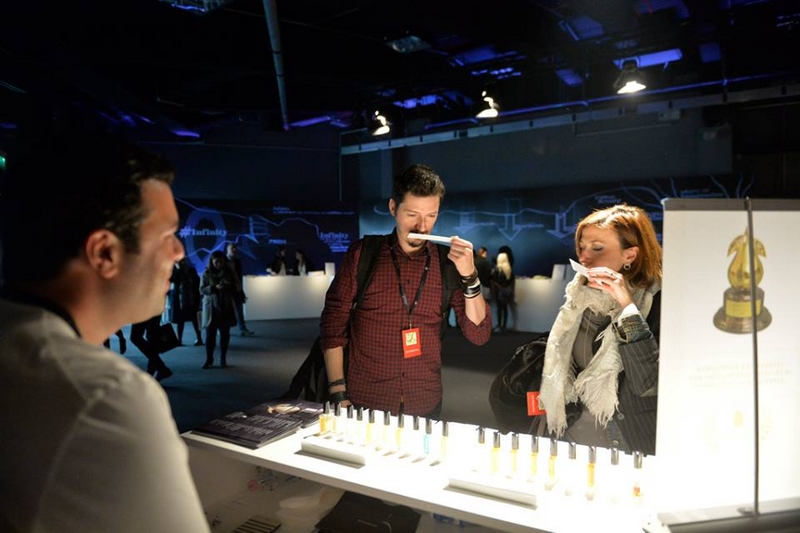 Art Perfumery is the key to access to this perfect world and Esxence is the appointment that every year allows professionals and enthusiasts to get in. International brands, both historical and emerging, strictly selected to be part of the exhibition area, will offer to the public an excellent and interesting parterre for new businesses and perfumed discoveries, confirming Esxence, and Milan, as the capital city of Art Perfumery.
Furthermore, the event will see the presence of the third edition of Esxkin – The Excellence of Beauty, the space dedicated to niche skincare, where the most innovative realities of the sector distinguish themselves for the high quality of their row materials and the effectiveness of their exclusive formulas.
Since their first edition, Esxence and Esxkin have always distinguished themselves for a rich calendar of niche events that – thanks to the presence of professionals and experts of the sector – allow the public to learn more about themes linked to the fragrance and cosmetic world or update with the trend and the news of the market.
"Also this year, our staff is down to work to prepare a schedule of laboratories, workshops, roundtables and lectures, but also extra initiatives, with the aim to pursue the promotion of the perfume and skincare culture, both for operators and enthusiasts," said Esxence's team of experts.
"We always take care of the voice and the opinion of our community and we officially open a call 4 paper to ask you suggestions, topics, or also to apply directly as speakers or moderators, to build together a meeting within the 2017 events calendar," added the organizers.
ESXENCE 2017 Milan
23rd – 26th March 2017
The Mall – Piazza Lina Bo Bardi 1
Milan
FREE ACCESS UPON REGISTRATION
Operators Entrance:
Thursday 23rd 10:30am – 06:30pm
Friday 24th 10:30am – 06:30pm
Saturday 25th 10:30am – 06:30pm
Sunday 26th 10:30am – 04:30pm
Visitors Entrance:
Saturday 25th 10:30am – 06:30pm
Sunday 26th 10:30am – 04:30pm
AA ABSOLUMENT ABSINTHE · ACCENDIS · AFFINESSENCE · ALEX SIMONE · ALYSON OLDOINI
AMOUROUD PARFUMS · ANGELA CIAMPAGNA · ARS MIRABILE · ARTE PROFUMI · ATELIER DES ORS
BARUTI · BERDOUES PARFUMS · BLEND OUD · BOIS 1920 · BOTTEGA PROFUMIERA
CHABAUD MAISON DE PARFUM · DALI HAUTE PARFUMERIE · DAVID JOURQUIN · DFG 1924
ETERNAL BY AJMAL · EUTOPIE · EVODY PARFUMS · EXTRAIT D'ATELIER · FRANCESCA DELL'ORO PARFUM
FRANCK BOCLET · GIARDINO BENESSERE · GRITTI · GURU · GUSTAVE EIFFEL PARFUMS · HADARAH
HAYARI PARIS · HÉLOÏSE DE V. · HERVÉ GAMBS · HOMOELEGANS · HOUSE OF SILLAGE · HUGH PARSONS
I PROFUMI DEL MARMO · IL PROFVMO · ILUM · ISABEY PARIS · JACQUES FATH · JACQUES ZOLTY
JUL ET MAD · KAJAL PERFUMES · L'ADONÉ · LAURA TONATTO · LENGLING PARFUMS MUNICH · LINARI
LM PARFUMS · LUIGI BORRELLI FRAGRANCES · MAJDA BEKKALI · MAKING OF CANNES · MANCERA PARIS
MARCEL FRANCK · MASQUE MILANO · MILLER ET BERTAUX · MOLINARD PARFUMS · MONTALE PARIS
MORESQUE PARFUM · NASO DI RAZA · NEELA VERMEIRE CRÉATIONS · NOBILE 1942 · NOMENCLATURE
OFFICINA DELLE ESSENZE · OLFACTIVE STUDIO · OLFATTOLOGY · OLIBERE · OLIVARES & RIBERO
OLIVIER DURBANO · OMNIA PROFUMI · ONYRICO · ORLOV PARIS · PANAMA 1924
PARFUMS DU CHATEAU DE VERSAILLES · PARFUMS DUSITA · PAUL EMILIEN · PINEIDER · PRUDENCE PARIS
PUREDISTANCE · RALLET HAUTE PARFUMERIE · RAMON MOLVIZAR · ROBERT PIGUET · ROOM 1015
ROSE & CO MANCHESTER · ROUGE BUNNY ROUGE · ROYAL CROWN · ROYALL LYME BERMUDA
RPL PARFUMS · S.ISHIRA · SAMMARCO · SANTI BURGAS · SAUF · SCHWARZLOSE BERLIN · SIGNATURE
SIMIMI · SIMONE ANDREOLI DIARIO OLFATTIVO · SP PARFUMS · THE GATE FRAGRANCES PARIS
THE HOUSE OF OUD · THE SPIRIT OF DUBAI · TIZIANA TERENZI · TONATTO PROFUMI · UNUM · V CANTO
WELTON LONDON · WOODS COLLECTION · YVRA 1958 · ZARKOPERFUME