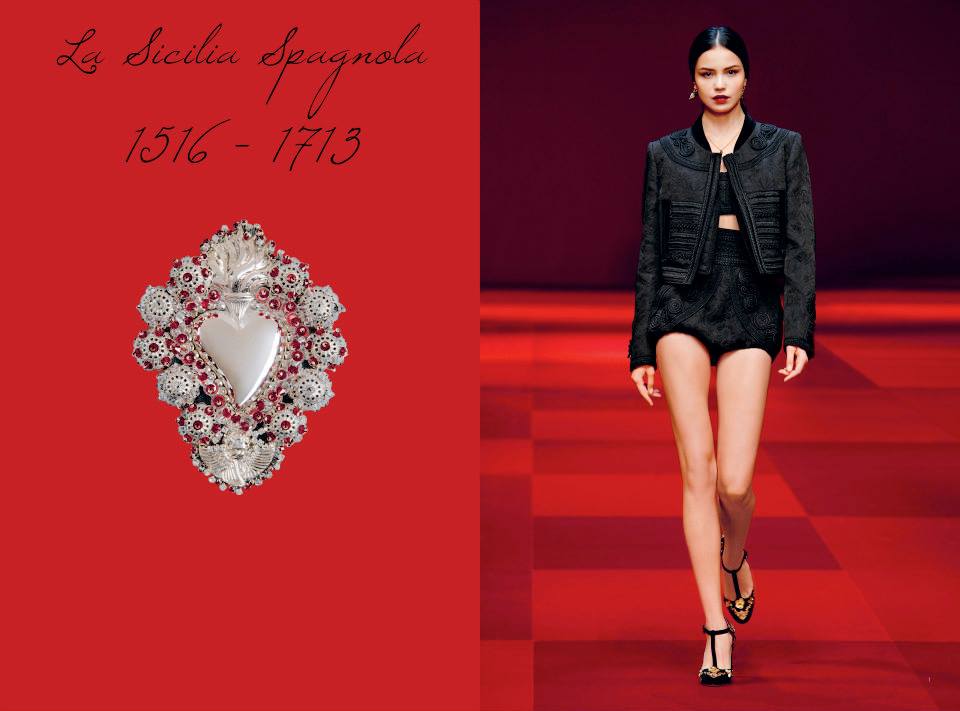 ---
This article titled "Dolce and Gabbana are unafraid of spats, but IVF row divides family of fans" was written by Hannah Marriott, for The Guardian on Saturday 21st March 2015 06.00 UTC
Since setting up shop in 1982, Domenico Dolce and Stefano Gabbana have dedicated their lives to creating a world of opulence and staggering beauty. This week, however, a very public argument, has clouded this vision.
It's no surprise that the row between Dolce and Gabbana and Elton John has proved irresistible to the media, given that it involves two delicious concepts: celebrities openly expressing anger and fashion people being imprudent. To recap: Elton John called for a boycott of Dolce & Gabbana after the pair described babies born through IVF as "synthetic" in a magazine interview. A Twitter spat ensued, with two of the designers' most famous friends and muses, Victoria Beckham and Madonna, speaking out in support of IVF.
As the storm gathered pace, Dolce and Gabbana released statements speaking of democracy and freedom of speech, with Domenico telling CNN in an interview: "It's my private point of view. I am Sicilian, I grew up in Sicily, my family is a family company and I believe in the tradition of family."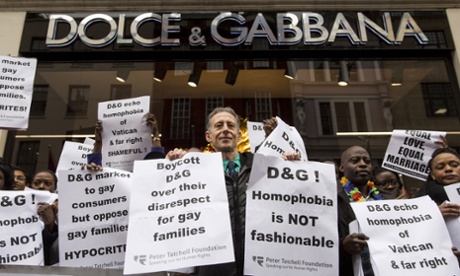 This is far from the first time Dolce and Gabbana have found themselves at the centre of a media storm since they met. Notably, for the better part of the past decade the designers have been embroiled in a complex tax dispute, which stems from a 2004 transfer of the Dolce & Gabbana and D&G brands to a Luxembourg-based holding company. Though they have always vociferously protested their innocence – in July 2013 the designers closed their Milan stores and put signs reading "Closed for indignation" in the window – it has taken seven long years for the Italian government to agree, during which time they were given suspended sentences of 18 months in prison, fined €400m (£289m) and then, in October, cleared, with the previous charges annulled.
Dolce and Gabbana met in Milan, in 1980. Dolce grew up in the small Sicilian town of Polizzi Generosa, near Palermo, and was a tailor's son – he claims he made his first pair of trousers at six years old. He moved to the heart of Italian fashion, Milan, in his late teens, worked in the atelier of a designer called Giorgio Correggiari and there met graphic design student Gabbana, who was keen to break into fashion. Gradually, while working together, they fell in love and in 1982 set up their own label, which, Gabbana was to convince Dolce, should look to Sicily for its inspiration. "At the beginning," Dolce has said, "I didn't even want to consider it because I had moved to Milan to get away from that world, to breathe a new air. Instead, I found myself designing pieces that are the cornerstones of Sicilian style: pinstriped or velvet suits, coats, waistcoats, white shirts and the flat cap known as the coppola."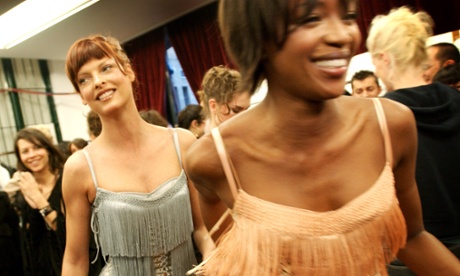 Their first shows was held in a small apartment in Milan, with Dolce's brother and sister on the door, but in 1985 they secured a spot for up-and-coming talent on the official Milan fashion week schedule. They turned heads immediately, their curve-celebrating corsetry quite at odds with the reserved, traditional approach of Italian fashion at the time, led by Giorgio Armani. Their rise to the top was helped by some powerful fans: Linda Evangelista so loved their work that she convinced her supermodel friends – Cindy Crawford, Carla Bruni, Helena Christensen, Naomi Campbell – to walk for them in 1992 in exchange for free clothes. Madonna spotted them around them same time, and commissioned them to design her Girlie Show tour wardrobe in 1993.
Dolce and Gabbana's romantic relationship ended in around 2001, although they did not reveal it to the press until 2005. "The worst time for us was when we broke up but kept working together," Gabbana said in 2012. "We thought about splitting up, but no. And the truth is, everything is exactly the same. But no sex."
Though the pair famously bicker ("He said, 'Brocade.' I said, 'No. Fuck brocade'" might be a typical exchange, according to Gabbana) a truce has been reached and now they work as a unit. Dolce, now 56, is regarded as the quieter and more introverted of the two, focusing more on tailoring, often described by journalists as having a monk-like air (this may have as much to do with his bald head and comparatively stocky stature as his demeanour). Gabbana, 52, speaks better English and is credited with the label's patterns and colours. Not only do they work together but they live on different floors of the same apartment block and even go on holiday together – current boyfriends in tow.
"I can't work without him," Gabbana once said in an interview. "Maybe one day there will be a Dolce collection and a Gabbana collection … " "No. Never," retorted Dolce. "This is my destiny."
Certainly, the pair are inextricably linked as a megabrand, producing womenswear and menswear, and there are fragrances, sunglasses, jewellery, childrenswear and beauty products, with revenues of €759.34m in the last financial year. In 2013 the businessmen were named on the Bloomberg Billionaires Index, with Dolce's net worth estimated at .2bn (£1.5bn) and Gabbana's at .1bn.
At one of the tax trials, in 2013, the company's board director Cristiana Ruella talked about the various offers that were on the table for Dolce & Gabbana in the 1990s and early 2000s – from LVMH and Gucci, before the latter was owned by Kering – and confirmed that a public offering had also being considered.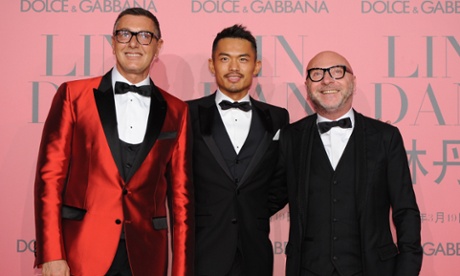 For the moment the company is private – in all senses of the word. Loyalty is prized in Dolce and Gabbana's gilded world and there is a sense that anyone who wishes to inhabit it must tread carefully. They are unafraid of spats: in 2009 they fell out with the godfather of Italian fashion, Giorgio Armani, after the elder designer accused the relative upstarts of copying his designs for quilted trousers. Last year, they broke ranks by describing Beckham as not being on the level of the likes of Alexander McQueen. "She make a good job but … for us, she don't make the same way like a fashion designer," said Gabbana. Fashion journalists – even those from the industry's most powerful publications – have found themselves uninvited to shows after less than effusive reviews. Most senior staff have been with the company for more than two decades. Dolce & Gabbana is a family and a way of life; the company's CEO is Dolce's brother, Alfonso Dolce. Fashion editors and former employees are wary of talking in public about them. Off the record, some fashion editors believe the tax debacle has proved very frustrating – one said they "have stopped caring what the wider world thinks of them and have gone slightly rogue".
The row this week may have caused damage, says PR and brand commentator Mark Borkowski. "Nowadays the level of noise around supposed 'crises' can make issues look a lot more serious than they are, but I did think this was a very silly, ill-thought out comment. As a fashion brand, you are selling to the high street and to high-end – you have to protect the top end of your brand so you can sell other items at the lower end – so offending your key market and key fans, icons of fashion and a patrician of gay culture in Elton John, presents a disrupted point of view in PR terms. You are repelling not only customers but people with real influence. Much of middle America or middle England would not have been too uncomfortable with their point of view but that is not their key audience."
Meanwhile, Richard Storer, managing director at branding consultants Eleventen, said: "Their brand is very traditional and their adverts show groups of people, families and so on, together and rejoicing, maybe this traditional outlook is how they think life should be lived. However, this is not what the brand has always stood for in the past, so it's mixed messaging and confusing to a consumer."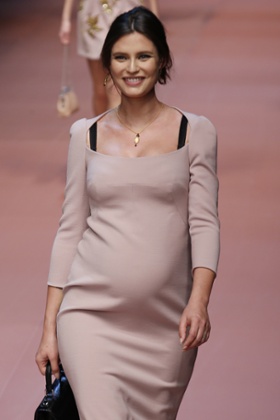 Melanie Rickey, a fashion editor and consultant, who has a child with TV presenter Mary Portas through IVF, said Dolce and Gabbana were entitled to their views but "they need to accept there are many other ways to achieve a happy family than the one they cherish", though added: "I don't believe it will damage the brand. Their clothes have Sicilian Italian glamour at the core of the DNA always. And it sells."
They certainly don't care for the whims of the fashion industry, returning to the curve-clinging shapes their customers love each season rather than following industry trends. "When we design a dress, we try to imagine whether a man will whistle at the women who buys it when she wears it," Gabbana has said. "If he will, it's OK." Indeed, any angst that has been felt in the past seven years of courtroom drama has not been reflected on the catwalk.
Dolce & Gabbana's fashion shows have remained cheerful and sumptuous, focusing on the themes that made them famous: an idealised version of Italian life based around family, food and femininity, often referred to clearly and playfully as earrings fashioned after pieces of pasta or, in the most recent show, mothers and babies on the catwalk. Backstage, Gabbana – the more gregarious of the two – will talk about fashion as fantasy, last season explaining his vision thus: "I have this life … I want to be happy. I want to eat tomatoes and pasta. I want to have passion." Conversation will often turn to Italian cinema (Luchino Visconti's lush 1963 version of The Leopard, starring the raven-haired Claudia Cardinale, is a recurring reference) and great Italian beauties (Monica Bellucci is often in the front row).
Catholicism is a common theme. The brand's most famous material is black lace, inspired by Sicilian widow's weeds, but the Dolce & Gabbana woman is both a mamma and a vamp. Corsetry is a key part of the look, and dresses and tailored suits are cut very close to the curves. Yes, there are crucifixes, but they are likely to be dangling lasciviously between pushed-up breasts.While Dolce has claimed his sexuality has been unproblematic in Catholic Italy – "Never," he has said, "The fashion industry is full of gays" – Gabbana has talked about having 10 years of therapy dealing with issues that "were rooted in my realising that I was gay when I was a little boy." The pair have long venerated heterosexual families. In 2006, Gabbana revealed he had asked a female friend to be a surrogate mother to his children but had changed his mind: "I am opposed to the idea of a child growing up with two gay parents. A child needs a mother and a father. I could not imagine my childhood without my mother. I also believe that it is cruel to take a baby away from its mother." In a 2005 Vanity Fair interview on the subject, Dolce said he would love an "entire football team" of children, but: "I have the small handicap of being gay so having a child is not possible for me."
They refer constantly to their business as their baby. Their dream, they have often said, is to be a "maison, like Chanel. But maybe we need to die first."
Potted profile
Born: Stefano Gabbana: 14 November 1962, Venice. Domenico Dolce, 13 August 1958, Sicily.
Career: Met while working as assistants to the Italian designer Giorgio Correggiari in the early 1980s, before setting up their own label. Were included on the Milan fashion week schedule in a slot for rising talent in 1985. Won over supermodels and celebrities throughout the early 1990s, designing the costumes for Madonna's Girlie Show, a relationship that continued throughout the 2000s, with the singer appearing eating spaghetti in their advertisements in 2010, and dressing and designing costumes for celebrities including Kylie Minogue, Naomi Campbell and Helen Mirren. In 2011 closed diffusion line D&G to focus on the main Dolce & Gabbana line and launched premium couture offering Alta Moda.
Gabbana says: "I love woman because she is woman; the breasts, the hips, the waist – the femininity. And I love the masculinity of a man. Maybe this is the reason we make a man like a man and a woman like a woman."
They say: "What Dolce & Gabbana do, in all their departments, reaches over the heads of fashion insiders to touch a human chord with a much wider public. Not many can say that," Sarah Mower, Vogue.
guardian.co.uk © Guardian News & Media Limited 2010
Published via the Guardian News Feed plugin for WordPress.