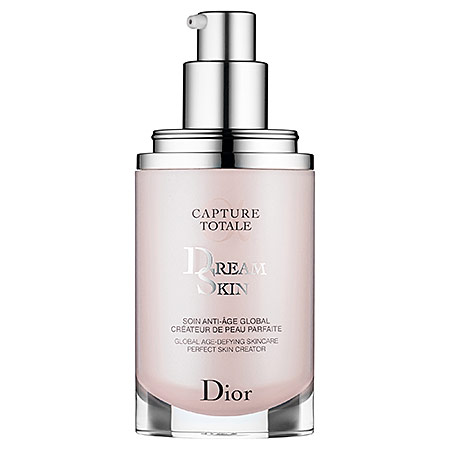 Eva Herzigová, Dior's brand ambassador for Dior Capture Totale line since 2012, revealed details on the house's new anti-aging product –
Capture Totale DreamSkin. Dubbed by the French beauty label "a skincare revolution", the new perfect skin creator Capture Totale Dreamskin has a heart filled with Longoza, an extract woth a power of natural auto-regeneration.
The "beauty revolution" named dreamskin should refine skin texture, even skintone, diminish the appearance of wrinkles, and increas radiance.
Dior's exclusive bio-mimetic powder complex reduces dark spots and redness, and minimizes pores. Day after day, skin is continuously perfected
with the help of plant extracts from the exclusive Dior Gardens. Longoza extract from the Garden in Madagascar helps to combat wrinkles along
with loss of radiance and firmness. From a new Garden in Burkina Faso, opilia extract helps reduce dark spots and redness, bringing dull
complexions back to life.