It is good to have an end to journey towards; but it is the journey that matters in the end.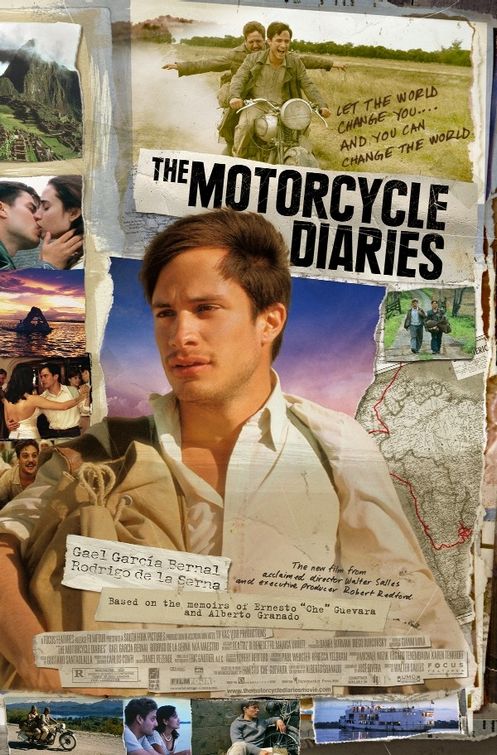 Two wheels always moved the soul, easily founding a rightful place in the cinematic art. Movies where the bike appears as a significant plot element are many, but some movies have won our hearts for capturing the experience of realizing a dream and for presenting a captivating picture of a place identity. All movies are a kind of travelogue with lessons which involve dreams, risks, rewards and, almost inevitably, some regrets. Thrilling, breathtaking, packed with adrenaline, discoveries and wisdom, these are the motorcycle-themed movies selected in our list of favorite bike film productions. Cause driving a motorcycle is like flying. All your senses are alive.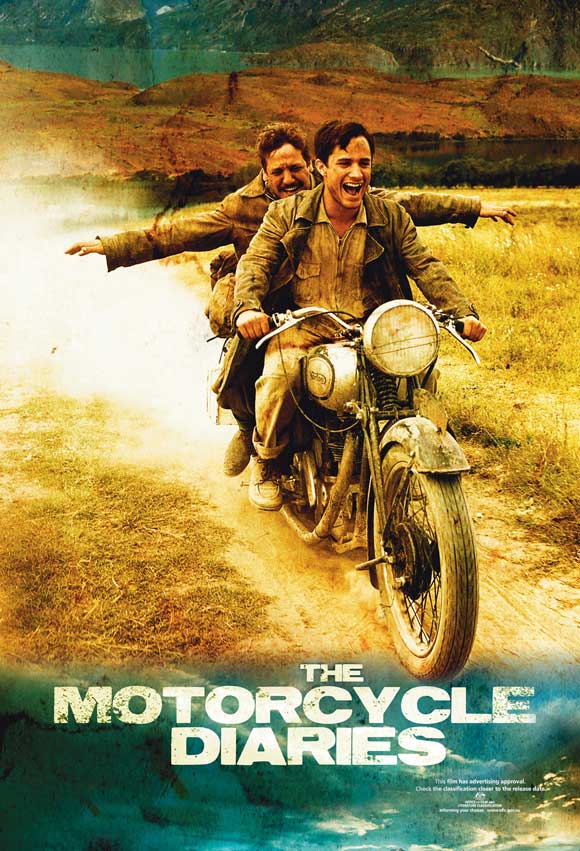 Motorcycle Diaries (2004)
Tagline: "Let the world change… and you can change the world"
"What do we leave behind when cross each frontier? Each moment seems split in two: melancholy for what was left behind and the excitement of entering a new land," summarizes the feeling of motorcycle riders Ernesto Guevara and his friend Alberto Granado. Motorcycle Diaries recounts the 1952 expedition of the 23-year-old Che and his friend across South America. The initial purpose of fun and adventure is transformed into a meditation and internal call for revolution. "A revolution without guns? It will never work."
Easy Rider (1969)
Tagline: A men went looking for America. And couldn't find it anywhere…
Two freewheeling hippies (played by Peter Fonda and Dennis Hopper) travel through the American Southwest and South in a 1969 American road movie which explores the social landscape of that era. The 1949, 1950 and 1952 Harley Davidson Hydra-Glide bikes, four former police bikes,were used in this important film which helped kick-start the New Hollywood phase during the late 1960s and early 1970s.
The film appears at number 88 on the American Film Institute's list of 100 Years, 100 Movies. In 1998, Easy Rider was added to the United States National Film Registry, having been deemed "culturally, historically, or aesthetically significant."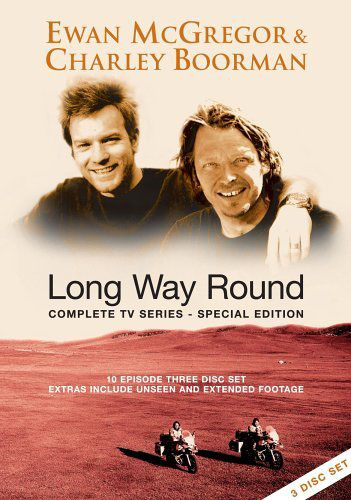 Long Way Round (2004), actors Ewan McGregor and Charley Boorman on a trip around the world
Tagline: Chasing shadows across the globe.
From London to New York City on motorcycles. Ewan McGregor and Charley Boorman embark on a 31,000 km stunning journey through Europe, Asia,Alaska, and United States. The journey visited thirteen countries, starting in the UK, then passing through France, Belgium, Germany, the CzechRepublic, Slovakia, Ukraine, Russia, Kazakhstan, Mongolia, Canada, and the USA, ending in New York City. Three BMW R1150GS Adventure all-terrain motorcycles made this ambitious adventure possible. McGregor – Boorman's charisma and the sincerity of their approach made an excitingengine journal. Visiting and raising awareness for UNICEF projects was also an important part of the Long Way Round series. McGregor, Boormanand the LWR team undertook a second journey known as Long Way Down, riding from John o' Groats in northern Scotland to Cape Town, South Africain 2007.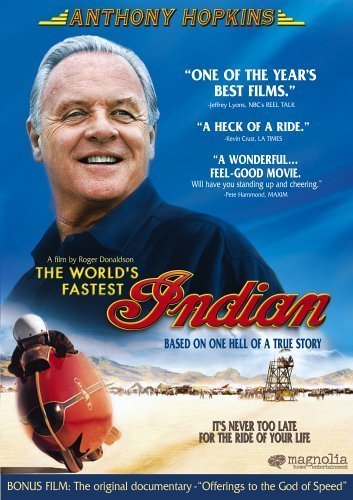 The World's Fastest Indian (2005)
Tagline: The true story of a man who never gave up on his dreams.
New Zealander bike racer Burt Munro built a superbike for setting the land-speed world record at Utah's Bonneville Salt Flats in 1967.  Anthony Hopkins plays folk hero Burt Munro and his journey sprinkled with obstacles. The highly modified Indian Scout motorcycle helped Munro setnumerous land speed records at the Bonneville Salt Flats in Utah in the late 1950s and into the 1960s. As Hopkins stated in an interview, Munrowas one of the easiest roles that he has ever played in his career, simply because Munro's view on life was not all that different from hisown. The 1920 Indian motorcycle is a chef d'oeuvre worth to see it in action.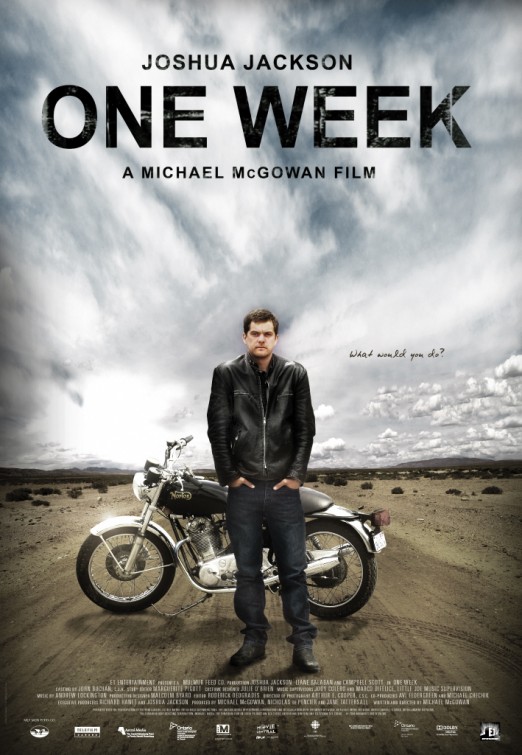 One Week (2008)
Tagline: What would you do?
Diagnosed with cancer, Ben Tyler (played by Joshua Jackson) starts a quest to find the meaning in his life. Ben takes a revealing motorcycletrip from Toronto across Canada to Vancouver Island to have some extraordinary meetings. The Canadian landscape provide a scenic backdrop,while the motorcycle takes us to the Canadian Prairies, British Columbia, the scenic Banff National Park in Alberta, and VancouverIsland.Joshua Jackson won Best Actor at the 2010 Genie Awards for his portrayal of Ben Tyler.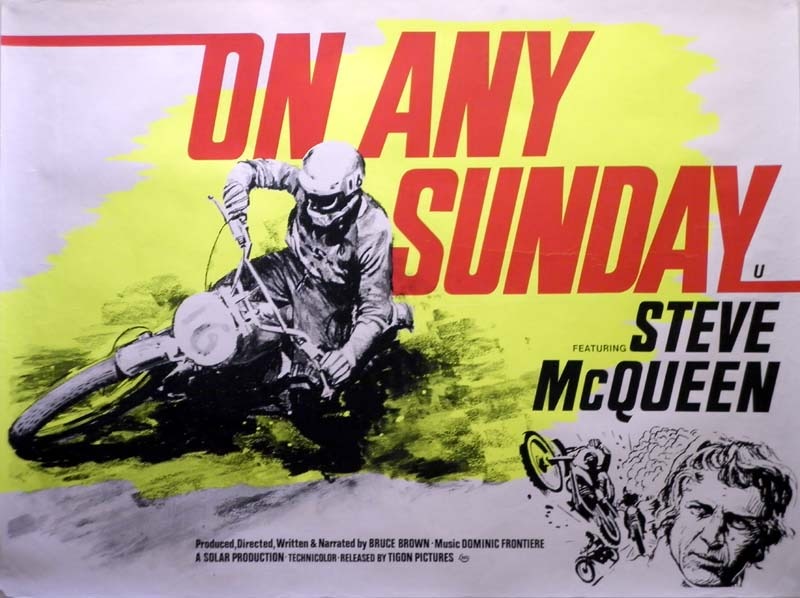 On Any Sunday (1971) Documentary
Tagline: Motorcycle sport and the man who ride on any sunday.
You don't stop riding because you're getting old, but you get old when you stop riding.
Often credited as the one of the most important motorcycle documentary ever made, "On Any Sunday" featuring Steve McQueen follows the lives ofmotorcycle racers, racing enthusiasts and legendary motorcycles like Triumph, Harley Davidson, Honda, Yamaha, Suzuki, and Husqvarna.Filmed before the days of miniature cameras, the film uses a helmet camera, one of the first times something like that had been attempted.
"I think many people changed their minds about motorcyclists after watching the movie," Brown said. "One particularly funny story was told byMert Lawwill. Being a motorcycle racer he was sort of considered the Black Sheep of the family. The old matriarch of the family, Lawwill'sgrandmother-in-law, went to see the movie and in the middle of one of the scenes featuring Lawwill she stood up and shouted, 'That's mygrandson!' Suddenly he was the big hero of the family," director Bruce Brown explained about the documentary nominated for a 1972 Academy Awardfor Documentary Feature.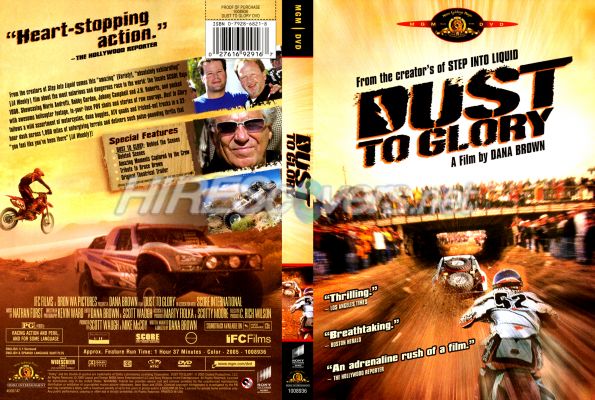 Dust to Glory (2005), Baja 1000 adventure/documentary
Tagline: The best alarm clock is sunshine on chrome. Heart-stopping action.
A delight for all race lovers and curious outsiders, the documentary about the famous Baja 1000 off-road race tells the 2003 race which runsthe length of the Baja Peninsula, from Tijuana to La Paz. The racing champion Mario Andretti and the participants to the ordeal share the realstories of tears of joy, helplessness, or ecstasy. Small and large bore motorcycles, stock VW, production vehicles, buggies, trucks, and customfabricated race vehicles, Baja 100 has it all. Steve McQueen and James Garner are listed as making cameo appearances in the film.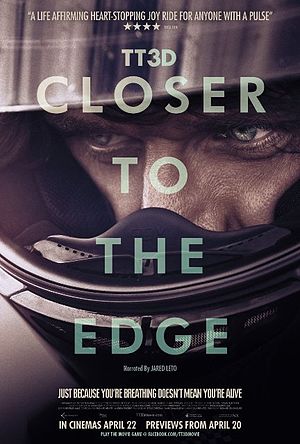 TT3D: Closer to the Edge (2010) Documentary
Tagline: Just because you're breathing doesn't mean you're alive
For more than 100 years, riders have come to the Isle of Man to compete. The documentary of the first time director Richard de Aragues chartsthe racers' motivation and the risks involved in their quest to become "King of the Mountain." Following the leading riders in the 2010 race,the documentary, the seventh biggest documentary hit of all time in the United Kingdom, narrates about those who died doing the thing theyloved the most in life. Races are captured with 3D technology and high definition equipment.
"The TT has been filmed before, however, not until now have the tools existed that could do justice to those that have competed over the 37¾miles that make up the legendary Mountain Circuit," explained Richard de Aragues.
"Impressively directed and beautifully shot, this is a superb documentary that's by turns thrilling, heart-breaking, jaw-dropping and laugh-out-loud funny," stated Matthew Turner, writing for View London.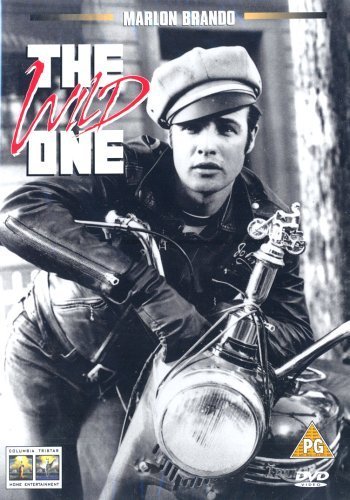 The Wild One (1953)
Tagline: "C'mon, baby, let's have some fun!"
Marlon Brando's iconic '50 Triumph Thunderbird 6T is the real winner of this 1953 American outlaw biker film about two rival motorcycle gangs terrorizing a small town. Well received by critics, the movie about the Black Rebels Motorcycle Club was one that, unfortunately, stereotyped bikers to an unimaginable degree. Marlon Brando posing next to the bike with the leather jacket and faded turned-up jeans is a legendary image still praised today as poster and postcard.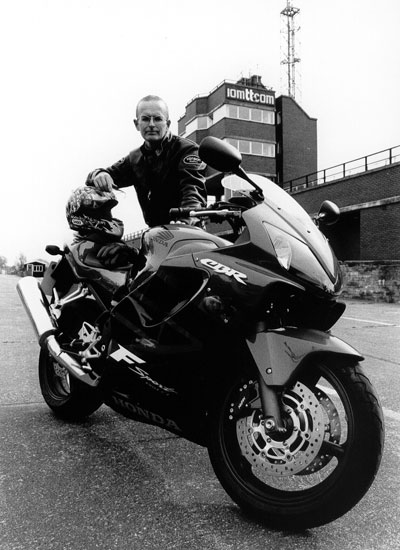 One Mans Island (Isle of Man) (2003) Documentary
Tagline: Everyone should have a dream…
As one of thirty thousand fans who attended the spectacle offered at the annual Isle of Man Tourist Trophy race, one of the world's mostdangerous motorcycle races, director Mark Gardiner harbored no illusions about his own skill or bravery. He was, however, an avid motorcyclistfor whom the races represented a boyhood dream. He went home, quit his job, sold everything he owned, and returned to the Island to race therehimself. Why anyone would go racing? Find the answer in the "One Mans Island (Isle of Man)"
Ghost Rider (2007) and Ghost Rider: Spirit of Vengeance (2012)
Tagline: Long ago he made a deal to save someone he loved
Stunt motorcyclist Johnny Blaze (played by Nicolas Cage) fights against power hungry son of devil. Despite the fact that Ghost Rider was not an work of cinematic art and has received mostly negative reviews from critics, we mentioned the series for Ghost Rider's motorcycle in its supernatural transformed shape, costumes, and special effects. Flaming skeletons were pretty cool. The awesome bike used in the movie was created by production designer Kirk Petrucelli.
The sequel, Ghost Rider: Spirit of Vengeance, released on February 17, 2012, saw Nicolas Cage reprising his role as Johnny Blaze and also portraying Johnny Blaze in his Ghost Rider form. The film was met with negative reviews by critics but was a success at the box office.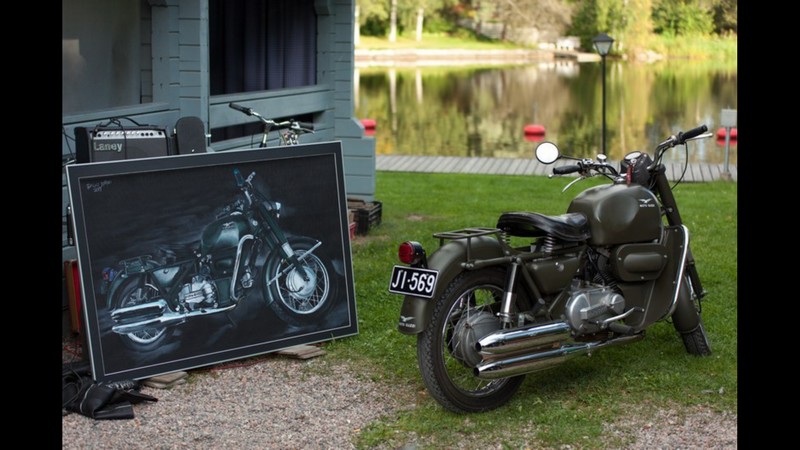 A good rider has balance, judgment, and good timing. So does a good lover. If you are a dreamer in love with all motorcycle themed, your home/office/garage should transmit the feeling. To keep the memories of your never-ending journey and dream, keep a slice of yout motorcycle soul in your nest. The works of Finish painter, fine art instructor and commission portrait artist Rauli Mardcan give you a source of ideas how to bring the passion, freedom and power to a space. A powerful painting of machines will let you feel the visual noise to get energized. Explore Engines Of Rauli channel on facebook or immerse in eyecanseeit.com for roaring engines full of personality.