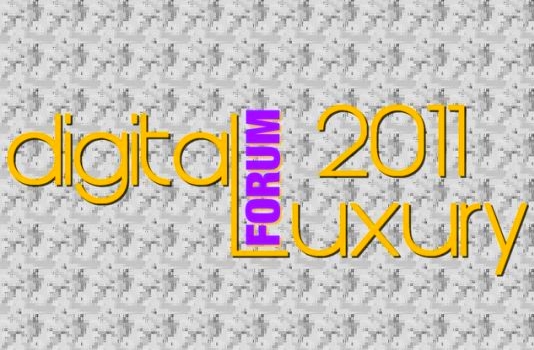 On December 8, 2011 Bucharest will be the host of the first edition of Digital Luxury Forum – the first business event in Romania that will explore the relationship between the players on the domestic luxury market and digital media (online, TV, mobile networks).
The event is organized by www.deLUXE-lifestyle.ro   / 2luxury2.com in partnership with Media Dog Patrol, and Casa Mediterana Restaurant as a strategic partner, the host of the event.
Digital Luxury Forum 2011 will focus on the brands evolution in the digital world, while protecting the essence and hereditary baggage of the brand. The conference agenda will be focused on positioning in the digital environment through specialized channels, social media, online publications, e-commerce, f-commerce, video content, online tv, blogging, etc..
The reconsideration and reordering of the opportunities offered by the rapid development of the electronic communicationin in recent years become even more stringent as the financial crisis accelerated and confirmed the decline of traditional media. The roundtable will bring together leading representatives of  the local and regional luxury market, specialized journalists and market analysts, bloggers and consumer representatives, representatives of advertising agencies.
The main topics to be discussed at Digital Luxury Forum 2011, Bucharest:
– What is luxury in digital media?
– The online, from a showroom to communication strategies;
– Target reach: Selecting target audience in social networks;
– Forum, blog, website – advertising or representation?
– False connoisseur and methods of advertising concealment;
– Mobile Applications;
– Segmentation and TV Online monitoring;
– Niches in television programs;
– Luxury culture – permanent online spread of the knowledge about luxury.
For the full agenda and speakers visit the official web site  – www.digitalluxuryforum.ro.
Access: by invitation only. For further information and press accreditation, please contact office [at] deluxe-lifestyle.ro or +40 746 566 713.
About deLUXE-lifestyle.ro
deLUXE-lifestyle.ro is an e-magazine for the demanding, high-end, luxury consumer dedicated to excellence, wellbeing and luxury trends in Romania and abroad.
About Media Dog Patrol
Media Dog Patrol is the producer of the "Pe picior Mare" TV show – the first show in Romania dedicated entirely to the world of luxury  and one of the few tv show of its kind in the world: a glimpse into a an exceptional universe, where products are beyond their functionality and became art, whether it is a watch, a dress, a restaurant or a car. Every Sunday, from 19:30 on TVR2 (tvr.ro),  Radu Rizea is your guide through the exclusive domains of the rich.
[adsenseyu1]